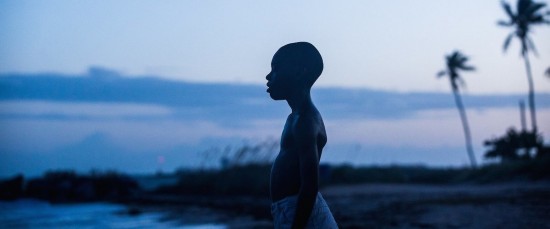 Hot off Sunday's historic — and famously gaffe-laden — Academy Awards, Best Picture winner "Moonlight" is expanding into 1,500 movie theaters this weekend. It's a victory lap for the indie darling, which was made for only $1.5 million and has since grossed more than $22 million.
While that's not a giant number, it's a strong showing for such a small film, especially one that could be mistaken as a niche product. Barry Jenkins' film might be about a young, gay black man in Miami, but its themes are universal. It would be a shame for anyone to ignore it, thinking it wasn't a film that could speak to them or to brush it off as political pandering.
I was late to the party on "Moonlight." I wanted to see it before 2016 ended, but it slipped out of theaters before I had a chance. I wasn't able to put it on my best-of list. A rep helped me obtain an online screener earlier this year, and the film blew me away (while it didn't make my official list, my Letterboxd list was revised to show its ranking). I watched it at home on a rare Sunday evening with no kids. I wish I had seen it on the big screen. So, now's your chance. And while I have no illusions it's going to top the box office — "Logan," riding a crest of high anticipation and excellent review, will likely dominate — I do hope its newfound Oscar fame introduces it to a new audience.
Here are three reasons why you should see "Moonlight" in a theater this weekend: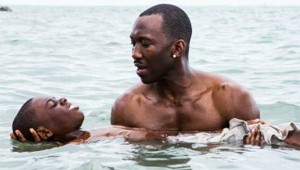 1. It is last year's best picture. Yes, okay, so "Sing Street" is still my favorite film of 2016. What can I say; the heart wants what it wants. But I know that while Jon Carney's Irish musical brought me the most joy, "Moonlight" is the film of higher quality. Jenkins' Oscar-winning screenplay (based on a play by Tarell Alvin McCraney) addresses sexual identity, black communities, growing up fatherless and drug abuse without preaching. It is an economical screenplay, the epitome of "show don't tell." Jenkins is an empathetic director with a skilled eye; his camera both centers on the main character and strives to keep him isolated. His cast is phenomenal. Mahershala Ali's Oscar was well-deserved; he's a on the screen for a short time, but his presence is felt even when he's gone. Naomie Harris, also nominated for an Oscar, is crushing as a drug-addicted mother. Jharrell Jerome and Andre Holland's work as Kevin, a young man who plays a complex role in the lead character's life at different ages, is both compassionate and heartbreaking. But it's the three men who play Little/Chiron/Black who shine the most, taking him from a frightened little boy through a sensitive teenager to a hardened man. Trevante Rhodes does standout work as the adult Black, somehow encompassing the personalities and hurts of the actors who play the character at younger ages. "Moonlight" is masterfully made and powerfully acted, yet its most notable accomplishment is that it's never pretentious or didactic. It simply tells an engaging, nuanced story and does it well. For a great film, it's incredibly accessible.
2. It needs to be seen on the big screen. Listen, it's tempting to skip seeing "Moonlight" at the theaters. You can rent it right now on Amazon, iTunes and several streaming services. It comes out on Blu-Ray and DVD on March 10. And if you can't afford to see it or clear up the time for a run to the theater, then seeing it home is better than not seeing it at all. But I regret not seeing it on a big screen, in the dark, where I could get caught up in the film. Last year was one for great cinematography at the movies. Rodrigo Prieto's haunting work on "Silence" should have been more recognized that it was, and "La La Land's" eye-popping, technicolor look and dazzling camera moves earned Linus Sandgren his Oscar. But James Laxton's work on on "Moonlight" demands to be seen on a big screen. Immersive and intimate, he bathes the Miami nights in dark blues and bright neon. There's a swimming scene, almost a baptism, that feels as poetic and naturalistic as something by Malick. He turns a diner into a something as warm as a family room or even a sanctuary. Key to building our compassion and chair for Little/Chiron/Black is to bring us into his world and put us alongside him. From its first moments, "Moonlight" draws us in and places us into these environments. Don't let its small scale fool you; "Moonlight" is as gorgeous and effective as something that cost five times as much.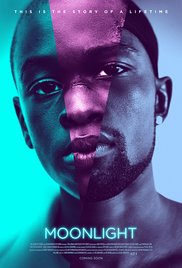 3. It's the movie we need right now. At a time when the lives and rights of black men and women and LGBT individuals are matters of the daily news and deep concern, "Moonlight" is a call to observe their struggles and unique challenges. It's not a cry for political change, nor is it a screed against judgmental people. It's instead a deeply empathetic look at the life and struggles of someone whose life looks much different than many of ours. It's an invitation to care about Little/Chiron/Black and a reminder that much of his future confusion and rage exists because no one paid him any mind. Roger Ebert famously called the movies "machines that generate empathy" and what Jenkins does so well with "Moonlight" is to vividly depict a life and its internal struggles and anguishes. By specifically focusing on the life of this young, gay black man, he finds universal truths. "Moonlight" is not just the story about the gay black kid, although it is specific to his story. It's also about the lifelong ripples of one act of kindness, the damage done by a parent's neglect, the ache of feeling like there's nowhere you belong, the search for intimacy, male posturing and the power of reconciliation. In Little/Black/Chiron's story, we see our own. And in an age where we're all divided and angry, perhaps a movie that reminds us that we're all the same and that creates empathy in us is what we need now more than ever.
"Moonlight" expands to 1,500 theaters nationwide this weekend. It is also available on streaming services for rent and purchase, and will be available on Blu-Ray and DVD on Friday, March 10.