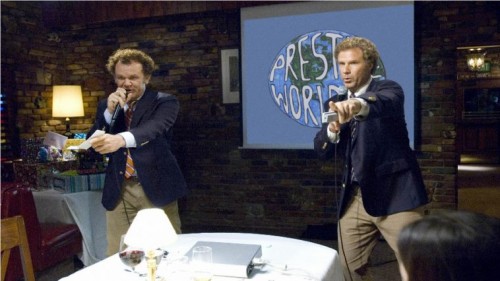 Today, it was announced by Yahoo that Sony is going to make "clean" versions of some of its most popular titles available for the whole family. The company's "clean version" initiative will offer family friendly versions of select movies, basically allowing them to choose the airline version of a film when they purchase the movies on select digital platforms.
The movies include:
50 First Dates
Battle Of The Year
Big Daddy
Captain Phillips
Crouching Tiger Hidden Dragon
Easy A
Elysium
Ghostbusters
Ghostbusters II
Goosebumps
Grown Ups
Grown Ups 2
Hancock
Inferno
Moneyball
Pixels
Spider-Man
Spider-Man 2
Spider-Man 3
The Amazing Spider-Man
The Amazing Spider-Man 2
Step Brothers
Talladega Nights: The Ballad of Ricky Bobby
White House Down
Sigh.
Listen, none of this is new. When I was a kid, my parents briefly subscribed to something called Feature Films for the Family, a club that sent us VHS copies of family-friendly movies and edited-for-content feature films like "Hoosiers." When I worked at Family Christian Stores, we sold a device that took out scenes of nudity, swearing and violence from films, I guess so that you could finally watch "Saving Private Ryan" with your kindergartners.
To a certain extent, I get it. TV restrictions have loosened. I grew up with edited movies on TV; it's how I was able to see "The Blues Brothers," "Caddyshack" and other movies much earlier than I probably should have (this led to an issue when my dad rented us "The Blues Brothers" not realizing it was rated R; the "penguin" scene caused many problems). That's not really the case in these TV-MA days. I remember being a kid and getting very frustrated that there were movies I desperately wanted to see but couldn't because of their R (or, sometimes, PG-13) rating. And as a father, it's very hard to navigate what movies I can show my kids, particularly when I revisit older films only to find them filled with some imagery that might terrify my kids or language I'm not ready for them to hear yet.
But you know what? That's life. Sometimes your kids aren't ready for certain movies. They have to wait and so do you. My five-year-old son has asked questions about certain movies, such as "Guardians of the Galaxy," that he's just too young for right now. I can't wait to show him "E.T.," but given that there's some rough language (and some truly disturbing stuff for a kid), we're going to wait until he can appreciate it all without running around calling the neighbor kids "penis breath." I may have hated having to wait to be "old enough" to see a movie, but it felt like a rite of passage once I did. It was a big moment when my dad rented "Die Hard" for us or took us to see "Braveheart," because it made us feel like we were growing up.
There are questions about ethics and art here. There is a difference between fast-forwarding through a sex scene and cutting it out entirely. But the fact is, these movies were made with those scenes. They were choices by the writer, director and actor. In some way, they add to the tone and fabric of those movies. And yes, some of them are gratuitous and unnecessary. But other movies, the very things that might be cut out would be detrimental to the film itself. Cut out the language or violence of "Captain Phillips" and you're left with a real-life action thriller robbed of its immediacy and terror. "Hancock" is a movie about a superhero who's a jerk; rob it of the language or sexual content and you've taken the entire point of the movie away. "Easy A" is literally a movie about a girl who pretends to be promiscuous and the complications that ensue. "Step Brothers" is about how childishness and immaturity look deeply offensive and bizarre coming from adults; its entire humor and concept hinges on its R rating.
The whole issue of content and context is worth diving into a bit deeper at a later date, but suffice to say a film's content is not an accident. Either it's there for marketability (which I have problems with) or for thematic purposes. I'm leery of anything that robs a film of that; it's likely more beneficial just to steer clear.
And then some movies on this list baffle me. My son has seen both "Spider-man" and "Goosebumps," and I don't recall anything in those movies that gave him trouble (the latter is scary for a kids' movie, but that's the point of a film called "Goosebumps"). I can't think of a single offensive moment in "Crouching Tiger, Hidden Dragon."  "Ghostbusters" (the original) is pretty tame, even as a 1980s PG movie. And I'd imagine foisting "Grown Ups," "Ghostbusters II" or "Elysium" on kids is probably tantamount to some sort of cinematic abuse.
So, I guess this is good news for people who still want the thrill of seeing movies without being bothered by language or violence. But for lovers of film, it's just another way of not experiencing the films as they were meant to be.