If you were to teach your children Bible verses to memorize, what would they be?  What are some of the most important Bible verse for children to memorize?
Good Bible Scriptures for Kids To Memorize
Ephesians 6:1-2 "Children, obey your parents in the Lord, for this is right.  "Honor your father and mother" (this is the first commandment with a promise)."
The fact that honoring your parents is a promise for long life is recorded in the Old Testament in Deuteronomy 11:18- 21 where Moses commanded the parents of Israel to write the laws of God on the hearts of the children and this goes with the promise that of your children "days and the days of your children may be multiplied." That is the first commandment given to parents to pass on to their children with a promise…of a longer life than if they didn't obey their parents.  In fact, honoring your parents comes before the commandment to not murder and is the first commandment given to us in dealing with other people.  The commandment to honor your parents does not expire when a child becomes an adult but continues even after death and to honor a parent is to respect them, give honor to them while they are living and after they have passed away.  There is no age limit on this commandment so we must honor our parents even when we reach old age.
John 3:16 "For God so loved the world, that He gave His only begotten Son, that whoever would believe in Him should not perish but have eternal life."
This may be the most memorized verse ever…even among non-believers and so why should children memorize this? It's because it's true.  God loves the world so much that He decided to send His Son to die for them and so if they believe in Him, they will have eternal life.  This "whoever" includes them but it also includes those who have not trusted in Christ…at least yet.  This is the good of the good news of the gospel of Christ.
Psalm 127:3 "Behold, children are a gift of the Lord, The fruit of the womb is a reward."
Children should know that they are not just here by their parents will but by the will of God and that God's will was that they were to be born.  This shows that God has a purpose for them and God sees children as a gift from Him to their parents but this "gift" means that they are a freewill blessing from God and that He was pleased to cause them to come into the world.
Mark 12:30-31 "And you shall love the Lord your God with all your heart, and with all your soul, and with all your mind, and with all your strength.'  The second is this, 'You shall love your neighbor as yourself.' There is no other commandment greater than these."
Children should know that they are to love God first and then love their neighbor.  Who is their neighbor?  Everyone is their neighbor.  They ought to know that since God loves the world (John 3:16) then they should love them too.
Proverbs 1:8 "Hear, my son, your father's instruction and do not forsake your mother's teaching."
Children should listen to their parents even when they don't completely understand.  Even adults may not understand but obedience frequently comes before understanding.  Parents have made many more mistakes than children have and so they are trying to teach them to avoid these same mistakes.  Of course, if parents tell their children to do something that they know is wrong, they can listen but they should not do what they ask if it is against the law because "We must obey God rather than men" (Acts 5:29).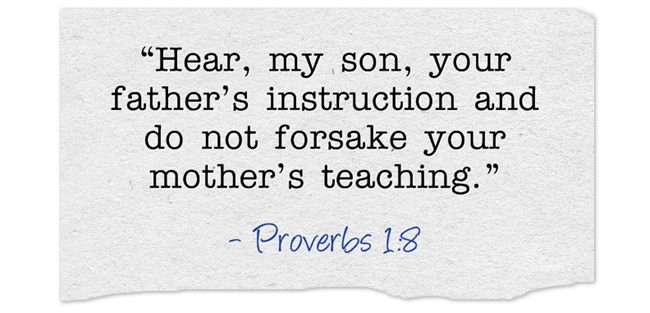 Colossians 3:23-24 "Whatever you do, do your work heartily, as for the Lord rather than for men, knowing that from the Lord you will receive the reward of the inheritance. It is the Lord Christ whom you serve."
Some say that children don't have a job but this isn't really true.  For them, their household chores are a job and at school, their work is to do the best that they can.  They should understand that they are really working for the Lord and it is "the Lord Christ whom [they] serve."
Deuteronomy 11:18-21 "You shall therefore lay up these words of mine in your heart and in your soul, and you shall bind them as a sign on your hand, and they shall be as frontlets between your eyes.  You shall teach them to your children, talking of them when you are sitting in your house, and when you are walking by the way, and when you lie down, and when you rise.  You shall write them on the doorposts of your house and on your gates, that your days and the days of your children may be multiplied in the land that the Lord swore to your fathers to give them, as long as the heavens are above the earth."
I realize this is a very long passage of Scripture but this is the commandment that Paul mentioned in Ephesians 6:1-2 that was the first commandment with a promise…that of a long life.  This are so important that a child should strive to listen to their parents when they wake up (when you rise), when they go to bed (when you lie down), when they are at home (sitting in your house), and when they go anywhere (when you are walking by the way).  Why should children memorize these verses?  It is because they can pass these onto their own children in time.
Conclusion
What about you as an adult? What Bible verses have you committed to memory?  I have memorized several that I frequently use when sharing the Bible.
Here are some of mine and it is my hope that you can see why I chose them:
Second Corinthians 5:21 "For our sake he made him to be sin who knew no sin, so that in him we might become the righteousness of God."
First John 1:9 "If we confess our sins, He is faithful and righteous to forgive us our sins and to cleanse us from all unrighteousness."
Hebrews 9:27 "And just as it is appointed for man to die once, and after that comes judgment."
John 10:28-29 "I give them eternal life, and they will never perish, and no one will snatch them out of my hand.  My Father, who has given them to me, is greater than all, and no one is able to snatch them out of the Father's hand."
Romans 6:23 "For the wages of sin is death, but the free gift of God is eternal life in Christ Jesus our Lord."
John 11:25 "Jesus said to her, "I am the resurrection and the life. Whoever believes in me, though he die, yet shall he live,  and everyone who lives and believes in me shall never die. Do you believe this?"
Romans 3:23 "for all have sinned and fall short of the glory of God."
Of course, I cannot put all of those that I have committed to memory because there are so many more but now I ask you to leave a comment with one of yours and tell me why you think it's important for you or your children to memorize.

Article by Jack Wellman
Jack Wellman is Pastor of the Mulvane Brethren church in Mulvane Kansas. Jack is also the Senior Writer at What Christians Want To Know whose mission is to equip, encourage, and energize Christians and to address questions about the believer's daily walk with God and the Bible. You can follow Jack on Google Plus or check out his book  Blind Chance or Intelligent Design available on Amazon