What prayers can we use to help us deal with our anxieties or stress?  What examples can we find in the Bible?  How can you write your own prayer or psalm?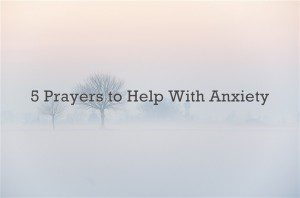 David, Man of Stress and Anxieties
If ever there were a man who had to deal with constant stress and anxieties, it was David during his flight for his life from Saul.  King Saul was relentless in his pursuit of David and some estimates were that this was a 15 to 20 year chase! Imagine that, running for your life for nearly two decades and David was literally running for his life.  He lived in caves, hid in the deserts, played a mad man one time, and had to constantly be on the move.  These difficult times were when he wrote many of the psalms.  Some of these psalms are more like cries for help than they are prayers but these make excellent prayer sources and God loves it when we pray back the words of God to Him for they are inspired by Him.
Psalm 86:1-5
"Incline your ear, O Lord, and answer me, for I am poor and needy. Preserve my life, for I am godly; save your servant, who trusts in you—you are my God. Be gracious to me, O Lord for to you do I cry all the day. Gladden the soul of your servant, for to you, O Lord, do I lift up my soul. For you, O Lord, are good and forgiving, abounding in steadfast love to all who call upon you. Give ear, O Lord, to my prayer; listen to my plea for grace. In the day of my trouble I call upon you for you answer me."
Some believe this may not be David's prayer but regardless, it is inspired by God as are all of the Scriptures (2 Tim 3:16).  Whoever it is, we know that the psalmist is crying out to God and sees himself as being poor and in need, as are all humans.  We need God in our lives. This man was a servant and he trusts in God.  To trust God is to know that He will do what is best for us and will listen (incline His ear) and will answer us. His love, goodness, forgiveness and steadfast love are for "all who call upon" Him.  In your day of trouble, just call out to Him and He will answer you.
Psalm 18:6, 16-19
"In my distress I called upon the Lord; to my God I cried for help. From his temple he heard my voice, and my cry to him reached his ears. He sent from on high, he took me; he drew me out of many waters.  He rescued me from my strong enemy and from those who hated me, for they were too mighty for me. They confronted me in the day of my calamity, but the Lord was my support.  He brought me out into a broad place; he rescued me, because he delighted in me."
Distress comes to all people, including those who are saved and those who are not.  The difference is that God delights in those who are His own children and we have the great privilege of calling "upon the Lord" because He is your God. The psalmist cried out loud for help here.  The Hebrew word for "cried out" "shava" which means "shout" or to "cry out loud" for help and so we see this as a loud wailing and not a simple inaudible prayer.  God wants us to cry out.   The psalmist has the assurance that he will hear his voice and knows that his cry "reached His ears."  You can have that assurance too because you know that your prayer is heard.   He hears you and your cries touch His heart like a baby's cry touches the heart of a mother.  He will support you in your calamity, and rescue you.  You must believe that He cares for you.  Pour out your heart to Him.
Psalm 4:1, 3, 5-8
"Answer me when I call, O God of my righteousness! You have given me relief when I was in distress.  Be gracious to me and hear my prayer. But know that the Lord has set apart the godly for himself; the Lord hears when I call to him. Offer right sacrifices, and put your trust in the Lord. There are many who say, "Who will show us some good?  Lift up the light of your face upon us, O Lord! You have put more joy in my heart than they have when their grain and wine abound.  In peace I will both lie down and sleep; for you alone, O Lord, make me dwell in safety."
Here the psalmist asks for an answer and there is urgency in his words.  We often have a sense of urgency when we are hit with various trials.  The situation may seem impossible but nothing is too hard for God (Jer 32:17). The psalmist acknowledges that he received an answer, and so must we when He answers us as it says that He has "given me relief when I was in distress."  Put your "trust in the Lord" and you can "lie down and sleep" because He makes you "dwell in safety."
Psalm 31: 1-5, 7-8
In you, O Lord, do I take refuge; let me never be put to shame; in your righteousness deliver me! Incline your ear to me; rescue me speedily! Be a rock of refuge for me, a strong fortress to save me! I will rejoice and be glad in your steadfast love, because you have seen my affliction; you have known the distress of my soul, and you have not delivered me into the hand of the enemy; you have set my feet in a broad place."
I love the wording where he writes that he takes refuge in God and asks for deliverance.  This deliverance is not a cry for salvation but one of a physical deliverance.  Are you seeking deliverance from an illness, persecution, financial troubles or from all three of these?  You can rejoice for God is a "strong fortress" and His love is a "steadfast love" and you can rest assured that He has seen your affliction and has "known the distress of" your soul.  He will set your "feet in a broad place" meaning that He will set you on a firm foundation and the ultimate foundation is Jesus Christ, the Solid Rock (1 Cor 10:4).
Conclusion – Write you Own Psalm or Prayer
Why not write out your own psalm or prayer.  Put pen to paper or keyboard to a document and spill it all out to God.  When you are in distress, cry out loud to God in private.  Find a secluded place somewhere, maybe out in the country, then just as a child cries out to their mother or father, and cry out to God because He is more compassionate and loving than any parent could ever be.  Spare nothing and just lay it all out to God.  Pour out your heart and tell Him how you feel, what you're in desperate need  of, and trust Him for He will incline His ear to those children of His who have been born again (John 3:3) which is literally "born from above."  If you are not born again, then God will not hear you.  Many are brought to Christ because they are broken and God is near the brokenhearted and those who are of a contrite spirit (Psalm 34:18).  Put your trust in Christ today and become a child of God (Rom 10:9-13).  Then you can rest at night and sleep in peace, for God will listen to your prayers and help you with any anxiety or stress that  you may have because He knows we are only dust and like a father, He pities those who are His own children (Psalm 103).

Article by Jack Wellman
Jack Wellman is Pastor of the Mulvane Brethren church in Mulvane Kansas. Jack is also the Senior Writer at What Christians Want To Know whose mission is to equip, encourage, and energize Christians and to address questions about the believer's daily walk with God and the Bible. You can follow Jack on Google Plus or check out his book  Blind Chance or Intelligent Design available on Amazon