When the Bible mentions righteousness, what does it mean exactly?  Do Christians have righteousness and if not, how can we be righteous before a holy God?
Righteousness
We know that God is righteous but what does this word mean?  It certainly means that there is a right-ness in God.  All that He is and all that he does is right and unlike humans, He is righteous in all He says as that is one of His attributes.   The Old Testament says that God is righteous.   In Psalm 7:11a we read "God is a righteous judge."  The word righteous in the Hebrew is "tsaddiy" which means just, lawful, and correct.  The word righteous in the New Testament comes from the Greek word "dikaios" which means observing divine laws or upright, faultless, innocent, and guiltless.  These are all descriptive of God Himself and no human has any of these attributes inherent in themselves even though we can do things that are upright and observe the divine laws like the Ten Commandments while not being able to obey them all, but how can fallen creatures like us be righteous?
You Must Be Perfect and Holy
We have to be perfect to enter in the Kingdom of Heaven so that presents a huge problem.  We also must be holy.   That we are to be holy and perfect seems humanly impossible.  Jesus tells us that "You therefore must be perfect, as your heavenly Father is perfect" (Matt 5:48) so "as he who called you is holy, you also be holy in all your conduct, since it is written, "You shall be holy, for I am holy" (1 Pet 1:15-16) and "unless your righteousness exceeds that of the scribes and Pharisees, you will never enter the kingdom of heaven " (Matt 5:20).  Remember the Pharisees fasted weekly, they tithed to the tiniest amount, they were strict students of the Scriptures, they studied them and lived by a stricter standard than Christians do today, so the main issue is how can we ever be perfect, holy, and have exceeding righteousness before God?
How to Become Holy and Perfect
In the first place, a person cannot make themselves holy.   A person needs to repent of their sins, confess all sins to God, and then put their trust in Christ.   You can never become acceptable to God until you are born again.  When someone repents and trusts in Christ, they then have the power of the Holy Spirit within them and this enables them to live a more righteous life.   Not a perfect life, no, but we can have the power of God to overcome sin.  We will never, ever do this in this life (Rom 7) but we do know that God does the saving.  In Romans chapter 8 we see how this happens: "those whom he predestined he also called, and those whom he called he also justified, and those whom he justified he also glorified" Rom 8:30).   Who predestine us, who called us, who justified us, and who will glorify us?  God is the One Who predestines, who calls, who justifies, and then who will someday glorify us.  It is nothing that we do in ourselves but this is fully a work of God.  We do have a part in the sense that we must repent and see the sinfulness of our hearts, and acknowledge that we need the Savior.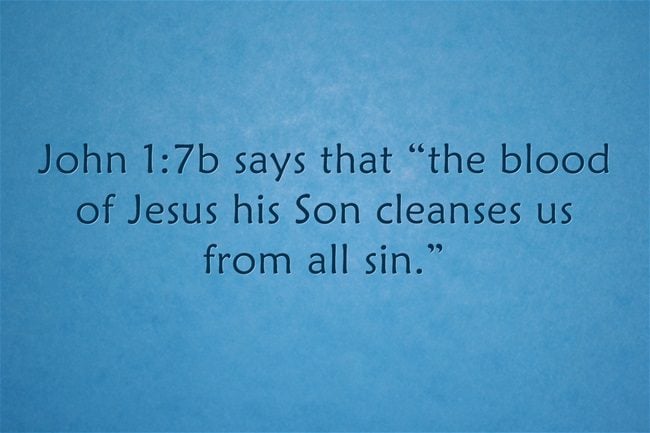 The Lamb's Blood Cleanses Us
In the Old Testament, the shed blood of animals was necessary to cover sins.  The animal was completely innocent.  The animal never sinned and did not deserve to die.  That is exactly the point.  Sin requires a blood sacrifice but these sacrifices never really took away sin, they only covered sin, however the Perfect Lamb Sacrifice, the Son of God, didn't just cover sins, He took them away by giving His own blood and life for us.  First John 1:7b says that "the blood of Jesus his Son cleanses us from all sin."  All means all.  That is why "If we confess our sins, he is faithful and just to forgive us our sins and to cleanse us from all unrighteousness" (1 John 1:9).  Confessing sin, then asking for forgiveness, and trusting in the Lamb of God's shed blood to have effectual power to take away our sins is the necessary element to make us have a holy righteousness and we can then stand before a holy God.  This is because God sees Jesus' righteousness as being our own righteousness.  Since He accepts Jesus' holiness and perfection, He accepts ours because it has been imputed toward us on account of His death (2 Cor 5:21).  That's why it's called the "good news!"
Conclusion
No one who is not perfect or righteous will ever enter the kingdom of heaven for nothing unclean can be in God's presence.  He is too holy for that.  That leaves me and you and everyone with a big problem.  How can we, natural sinners, enter into God's presence when our hearts are so wicked?  We can never be perfect in the flesh.  God has solved this titanic problem and He has done it through Jesus Christ.  Second Corinthians 5:21 says "For our sake he made him to be sin who knew no sin, so that in him we might become the righteousness of God."  That is how we can be made righteous.  We cannot make ourselves righteous because our best efforts are like filthy rags before God (Isaiah 64:6).  I thank God that Jesus can become our righteousness as it is imputed to us on behalf of Jesus' work at Calvary.  If you have not been born again then you will not be acceptable to God on the day of His visitation to judge the world (Rev 20:11-15) so you need to think about repentance today and trusting in Christ before you die or He returns again because by then, it will be too late.

Article by Jack Wellman
Jack Wellman is Pastor of the Mulvane Brethren church in Mulvane Kansas. Jack is also the Senior Writer at What Christians Want To Know whose mission is to equip, encourage, and energize Christians and to address questions about the believer's daily walk with God and the Bible. You can follow Jack on Google Plus or check out his book  Blind Chance or Intelligent Design available on Amazon