Does the Bible teach the "golden rule?"  If so, what is it?  If not, why have we heard of this and suppose that it comes from the Bible?
What is the Golden Rule?
Is the golden rule what Jesus said in Matthew 7:12 "So whatever you wish that others would do to you, do also to them, for this is the Law and the Prophets?"   It could well be what people refer to when they speak about the golden rule.   We should treat others the way that we would wish to be treated.  If we want others to show us respect, we must respect others.  If we wish to have others treat us kindly, then we must treat others kindly.   This doesn't mean of course that they always will but Jesus didn't qualify this by saying "if others do to you" then you should do the same for them.  This is not the barter system that Jesus is teaching about.  We should not treat others in a kind manner only if they treat us the same way.  There are no conditions to what Jesus taught.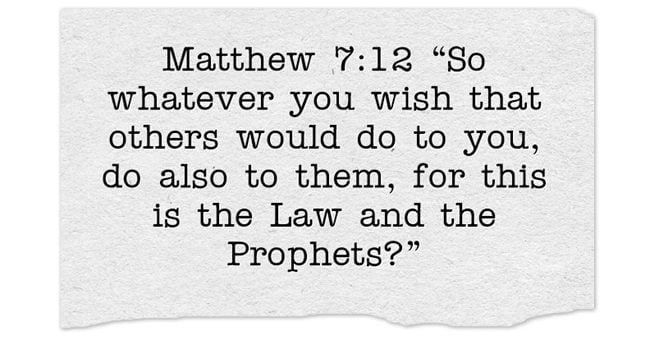 What the Golden Rule Isn't
As I briefly touched on before, the "golden rule" is not a "quid pro quo" where I will treat you this way if you treat me in a similar manner but we should treat others with respect and kindness regardless of how they treat us.  This also goes to the other extreme; we shouldn't treat others badly just because they treat us that way.  We model godly behavior when we pray for those who treat us badly and don't respond in kind because when Jesus "was reviled, he did not revile in return; when he suffered, he did not threaten, but continued entrusting himself to him who judges justly" (1 Pet 2:23).  The fact is that "while we were [still His] enemies we were reconciled to God by the death of his Son, much more, now that we are reconciled, shall we be saved by his life" (Rom 5:10) and "while we were still weak, at the right time Christ died for the ungodly.  For one will scarcely die for a righteous person—though perhaps for a good person one would dare even to die—but God shows his love for us in that while we were still sinners, Christ died for us" (Rom 5:6-8). Truly, we did not get what we actually deserved which is what we call mercy and then we are given what we didn't deserve and we call that grace.
Jesus' Standard
Jesus went to the nth power on the golden rule and His love and mercy was off the charts and that is the only reason that those who have repented and trusted in Christ now have peace with God (Rom 5:1).  It was a peace that was costly to God and the price was His own blood that was shed for us.  Imagine dying for one of your children or your spouse…but now, imagine dying for someone who hated you and was your enemy!  That is what Jesus did. We are never more like God when we love our enemies and pray for those who despise us and persecute us because then we are truly living like the sons of God.   In ourselves we don't have that ability but it takes the Spirit of God that enables us to do this.  Jesus commands you and me to "Love [our] enemies and pray for those who persecute [us], so that [we] may be sons of [our] Father who is in heaven" (Matt 5:44-45).  How hard is that!?
Are you a Child of God?
There is something in Matthew 5:44-45 that most people read right over and it is where Jesus said "Love your enemies and pray for those who persecute you, so that you may be sons of your Father who is in heaven."  What I want to bring out is that we must pray for our enemies and those who persecute us "so that you may be sons of your Father" but this really means "in order that" we may be sons and daughters of God.  Anytime you read "so that" you must see it as saying "in order that" so that the way in which Jesus puts it, it is a causative statement.  We should read it like this: "Love your enemies and pray for those who persecute you in order that you may be sons of your Father who is in heaven."  Does that make sense?  If we don't we are no better than the world is.  In other words, as Jesus said "if you [only] love those who love you, what reward do you have? Do not even the tax collectors do the same" (Matt 5:46)?  Even the children of the devil do this but the children of God must love those who hate them and they must love those who persecute them because remember, God loved us and died for us while we were still God haters.
Conclusion
If you have never been born again then you are not a child of God.  The Bible is clear that "You will recognize them by their fruits" (Matt 7:16) because "A healthy tree cannot bear bad fruit, nor can a diseased tree bear good fruit" (Matt 7:18) and if you are not producing godly fruit you are not a child of God.  Clearly, "Every tree that does not bear good fruit is cut down and thrown into the fire.  Thus you will recognize them by their fruits" (Matt 7:19-20).  Whether the tree (you) is headed for the fire or for heaven is a personal decision each one of us must make.  For every believer who has repented, confessed their sins, and trusted in Christ they have "eternal life [but] whoever does not obey the Son shall not see life, but the wrath of God remains on him" (John 3:36).

Article by Jack Wellman
Jack Wellman is Pastor of the Mulvane Brethren church in Mulvane Kansas. Jack is also the Senior Writer at What Christians Want To Know whose mission is to equip, encourage, and energize Christians and to address questions about the believer's daily walk with God and the Bible. You can follow Jack on Google Plus or check out his book  Blind Chance or Intelligent Design available on Amazon