Here are some of the top Bible verses about serving others.  What Bible verses would you include about serving others?  Leave your favorites in the comment section below.
Jesus as a Servant
Mark 10:45 "For even the Son of Man came not to be served but to serve, and to give his life as a ransom for many."
When Jesus speaks about serving, we should listen to Him.  Here is the very God of the universe Who came as a Man to serve.  The word He uses for servant is the Greek word "diakoneō" which is where we get the name "deacon" and diakoneō means "to be a servant of, to serve, wait upon, or minister to."  That is what every believer is called to do.not to be a deacon but to be a servant of the members of Christ's Body, the church.  He served to the uttermost, giving His very "life as a ransom for many."  Since He gave His life as a ransom for many we must shoot down the false teaching of universalism. He didn't say He gave His life as a ransom for all.but for many and those "many" are those who freely choose to repent, confess their sins, and trust in Him as Redeemer.
Slaves for Christ
Philippians 2:5-7 "Have this mind among yourselves, which is yours in Christ Jesus, who, though he was in the form of God, did not count equality with God a thing to be grasped, but emptied himself, by taking the form of a servant, being born in the likeness of men."
Paul uses a different form of the word for servant here and the fact is that almost in every place where the word servant is used in the New Testament it is the Greek word "doulos" which means a "slave, bondman, man of servile condition."  Jesus had all glory with the Father in heaven yet emptied Himself of His glory and took "the form of a servant."  Even though He is equally God He didn't count it as something to grasp or hold on too but for our sake gave His life.  To be a servant of Christ means we must be His slave and do all that He asks us to do (Matt 28:18-10; Acts 1:8).  This means we should also "have this mind among" us.  This is so easy to say, hard so very difficult to do.
Paul the Slave of Christ
Second Corinthians 4:5 "For what we proclaim is not ourselves, but Jesus Christ as Lord, with ourselves as your servants for Jesus' sake."
Paul had apostolic authority, yet very infrequently did he use it.  Paul became a "bond servant" (dulous or slave) for Jesus' sake.  Paul, having the great commission from Jesus Christ did not "proclaim" himself but Jesus Christ as Lord and humbled himself in the sense that he too was a servant for Jesus' sake.  If Paul saw himself as a slave to Christ, how much more do everyday believers have to see themselves as the same.a slave for the Great Master and Lord, Jesus Christ.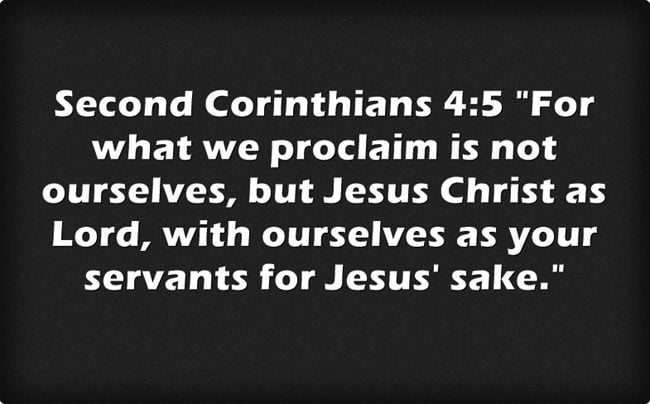 Servants of All
Mark 9:35 "And he sat down and called the twelve. And he said to them, "If anyone would be first, he must be last of all and servant of all."
Just like most of Jesus' teachings, this goes against the grain of the world's thinking.  To be first we must put ourselves last.  The one who would be first must be the servant of all and this is certainly not the way of the world.  Isn't it like God that His ways are in direct conflict with the ways most people think.even in the church?  I am a pastor but really, I serve the church.  Since the foot of the cross is level ground I am no better or no worse than anyone else in the church.  I must serve Christ and by serving Christ I must serve others.
Servants of One Another
Galatians 5:13 "For you were called to freedom, brothers. Only do not use your freedom as an opportunity for the flesh, but through love serve one another."
Some people come to church only to be served.  They don't get it.  They should come to serve others and not only expecting to be served.  We are commanded "through love [to] serve one another."  Love is a verb. It is action oriented.not so much a feeling but it's what you do and what we are to do is to serve others and do this serving in love, not grudgingly or expecting anything in return.
Servants of the Lord
Colossians 3:23-24 "Whatever you do, work heartily, as for the Lord and not for men, knowing that from the Lord you will receive the inheritance as your reward. You are serving the Lord Christ."
Whatever we are doing we should be doing it "for the Lord and not for men" because" our "inheritance" will ultimately be from Jesus Christ and not from men.  That is who we really serve and when we serve others we are actually serving Christ. Jesus said "if anyone gives even a cup of cold water to one of these little ones who is my disciple, truly I tell you, that person will certainly not lose their reward" (Matt 10:42) so even though we are not giving a cold drink to Jesus (or helping out someone financially, giving them food, our time, or our attention) when we serve others it's like giving Jesus a cold drink of water for when we do it for others, Jesus sees it as doing it for Him.
God's Servants in Society
Romans 13: "Let every person be subject to the governing authorities. For there is no authority except from God, and those that exist have been instituted by God. Therefore whoever resists the authorities resists what God has appointed, and those who resist will incur judgment. For rulers are not a terror to good conduct, but to bad. Would you have no fear of the one who is in authority? Then do what is good, and you will receive his approval, for he is God's servant for your good. But if you do wrong, be afraid, for he does not bear the sword in vain. For he is the servant of God, an avenger who carries out God's wrath on the wrongdoer. Therefore one must be in subjection, not only to avoid God's wrath but also for the sake of conscience."
When we disobey the laws we are really resisting God for God has sovereignly placed those in authority over us and those who are in authority are God's representatives on earth.  Just as Romans chapter 12 is how Christians should relate to one another Romans 13 is how Christians should relate to those who are in authority in the world.whether they are in the church or not.  These "rulers are not a terror to good conduct, but to bad" so if we are obedient to the laws of the land we have no reason to fear them but if we disobey them and break the law we have every reason to fear because not only are we disobeying them, we are indirectly disobeying God.
Conclusion
Paul asked the church at Rome, "Don't you know that when you offer yourselves to someone as obedient slaves, you are slaves of the one you obey-whether you are slaves to sin, which leads to death, or to obedience, which leads to righteousness" (Rom 6:16)?  You are a slave or a servant to the desires of your heart.whether it is to sin or whether it's to Christ.  You are a slave either way.  You must ether serve God or money but you can't serve both at the same time (Matt 6:24).  Who are you serving: Yourself or God?  If you haven't repented and trusted in Christ then you are still a slave to sin and your future is grim (Rev 20:11-15; Dan 12:3) but if you are now serving Christ, you will hear these precious words someday: "Well done, thou good and faithful servant: thou hast been faithful over a few things, I will make thee ruler over many" (Matt 25:21).  What better greeting could you ever receive?

Article by Jack Wellman
Jack Wellman is Pastor of the Mulvane Brethren church in Mulvane Kansas. Jack is also the Senior Writer at What Christians Want To Know whose mission is to equip, encourage, and energize Christians and to address questions about the believer's daily walk with God and the Bible. You can follow Jack on Google Plus or check out his book  Blind Chance or Intelligent Design available on Amazon