Music as doxology (praise to God) is so important to God that it takes place in heaven.  What are 7 of my top Bible verses about music?  What would yours be?
First Chronicles 16:9 "Sing to him, sing praises to him; tell of all his wondrous works!"
This sounds very much like a command to me.  The Psalmist says to "Sing to Him" and "sing praise to Him" and apparently in these songs of praise we should "tell of all His wondrous works!"  When we sing worship songs, we are not singing to ourselves but we "Sing to Him" and because He is most worthy we "sing praises to Him" that "tell of all His wondrous works."  We have so much to praise Him for and music is one of the most powerful ways to worship God and put all of our senses into doing what we were created for to glorify Him and that most certainly includes singing praises to Him.
First Chronicles 13:7-8 "And they carried the ark of God on a new cart, from the house of Abinadab, and Uzzah and Ahio were driving the cart.  And David and all Israel were celebrating before God with all their might, with song and lyres and harps and tambourines and cymbals and trumpets."
The ark of God represented God's presence in ancient Israel and so when the ark was returned to Israel it was like the glory of God had returned and once more He was present with His people.  It was not just David that was celebrating but "all Israel" celebrated "before God with all their might."  That means they took it to the max and gave it all they had.  Should we not do the same?  When we sing worship songs in church, it is too easy to just go through the motions but we must involve the emotions and the intellect too.  Israel used worship sings and musical instruments like the lyre (which is a stringed instrument of the harp class), harps (like the standard harp we see today), tambourines, cymbals (percussion instruments), and trumpets so can you imagine hearing all of Israel, accompanied with all of these instruments, praising God in worship songs and doing it "with all their might!?"
Colossians 3:16 "Let the word of Christ dwell in you richly in all wisdom; teaching and admonishing one another in psalms and hymns and spiritual songs, singing with grace in your hearts to the Lord."
Here is an interesting verse where Paul associates "teaching and admonishing one another in psalms and hymns and spiritual songs" through "singing in [their] hearts to the Lord."  I like this because I believe that worship songs can teach us many things about the Lord and they admonish us as well but if worship songs are biblically or theologically sound, they most certainly can teach us about the things of God.
Exodus 15:1 "Then sang Moses and the children of Israel this song unto the LORD, and spoke, saying, I will sing unto the LORD, for he hath triumphed gloriously: the horse and his rider hath he thrown into the sea."
How awesome this must have sounded to have the entire nation of Israel, millions of people, all singing to the Lord  at the same time for His destroying the Egyptian army.  Something that I believe is very important here is that they all sang "unto the Lord" and not just to entertain themselves.  Certainly our worship songs can be entertaining but the purpose must be to praise God, to worship God and be sung directly to God. Some people might come to church to see what they can get out of it but maybe they should think about what they can put into worship services.
Ephesians 5:19 "Speaking to yourselves in psalms and hymns and spiritual songs, singing and making melody in your heart to the Lord."
Some denominations actually don't believe in using musical instruments, despite the dozens and dozens of Old Testament references that they were commanded to use but even in the New Testament we see that we are to make "melody in [our] hearts to the Lord."  The Greek used for "making melody" is "psallō" which literally means "to pluck, to cause to vibrate by touching," or "to strike the cord" which is clearly referring to a musical instrument.  This is what the word "psallō" was used for when the Greeks wrote about playing instruments. It's also interesting that they were to speak to themselves and do it "in in psalms and hymns and spiritual songs" which again gives us the idea that we are learning about God in worship music.  Music has always been a powerful vehicle that aided learning.
Psalm 40:3 "And he hath put a new song in my mouth, even praise unto our God: many shall see it, and fear, and shall trust in the LORD.
Is the Psalmist saying that the Lord "put a new song in" his mouth meaning that God inspired it?  I believe so because we already know that the Psalms are all inspired by God and the Psalms were used for worshiping God in being sung back to God and these songs, no doubt, had the accompaniment of musical instruments.
Psalm 105:2 "Sing unto him, sing psalms unto him: talk ye of all his wondrous works."
In ancient Hebrew literature, the idea of singing and talking were closely related.  Offering God praise by words and by songs is sometimes seen as one and the same and that may be why the Psalmist said to "Sing unto Him [and] talk.of all His wondrous works."  We communicate what is in our hearts to God, not only by words but by song and that may be what the Psalmist is referring to here in this Psalm where they sing to God and talk about all of His wondrous works, all at the same time.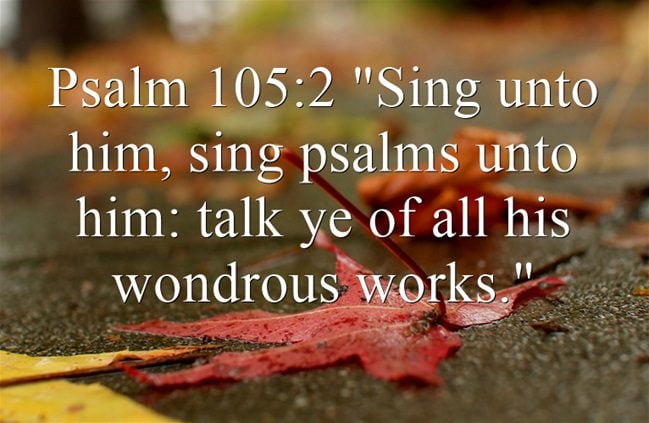 Conclusion
Did you know that worship music is in heaven too (Rev 5:8, 14:2-3, 15:3-4)?  Can you imagine what a heavenly choir must sound like? We who are saved have every good reason to worship God in songs of praise for He is certainly worthy of all honor, glory, and praise.  What Bible verse stands out to you about worshiping God in songs?

Article by Jack Wellman
Jack Wellman is Pastor of the Mulvane Brethren church in Mulvane Kansas. Jack is also the Senior Writer at What Christians Want To Know whose mission is to equip, encourage, and energize Christians and to address questions about the believer's daily walk with God and the Bible. You can follow Jack on Google Plus or check out his book  Blind Chance or Intelligent Design available on Amazon