Friendship is one of the most precious things a Christian can have in their life.  What are some of the greatest Bible verses on friendship?
Friendship
Some of my own church members are closer to me than my biological brothers and sisters.   That is because we have the same Father!  Part of being in the Body of Christ is that we have friends who are also our brothers and sisters in Christ and we need one another. Just read Romans 12 and 1 Corinthians to see why I say that.  I covet the love, friendship, fellowship, and prayers of these precious friends of mine who do stick closer than a brother to me.
David and Jonathan
First Samuel 18:1 "The soul of Jonathan was knit to the soul of David, and Jonathan loved him as his own soul."
This is one of the greatest and most precious friendships in the entire Bible.  Jonathan loved David "as his own soul" and their souls were knit together.  The Hebrew word for "knit" is "qashar" and it means "to bind, to confine, to tie together" and that is just what David and Jonathan's hearts were.  When Jonathan was killed, David mourned like he had lost his own brother, even more so, for he loved him more than any of his brothers.  To David, it was like part of his own soul had died.  That's how close they were.
Sticks closer than a Brother
Proverbs

18:24

"A man of many companions may come to ruin, but there is a friend who sticks closer than a brother."
Do you see what this means?  Someone who runs with "many companions" will come to ruin but if you have one close "friend who sticks closer than a brother" it will come to good. If you rea d these lines as contrasting with one another then you could read it this way; if you run with many friends it leads to ruin but if you have one friend who sticks closer than a brother it will turn out well.  As I wrote before, having a Christian brother or sister as a close friend is having someone in your life that is closer than a physical brother or sister. Think about how close some siblings are; now consider how much closer a believer in Christ is to you who is also your friend.
Proverbs 27:6 "Faithful are the wounds of a friend; profuse are the kisses of an enemy."
This is where the value of a mentor is found.  Every Timothy needs a Paul and every Paul needs a mentor too.  For me, even though I am 60+, I trust an older, retired pastor who I can tell anything.  He does me a favor when he finds me in error or shows me a fault that my blind spot doesn't allow me to see.  That's the value of a close friend.  He or she loves you enough to tell you the truth.  I would rather have the wounds of a friend because they cut in order to heal, but "the kisses of an enemy" only flatter me and may inflate my ego increasing my pride and there is no spiritual growth.
Ecclesiastes 4:9-10 "Two are better than one, because they have a good reward for their toil. For if they fall, one will lift up his fellow. But woe to him who is alone when he falls and has not another to lift him up!"
This is why the Christian life is not intended to be a solo act.  Two are stronger than one and what they toil for (work for) will be a reward that is good for both of them.  How often have I fallen but there was my friend who picked me up.  That is why there are no lone ranger Christian's in the Bible because it says "woe to him (or her) who is alone for when he (or she) falls and has not another to lift him (or her) up!"  The word "woe" always speaks of calamity or judgment so it's better to go through life with a close friend than to go it alone through difficult times.
John

15:13

"Greater love has no one than this, that someone lay down his life for his friends."
I remember reading an old fiction book in elementary school that the title and author escapes me but the story never did.   It was about two men who were trapped in a cabin on a mountain during a blizzard.  The drifts were so high that there was no way that they could go for help.  Obviously, this was before cell phones so there was nothing much they could do but try and wait it out and hope that help would come.   As the days passed and the snow continued to fall, the two men because desperate as they scrounged for anything that they could find to eat.  The cabin that they had borrowed didn't have much of anything to eat.  After about the tenth day, it appeared that they weren't going to make it because they were running out of food.  That was when one of the men said that he was going to go out and try to find help.  He went into the upper portion of the split-level cabin, found some snow shoes, and went through the upper window of the cabin.  He never came back.  After a few days, his friend went up into the attic to try and look out the window to see if he could see his friend. There he found a note that said, "I know that there wasn't enough food for the both of us to live much longer and I couldn't bear to see us both die of starvation so I thought that you should be the one to survive.  I love you my brother."  Even though this was a fictional story, when I read this verse it reminded me of it.  Jesus laid down His life for us and He tells us "You are my friends if you do what I command you" (John 15:14).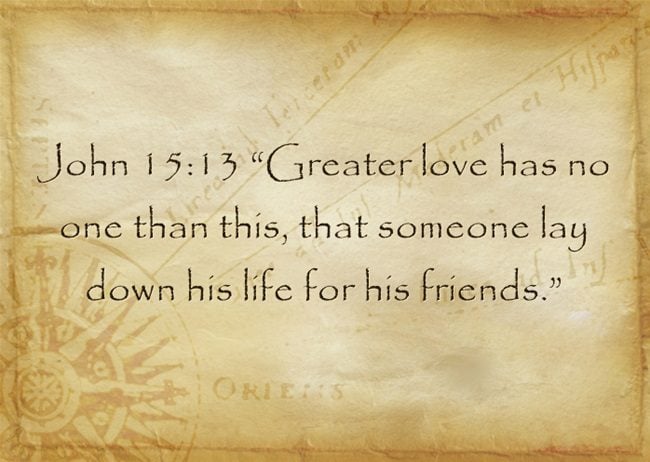 Proverbs 27:17 "Iron sharpens iron; so one man sharpens another."
I believe that this is one of the many things that friends are for.   One might disciple the other or one might be the mentor of the other (and they can be the same thing; discipling and mentoring) but either way, they grow together in the grace and knowledge of the Lord.  That is why every believer needs a teacher or pastor or to be in a Sunday school class but they also need a friend to grow with. Mentoring a younger person or being discipled by someone else sharpens their friend and is essential to their growing in godly character.  It's needful for iron to sharpen iron because rust never sleeps.
Proverbs

17:17

"A friend loves at all times, and a brother is born for adversity."
This might be my favorite verse on friendship.  A friend loves at all times…when we are down, when we have sinned, when we fall, and when we fail.  When we fail, a friend's love never does.  I believe that God causes certain people to come into our lives for times of adversity that we will most assuredly come.  As the saying goes; "A joy shared is doubled, a sorrow shared is halved."
Conclusion
Do you have a friendship that is "closer than a brother?"  Every one of us needs at least one Christian friend that you can tell your secrets to, confess your sins to, admit your faults to, be completely open, honest, and transparent with, to pray for you, and to keep whatever you reveal to him or her in strict confidence.  There is nothing more precious on this earth than to having a brother or sister in Christ that is closer than anyone else.   There is such a great need for this today in the church.  This "knits" the souls of the members together, it is a tie that binds, it is a "three-fold cord that is not easily broken" (Eccl 4:12).  Seek one out today if you don't already have one.   The two of you will be all the better for it.

Article by Jack Wellman
Jack Wellman is Pastor of the Mulvane Brethren church in Mulvane Kansas. Jack is also the Senior Writer at What Christians Want To Know whose mission is to equip, encourage, and energize Christians and to address questions about the believer's daily walk with God and the Bible. You can follow Jack on Google Plus or check out his book  Blind Chance or Intelligent Design available on Amazon