What are some of the top Bible verses on thankfulness? What ones would you include?
The Gift of Thanksgiving
When people express gratitude it seems to induce happiness and when we're more thankful to others when they help us or are generous to us, they are much more likely to continue to be generous and giving. How much more so would a good God tend to be more generous when we are continually giving Him thanks for what He has already given us and what He has done for us through His Son, Jesus Christ (2 Cor 5:21)? One of the most grievous sins is that of ingratitude. A sin of omission can sometimes be worse than a sin of omission and when we fail to give thanks, we are failing to acknowledge what God has done for us. This is taking God's kindness toward us for granted. Here are seven Bible verses that we can pray back to God or memorize to help us remain grateful and not forget to thank our good God for all that has done and is yet to do in the future.
Giving Thanks for All Things
Ephesians

5:20

"giving thanks always and for everything to God the Father in the name of our Lord Jesus Christ."
This verse makes me believe that we are to give thanks for all things and "all" means even though the trials and tests that we go through. If you had the IRS auditing you, would you give thanks to God for that!? I believe we should because "all" means all! God allows tests and trials in our life to make us depend on Him because these tests, even the extremely difficult ones, allow us to learn to trust Him even when our eyes lie to us. Also, we grow from trials and tests. God may allow us to be tested to see how we'll react and also not just to see how strong our faith is but to increase our faith because once the trial is over, we'll see just how faithful God was. And we'll learn that everything that happens to us always works out for our best (Rom 8:28). Always!
This is the Will of God
First Thessalonians 5:16-18 "Rejoice always, pray without ceasing, give thanks in all circumstances; for this is the will of God in Christ Jesus for you."
I get a lot of inquiries from people wanting to know what the will of God is. If they do a simple search on a Bible website or in their own Bible concordance using "will" plus "God" they'll easily find His revealed will. First Thessalonians 5:16-18 are some of those where we are to "rejoice." How often? Always! And we are to "pray without ceasing (always!). And, like Ephesians 5:20, we are commanded to "give thanks in all circumstances." There it is…that is the will of God; to rejoice, to pray, and to give thanks….always! I can't tell anyone what God's hidden will is but they'll never find His hidden will until they obey His revealed will (Eph 5:20, 1 Thess 5:16-18). That is how "you may discern what is the will of God" (Rom 12:2b).
Entering God's Gates
Psalm 100:4 "Enter his gates with thanksgiving, and his courts with praise! Give thanks to him; bless his name!"
Where are God's gates at so that we can enter them with thanksgiving? Praying through Jesus' name our prayers and our thanks can enter the throne room of heaven. I try to always give God thanks for all that He has done for me…even the trials. I was sitting in a restaurant one day and, as usual, I prayed before my meal. As I ate breakfast there I thought I'd do an informal survey. I counted 12 different groups of people being seated and observed how many of these people prayed before their meals. Not one of them prayed before they ate. I have determined to daily enter the gates of heaven, by Jesus' access, to give Him all the thanks that are assuredly due His majesty on High.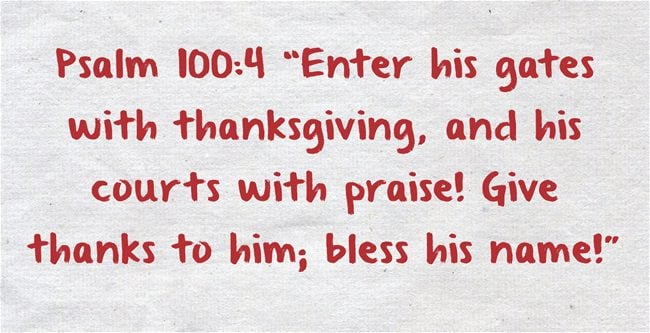 Prayer Requests and Thanksgiving
Philippians 4:6 "do not be anxious about anything, but in everything by prayer and supplication with thanksgiving let your requests be made known to God."
Once more, this is a prayer that is tied to thanksgiving. We are commanded to not be anxious about anything, instead in everything be in prayer and these supplications (prayer requests) should be tied into our giving of thanks to Him. God loves it when we are praying for our needs and more so when they come with our thanks. No one likes to be taken for granted, not even God.
The Offering of Thanksgiving
Psalm 116:17 "I will offer to thee the sacrifice of thanksgiving, and will call upon the name of the LORD."
This might surprise you but there is an offering that we can make that is pleasing and acceptable to God. It is the offering of thanksgiving. This "sacrifice of thanksgiving" was not a separate offering but part of the peace offering that Israel was commanded to give (Lev 7:11-18). This peace offering of thanksgiving reminds me that we now have peace with God (Rom 5:1) because of Christ's supreme sacrifice (John 3:16-17). Do we really need motivation to give thanks for this? I wouldn't think so.
I Thank God for You
First Corinthians 1:4 "I thank my God always on your behalf, for the grace of God which is given you by Jesus Christ."
One of my favorite lines to help edify and encourage others is one that I give to my friends in both written form and to their face, verbally; "I thank God for you." Here Paul is thanking God for those in the Corinthian church. Paul has a good habit of doing this. Imagine someone telling you: "I thank God for you." What a feeling that is. I rarely hear that. Do we regularly thank God for our friends, our church members, our pastor, and anyone else that deserves our thanks? I thank God for all who read this because the vast majority of you are all my brothers and sisters in Christ.
Singing our Thanks
Psalm 95:2 "Let us come into his presence with thanksgiving; let us make a joyful noise to him with songs of praise!"
I absolutely love the part of our worship service where we give thanks to God in song. Worship music is part of our thanksgiving to God and rightfully so. The Psalmist knew that thanking God in songs of praise is absolutely appropriate, but not just in church. I love to drive and turn on some of my favorite worship songs…one in particular is called "All Fall Down" by Kutless. There is a refrain where they sing, "holy, holy, holy" that just makes me fall down in gratitude and thankfulness (if I'm not driving) that Someone so holy would even consider saving someone like me. This song makes me fall down on my face and worship Him and give thanks for He is holy, holy, holy, and I am absolutely not…yet He still sought me, He caught me, He bought me, and He taught me, what I ought be. That's worth giving thanks for isn't it?
Conclusion
We have so much to be thankful to God for. The list is endless. Sit down sometime and write out a list of all the things that we should thank God for. I believe you'll have a very long list. Then, pray these back to God and give Him thanks for all the things that He has done for the sons and daughters of God. Give to Him the sacrifice of thanksgiving, enter His gates with thanksgiving, giving thanks at all times and for all things (at least as much as you possibly can), for this is pleasing and acceptable to our good God and it is His will.

Article by Jack Wellman
Jack Wellman is Pastor of the Mulvane Brethren church in Mulvane Kansas. Jack is also the Senior Writer at What Christians Want To Know whose mission is to equip, encourage, and energize Christians and to address questions about the believer's daily walk with God and the Bible. You can follow Jack on Google Plus or check out his book Blind Chance or Intelligent Design available on Amazon