The Apostle Paul was the most prolific writer in the New Testament. Here are a list of books or letters (epistles) written by the Paul.
The Book of Romans
This book may be the greatest theological book in the entire Bible.  Paul ties in the Old Testament and Old Covenant into the New Covenant.  I can't say the New Testament because it was not yet completed. Paul likely wrote Romans while residing at Corinth sometime between A.D. 55 and A.D. 57.   I believe that Romans is Paul's greatest presentation of the gospel among all of his writings.  The Reformers leaned heavily upon Romans as the key to understanding all Scripture and reveals the assurance of faith in Christ (8), the daily struggle with sin (6, 7), the vital signs of all Christian believers being love for one another (12) and obedience to human authority (13).   If anyone is seeking biblical understanding about justification by faith, the law, judgment, sin, human depravity, the destiny of believers and unbelievers, grace, works, election, sanctification, and the plan of salvation, this book covers it.
First and Second Corinthians
Written about the same time that the book of Romans was written (A.D. 55) and possibly while staying in Ephesus, the Books of First and Second Corinthians covers the gifts of the Spirit more comprehensively than his other books but like Romans, the Christian characteristics and supremacy of love are zeroed in on 1 Corinthians 13.  Church discipline was part of the reason that Paul wrote 1 Corinthians (5) but he also covers important subjects like marriage and divorce (7), sexual immorality (6), frivolous lawsuits (6), proper administration and observance of the Sacraments like Communion or the Lord's Supper (11), and the essentiality of Christ's resurrection, the hope of the resurrection, and the details of the resurrection for the believer (15).  Second Corinthians was written shortly after or near A.D. 55, when Paul's first letter to the Corinthians was written.  In this book, Paul focuses on the permanency of the New Covenant (3), the ministry of reconciliation (5, 6), on Christian giving (8), the call to be holy (6-7), and restoration and forgiveness of a repentant believer (2).
The Book of Galatians
Most scholars believe that Galatians was written around A.D. 49 and might have been Paul's first letter (epistle).  The Jews were trying to dispute Paul's authority as an apostle so he defends his apostolic authority as being from Christ and not from men (1, 2), to warn the Galatians of false gospels (1), that justification comes by faith alone in Christ alone and not by the law which only served to condemn while some tried to claim that justification came by works (2, 3),  that the righteous live only by faith (3), the standing of the believer as adopted children of God (4), Christ's bringing us freedom from the yoke of slavery to sin and the law (5), and that  believers are to carry one another's burdens (6).
The Book of Ephesians
Written around A.D. 60-62 while under house arrest in Rome, chapter one gives us a broad look at God's election or predestining of the believer and the sealing by the Holy Spirit of the believer (1), establishing the fact that salvation is through faith alone and not by works so no one could brag about it (2,) that each member of the Body of Christ are one in Him (2), how the gospel that was cloaked beforehand has now been clearly revealed by God's Spirit (3),  that our new life in Christ makes us the unified Body of Christ (4), that we are commanded to imitate Christ and walk in love (5), shows the fruits of the flesh contrasted to the works of Spirit (5), and the relationship of husband and wife reflects the relationship of Christ and the church (5), and how children and parents are to live with one another in godly relationships (6), which is possible only when believers put on the whole armor of God which enables believers to defend themselves from wicked spiritual attacks (6).
The Book of Philippians
This book has often been called the Book of Joy and may have been Paul's favorite church.  What seems hard for us to understand is that Paul was filled with joy and mentions joy dozens of times in this letter which he wrote while be imprisoned, sometime around A.D. 61.  Paul speaks briefly about his imprisonment but also about his thankful heart and prayer for the church (1), that life is all about Christ (1), how Christ's example of humility should be our template for living the Christian life (2), and that this joy in us should be a light to the unsaved world (2), and he repeats the theme that righteousness comes only through faith in Christ and not those who try to say it is through the law (3), and that we are to strive to endure till we cross the finish line (3), and trust God's provision through all things in this life (4).
The Book of Colossians
Paul never actually visited Colossae and so he wrote a letter to the church (A.D. 53-55) which Epaphras apparently planted.  As is Paul's custom, he begins with his giving thanks for the believers in prayers of thanksgiving (1), and focuses on the supremacy or preeminence of Christ to the believer (1), and Paul's suffering as part of God's purpose and used in his ministry through Paul (1), to not judge others for what they eat, the days they observe, or the things that they drink because these dietary laws and holy days were a shadow and now the reality of Christ is here (2), so the believer is to put on the new self which is in Christ Jesus and dwell on heavenly things and not earthly things (3), and he reviews the marital relationship and the relationship between parents and their children (3).
First and Second Thessalonians
Most like written about A.D. 50 or 51, Paul against give thanks to God for these believers (1).  He speaks to them as a father would his own children but here he is like their spiritual father (2), and he desperately desires to see them again (2), but Paul includes his praise for the encouraging report sent by Timothy about the church at Thessalonica (3), and that we are to live an obedient life that exudes the love of God (4), because the Lord's return is imminent (4), which will usher in the Day of the Lord (5).  As for 2 Thessalonians, which was also  written near A.D. 51, Paul once again opens with thanksgiving for the church and continues where he left off in 1 Thessalonians about the coming judgment at Christ's return (1), but first must come the wicked, evil, man of lawlessness (2), so they must remain or stand firm in the truth that they have received (2), and that Paul requests their prayers (3), and rebukes those who are not working and just waiting for Christ's return while living off of others (4).
First and Second Timothy
Paul writes to his spiritual child, Timothy, who he apparently led to faith in Christ (1) toward the latter end of his ministry, around A.D. 62 – 64 and is one of his pastoral epistles.  As Timothy's mentor, Paul warns him about the dangers of the many false teachers that were already infiltrating the church (1), reviewing the purpose for which Christ came, lived, and died and that being the salvation of sinners (1), while he admonishes Timothy that we should be praying for all men who are in authority over us because God desires that all be saved (2), he gives the qualifications of the pastoral office and the qualifications for deacons (3), warnings about apostasy and that many will fall away from grace (4), but that the true servants of Jesus Christ will hold on to their promise (4), and final instructions for church organization, structure, and order (5).  Paul also reiterates the warning about false teachers and the fruits that they produce, which are evil (6), and to live in contentment with what one has and to keep fighting for the faith that Paul delivered to him (6).  In Paul's second letter to Timothy, he exhorts Timothy to guard what had been given to Him (1), that like a good soldier, we can't be getting bogged down in the interests of the world (2), and that we need to be diligent in our studying the Word of God for His approval and not mans (2), to know what to expect in the last days when the godlessness of mankind will exponentially grow (3), but to trust that God's Word is God's speaking to us and inspired by Him and has no error (3), so continue to trust it in preaching (4).
The Book of Titus
Written around A.D. 62to 64 during Paul's fourth missionary trip was written to Timothy, probably a Gentile convert, about how churches are to be organized and structured, including the qualifications for elders (1), what sound doctrine is which he commands to be taught in the church (2) and to be prepared ahead of time (3).
The Book of Philemon
This letter written to the owner of a slave (Philemon) who had ministered to Paul while imprisoned in Rome around A.D. 60 was written to allow Philemon's slave, Onesimus, to continue to serve Paul and to receive him back as a freeman so Paul pleas for his release (1) who should no longer to be a slave but a fellow saint (1).
The Book of Hebrews
There is much debate about the author or authors of the Book of Hebrews.  This book has been attributed to Paul but may have been written by several of the leaders of the church.  Whoever it was, they were skilled in the Greek and Hellenistic literary style and was familiar with Timothy (13:23).   Was this book written by Paul, Luke, Priscilla, or perhaps as some speculate, even Barnabas?  The conclusion is that in the end, all Scripture finds as its source, God the Holy Spirit (2 Tim 3:16).  This book is specifically written to Jewish Christians and Jews who may have heard the gospel but had not yet placed their trust in Christ and were still practicing the Mosaic rituals and sacrifices.  It may have been written around A.D. 64 while the severe persecutions under Nero were taking place.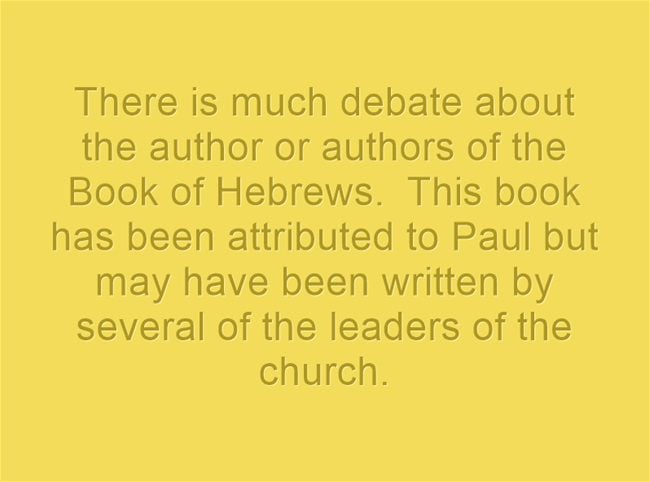 Conclusion
These lists of epistles by Paul are not in chronological order.  It is strongly believed that the last book or letter written by Paul was 2 Timothy because he writes that he is "already being poured out as a drink offering and the time of [his] departure has come [and he has] finished the race [and] kept the faith" (2 Tim 4:6-7) and that he is confident that "there is laid up for [him] the crown of righteousness, which the Lord, the righteous judge, will award to [him] on that Day" (2 Tim 4:8) and that everyone had deserted him but Luke (2 Tim 4:10) and that no one stood by him "but all deserted [him but prayed] may it not be charged against them" (2 Tim 4:16) but only "the Lord stood by [him] and strengthened [him]" (2 Tim 4:17).  Whether the Lord stood by Him in a real, physical sense or in a spiritual presence, we cannot say for sure.  One thing we can almost be certain is that Paul was the greatest Christian and missionary that the world has ever known and that many today are still being brought to saving faith by his writings and yet more, I am sure, will be saved in the future.

Article by Jack Wellman
Jack Wellman is Pastor of the Mulvane Brethren church in Mulvane Kansas. Jack is also the Senior Writer at What Christians Want To Know whose mission is to equip, encourage, and energize Christians and to address questions about the believer's daily walk with God and the Bible. You can follow Jack on Google Plus or check out his book  Blind Chance or Intelligent Design available on Amazon