The Bible speaks about our future in many places, from Genesis to Revelation. Here are my top 7 Bible verses about the future.
James 4:13-16 "

Come now, you who say, "Today or

tomorrow

we will go into such and such a town and spend a year there and trade and make a profit"— yet you do not know what

tomorrow

will bring. What is your life? For you are a mist that appears for a little time and then vanishes. Instead you ought to say, "If the Lord wills, we will live and do this or that." As it is, you boast in your arrogance. All such boasting is evil."
James is clear that we cannot even speak about doing something tomorrow with certainty because we don't even know what today will bring.  God sees this as presumptuousness and presuming on the grace of God is a dangerous thing. I have tried to change my language when I am planning on being somewhere or doing something in the future by saying "God willing…"  James says that we "ought to say, 'If the Lord wills, we will live and do this or that" because boasting about anything in the future is evil and is presumptuous.
First John 3:2-3 "Beloved, we are God's children now, and what we will be has not yet appeared; but we know that when he appears we shall be like him, because we shall see him as he is.  And everyone who thus hopes in him purifies himself as he is pure."
If you are like most Christians, you cannot wait to see Jesus for the very first time.  Then we'll actually "see Him as He is" because "we shall be like him" meaning that we cannot see Him as we are now but must have a glorified body to be able to look upon Him Who is God and not die.  If we think of His coming…this can help us live a holier and purer life which is why John wrote "everyone who thus hopes in him purifies himself as he is pure."
Philippians 3:20-21

"But our citizenship is in heaven, and from it we await a Savior, the Lord Jesus Christ, who will transform our lowly body to be like his glorious body, by the power that enables him even to subject all things to himself."
What encouraging Bible verses these are.  If we live with the end in mind, we can endure the present more easily, knowing that what we are now enduring can never compare with what will be revealed in us at Christ's return (Rom 8:18).  Knowing that we have a citizenship already reserved for us in the kingdom of heaven, we can look forward to inheriting a new body that "our lowly body" now is into one that is "like His glorious body."  That is something that Paul and something that we should look forward to in earnest and eager expectation.
Revelation 21:3-4 "Behold, the dwelling place of God is with man. He will dwell with them, and they will be his people and God himself will be with them as their God. He will wipe away every tear from their eyes, and death shall be no more, neither shall there be mourning, nor crying, nor pain anymore, for the former things have passed away."
I don't think we can even imagine what dwelling with God will be like.  If you've ever had a mother wipe away your tears after falling and getting hurt, the image of God wiping away every tear may be easier to comprehend.  Why is there crying in heaven?  Is it because of the regrets for all the things that we didn't do for the Lord while on earth as it says that some will be ashamed at His appearing (1 John 2:28), will it be for those we didn't witness to among our family, friends, and co-workers who didn't make it into the kingdom, or will it be that we are so happy that we cry for the joy that is within us?  Either way, God will tenderly wipe away every one of our tears, showing God's tenderheartedness but also showing that we will have some tears; maybe from regret, remorse, or from the joy of finally making it into the kingdom.  I do believe that these tears will be short-lived and when God wipes away the tears, they will stay gone.
Isaiah 40:31 "But they who wait for the Lord shall renew their strength; they shall mount up with wings like eagles; they shall run and not be weary; they shall walk and not faint."
If we have repented and trusted in Christ, we know that we are secure in His and the Father's hands (John 10:28-29) because Christ will turn no one away who comes to Him (John 6:37) and none of His own will be lost (John 6:39).  That eager expectation should give us strength to endure today's trials and maybe that's what Isaiah meant that we "shall run and not be weary [and we] shall walk and not faint."
John 14:1-3 "Let not your hearts be troubled. Believe in God; believe also in me. In my Father's house are many rooms. If it were not so, would I have told you that I go to prepare a place for you? And if I go and prepare a place for you, I will come again and will take you to myself, that where I am you may be also."
You know the disciples were troubled in their heart and that is exactly why Jesus tried to comfort and reassure them.  They knew that Jesus was going away so we can understand their sorrow and their deep concern about that.  Jesus tries to settle their hearts by promising them that there are many rooms in the Father's house awaiting them, that Jesus was going to "go to prepare a place" for them, and that He "will come again and take [them] to [Himself so] that where [He is, they] may be also."  What a great and precious promise.  That promise is for us today, at least for those who have been born again (John 3:3).
Jeremiah 29:11 "For I know the plans I have for you, declares the Lord, plans for welfare and not for evil, to give you a future and a hope."
You probably expected me to include this and I did because it is just too important to exclude when talking about our future with Christ.  God wants us to know that He has plans for us and these plans are for our good and nothing evil at all.  This promise is for a future that is full of hope.  There is hope only in Christ because He lived a sinless life, died taking on our sins, was resurrected on the third day just as we will be someday, and like Him, we'll have life without end.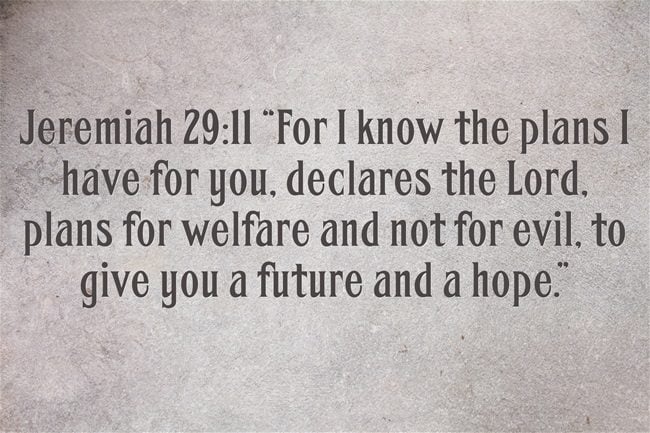 Conclusion
If you have never repented and trusted in Christ, here is your future from Daniel 12:2 "those who sleep in the dust of the earth shall awake, some to everlasting life, and some to shame and everlasting contempt." Someday, after you die, you will face the judgment of God (Heb 9:27) and if your "name [is] not found written in the book of life, [you will be] thrown into the lake of fire" (Rev 20:15).   My hope is that you will be among "those who are wise [and] shall shine like the brightness of the sky above [because] those who turn many to righteousness, like the stars forever and ever" (Dan 12:3).

Article by Jack Wellman
Jack Wellman is Pastor of the Mulvane Brethren church in Mulvane Kansas. Jack is also the Senior Writer at What Christians Want To Know whose mission is to equip, encourage, and energize Christians and to address questions about the believer's daily walk with God and the Bible. You can follow Jack on Google Plus or check out his book  Blind Chance or Intelligent Design available on Amazon