People often wonder if colors mean anything in the Bible. The answer is simple: they can, but they also don't have to. There are times when a color can have a lot of significance, but there are also times when the color is just another detail within a narrative—like describing the color of the grass, sky, etc. In a lot of ways, the Bible can be read like any other literary text (yes, Christians believe it is more than just a literary text, but that doesn't make it less than that). So, what about the color purple? Does it hold any symbolic meaning within the Scriptures? Let's take a look.
Colors can be symbolic and they are often universal
For example, the color black for many people will almost always symbolize darkness, evil, and fear. Whether you're reading a Toni Morrison book or a Dr. Seuss book, black is often symbolic of that—and the same holds true for the Bible. So, then, what is purple often known for?
Purple is often a royal color
In most literary texts, purple is a color that shows wealth, royalty, and status. This fits within a historical context, too, because purple was often a color that was very expensive and difficult to make and manufacture. As such, royalty would often be seen wearing it.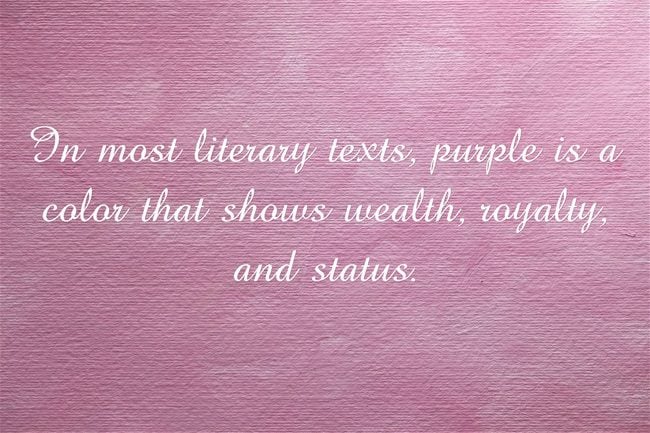 Purple in the Bible
Since we know that colors can by symbolic and the purple is often a symbol for royalty, wealthy, or status, what can it possibly mean in the Biblical text? In Mark 15:16, Roman soldiers clothed Jesus in purple before beating him and crucifying him. In this sense, they were mocking his supposed royalty. Although they were clearly doing this as a mockery (since he was considered the King of the Jews), it's also a bit ironic since Jesus was, in fact, royalty.
In addition to Jesus being clothed in a color (purple) that denotes royalty, other verses further the fact that purple is seen as a symbol of royalty in the Bible. For instance, Proverbs 31:22 says of the virtuous woman: "she makes tapestry for herself; her clothing is fine linen and purple." In other words, she has a good quality stuff that she makes, all because she works hard and is very skilled at what she does. Interestingly, there was another woman who did something similar, but this time in the New Testament. Acts 16:14 states "One who heard us was a woman named Lydia, from the city of Thyatira, a seller of purple goods, who was a worshiper of God. The Lord opened her heart to pay attention to what was said by Paul." So, there was yet another indication in the Bible that the color purple was a very, very expensive and wealthy color to make and have.
Interestingly, Purple also had a lot of involvement in the tabernacle and temple of the Old Testament period. This is not surprising to learn, because the temple took a lot of time and effort into making it, often including some expensive things.
Summary of Purple
So, what can purple symbolize in the Bible and what Bible verses back it up?
Authority & Kingship – Judges 8:26 (kings wore it)
Wealth – Acts 16:14 & Proverbs 31:22
Royalty – Esther 8:15
Conclusion
I'm sure you're all wondering something. What does this mean and why does it matter? In some ways, it doesn't matter too much. You can still grasp the ultimate meaning of the Bible without knowing a thing about the color purple. However, in other ways, it allows you to have a greater appreciation of the biblical text and can help you when looking at specific stories in the Bible. When the color purple comes up, for instance, you may be more inclined to try and understand what it signifies in that specific context of the passage. For instance, you could be reading the story of Jesus getting mocked and realize the extent of this after noticing they put him in a purple robe (ultimate mocking of his kingship).
Article By Michael Krauzer