There may be no greater news in this life than that of a birth announcement. Many people try and make their announcement memorable and exciting, often throwing some type of party, taking pictures, or finding a creative way to spread the news. And, rightfully so! Life is forming in the womb, which will culminate is a beautiful baby boy or girl—it's certainly remarkable, to say the least! Plus, the Christian faith is built around birth—the birth of Jesus, which enabled believers to eventually accept Him as their savior and be born-again, to use New Testament terminology. Suffice it to say, birth is a big deal!!! So, here are the top 7 Bible verses for a birth announcement. Congratulations for those who read this and get to use them!
"For this child I prayed, and the Lord has granted me my petition which I asked of Him." 1 Samuel 1:27
As the story in 1 Samuel goes, Hannah wanted to have a child, yet had complications in conceiving one. She was ousted as a sinner who the Lord did not look favorably upon. In that time period, if you did not have children, you were considered cursed. So, she prayed—a lot! Eventually, the Lord granted her prayer and gave her a child, Samuel.
 

"Before I formed you in the womb I knew you; Before you were born I sanctified you; I ordained you a prophet to the nations." Jeremiah 1:5
God is the one who really creates every child; He does the forming and fashioning. Isn't amazing to think of what our bodies can do? It's truly remarkable, but a child in a woman's womb has to beat out just about anything else the body is capable of (at least for women!).
 "But Jesus said, 'Let the little children come to Me, and do not forbid them; for of such is the kingdom of heaven.'" Matthew 19:14
Jesus loves all the little children—including those inside the womb!
"For You formed my inward parts; You covered me in my mother's womb." Psalm 139:13
Much like Jeremiah 1:5, this verse is perfect for declaring that God is the one who is sovereign over all, including the life in the womb.
"Train up a child in the way he should go, And when he is old he will not depart from it." Proverbs 22:6
Every new set of parents should read the book of Proverbs. It's ripe with wisdom, especially parental wisdom since much of it is written from the perspective of a father or mother giving advice to their son. Parenting is hard work, and you must be trained until you start training your child! No soldier teaches others how to fight until he learns and perfects it himself. Do all that you can to prepare for training up your new child.
"Behold, children are a heritage from the Lord, The fruit of the womb is a reward." Psalm 127:3
If you are currently pregnant, I'm sure you already feel this verse living out within your heart. This verse declares why; children are a gift of God! A birthing announcement is a great opportunity to glorify and thank God for this gift, in front of family and friends.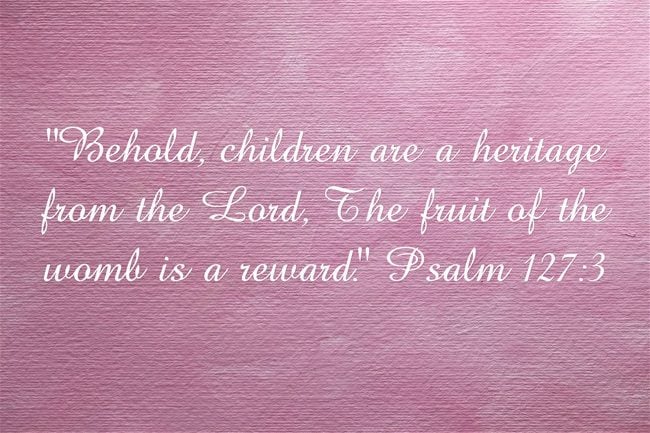 "You shall teach them to your children, speaking of them when you sit in your house, when you walk by the way, when you lie down, and when you rise up." Deuteronomy 11:19
Putting this verse on a birth announcement may puzzle some people, but it provides you with a great opportunity to tell you family and friends what your goal as a mother or father is going to be—to teach the Word of God to your child. God's Word will penetrate your house and be on your lips when you're sitting around at home, when you're out running errands, and even when you first get up in the morning. If you're actions and words are constantly centered around Jesus and the Word of God, your child will pick up on it very quickly, even at a young age!
Conclusions
Birth announcements are a great way to get creative, so it's very possible to use many different verses to aid your big announcement. Do you have any ideas for a birthing announcement, or verses that you think would be good for one? If so, please drop a comment below so that more ideas and verses can be spread!
Article By Michael Krauzer