This life is full of battles. Threats to our faith are always present and, as Christians, our fight is against the powers of this world that call us away from God. The good news is that we have every weapon we need at our disposal. When we put on the armor of God's word,  and remember that Jesus goes with us, we can face down every enemy and rest assured that we will come out victorious. The following verses serve as reminders of that promise.
 

2 Samuel 10:12 Be strong, and let us fight bravely for our people and the cities of our God. The Lord will do what is good in his sight.
He goes before us and sees the scope of every battle. Trusting God for the outcome is what makes us strong soldiers.
1 John 5:4  For everyone born of God overcomes the world. This is the victory that has overcome the world, even our faith.
Reading this verse reminds me that, all who love Jesus, are already victorious. Throughout every struggle in life, we can be calmed knowing that the outcome has already been determined and we are on the winning side.
Psalms 18:39 For You have girded me with strength for battle; You have subdued under me those who rose up against me.
There is no fear or worry that God doesn't understand. He sees the wars that rage within us and has an endless supply of strength for those who turn to him. Through his word we can learn how to face those who oppose us without fear, rising above anything or anyone that we are threatened by.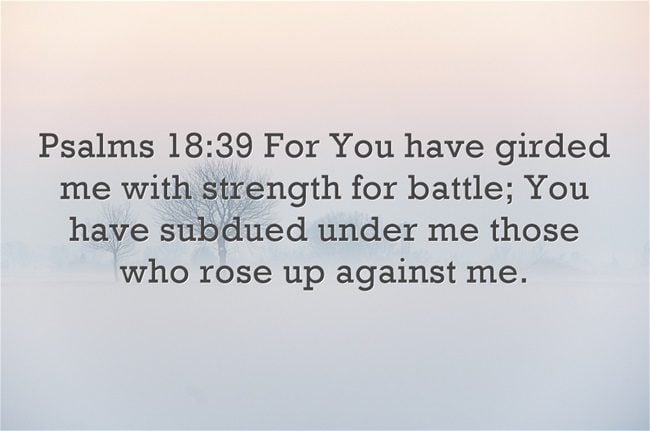 Deuteronomy 20:1 "When you go out to battle against your enemies and see horses and chariots and people more numerous than you, do not be afraid of them; for the LORD your God, who brought you up from the land of Egypt, is with you.
When we are overwhelmed by the fight in front of us, we can take heart that God is with us. Our heavenly father would never leave his children to fight alone, and He is stronger than any army.
Psalm 44:5 Through You we will push back our adversaries; Through Your name we will trample down those who rise up against us.
A reminder that we cannot win by doing things the world's way. Wars are won by those who throw up their shields and slowly, but surely, push back against the enemy wall until it is to weak to stand any longer. This comes through trusting God in every step, and standing strong even when seem to be losing ground.
Psalms 28:7 The LORD is my strength and my shield; My heart trusts in Him, and I am helped; Therefore my heart exults, And with my song I shall thank Him.
Jesus is our greatest protector. When we hold up our troubles against his truth, we are shielded from the worry that so often defeats us. Our loudest battle cry should always be one of praise to Christ  for his protection.
2 Corinthians 4:7-12 But we have this treasure in earthen vessels, so that the surpassing greatness of the power will be of God and not from ourselves; we are afflicted in every way, but not crushed; perplexed, but not despairing; persecuted, but not forsaken; struck down, but not destroyed;
The Bible tells us that God will never give us more than we can handle. So often in life, we can question that verse as we become tired of fighting. When we grow weary, what is important to remember is that God has a far better grasp of our capacities than we do. He is not letting us down or leaving us, He is growing us in our strength. If we are to be true soldiers in Christ's army, we have to full knowledge of just how strong we are in Him. We may fall, but we will never hit bottom. Because through life's battles, God has shown us that when we fight with Him, we cannot be defeated.
Final Thoughts
I hope the above verses spoke to you wherever you are in battle today. May the give you strength to fight on, peace in knowing the outcome, and refreshment from the joy of certain victory. Take heart mighty warrior, you are fighting on the winning side.
Article by Jada Pryor
I am a married to my best friend, the proud Momma of the world's coolest kiddos, and so in love with God that it brings me to my knees. I don't always understand Him, sometimes argue with Him, but am eternally grateful to have been saved by Him. I have a blog called A Nap and A Prayer where I blog about my adventures as a God Girl and Stay at Home Mama. My favorite song lyric is from the song, Travelin Thru' by Dolly Parton- "Sweet Jesus if you're listening keep me ever close to you, as I'm tumbling, stumbling, travelin through." Would love to travel together so we all make it Home in the end.