Of all the gifts Jesus gave us, love is the greatest. Loving someone completely and forever is recognizing how precious that gift truly is. Couples who commit to one another, and honor that commitment as one ordained by God, should be celebrated. The following verses were chosen as those best suited for use in an anniversary card. Feel free to include them as congratulations to the people in your life who have honored their commitments, for better, for worse, and for God.
1 John 4:8 Whoever does not love does not know God, because God is love. (NIV)
The more we learn about God, the more we are able to extend the love He shows us to one another. If we are not growing in our relationship with Him, our personal relationships can quickly fall victim to our own selfish whims and desires.
Colossians 3:14 And over all these virtues put on love, which binds them all together in perfect unity. (NIV)
God's love is sacrificial. In marriage, choosing to selflessly love your spouse, and serve their needs above your own, is most representative of that love. Feeling loved and honored by your partner leads to greater trust and a stronger, more unified bond.
Ruth 1:16-17 But Ruth replied, "Don't urge me to leave you or to turn back from you. Where you go I will go, and where you stay I will stay. Your people will be my people and your God my God."
Ruth's display of loyalty gives a beautiful example of the importance of solidarity in marriage. When couples choose to commit to living the same way-for God, and for one another-all relationship decisions can be held to those standards for living.
Song of Solomon 8:6 Place me like a seal over your heart, like a seal on your arm; for love is as strong as death, its jealousy unyielding as the grave. It burns like blazing fire, like a mighty flame.
God's love for us is a possessive one. He asks for complete loyalty and love, and in return, offers us the gift of a personal relationship. When we apply these same commitments to our marriage, taking care to love our spouse second only to God, we are rewarded with a relationship that is a reflection of the one we have with Christ.
1 John 4:19 We love because he first loved us.
When we need a reminder to honor our mate, we can look to this verse. Our spouse is not perfect, nor are we, and there will be days when we would rather do things our way, or even walk away all together. This is what we remember: We are not loved by God because we deserve it. We are loved simply because we are His. The same applies to our husband or wife. Even when they do not "deserve it", we love because "he first loved us."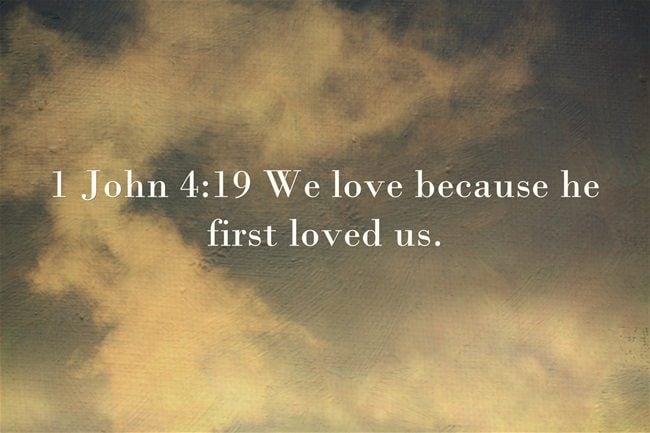 Mark 10: 6-9 But at the beginning of creation God made them male and female. For this reason a man will leave his father and mother and be united to his wife, and the two will become one flesh. So they are no longer two, but one flesh. Therefore what God has joined together, let no one separate.
Realizing that God himself was behind your relationship, creates a sense of dedication to honor His plan. Uniting with the person whom He chose for you, means leaving behind your past, and stepping into the future he planned. From that moment forth, you are one flesh. The best marriages recognize and protect that unity, forsaking all others.
1 Corinthians 13:4–8 Love is patient, love is kind. It does not envy, it does not boast, it is not proud. It is not rude, it is not self-seeking, it is not easily angered, it keeps no record of wrongs. Love does not delight in evil but rejoices with the truth. It always protects, always trusts, always hopes, always perseveres. Love never fails.
This passage of scripture is a blueprint for building a marriage on the most solid foundation. Within this verse lie guidelines for loving the way Christ taught us. When we apply this passage to our marriage, we are assured that we are loving according to His plan. The most successful relationships live out this verse, and through doing so, find themselves a love that can only be described as heaven sent.
Final Thoughts
Marriage is under attack. Culture tells us that when the going gets tough, the tough take off. Relationships, marriages, are treated as expendable, and the divorce rate climbs. I wonder if perhaps, those couples who decide to live and love by biblical standards, are able to somehow shield themselves from such messages, by wrapping their marriage in the protection of Christ. Choosing to honor God with your life means choosing to honor the way he has asked us to love. Doing so in our marriage ensured that we will be receiving lots of anniversary cards. Because, like our Savior, this love will stand the test of time.
Article by Jada Pryor
I am a married to my best friend, the proud Momma of the world's coolest kiddos, and so in love with God that it brings me to my knees. I don't always understand Him, sometimes argue with Him, but am eternally grateful to have been saved by Him. I have a blog called A Nap and A Prayer where I blog about my adventures as a God Girl and Stay at Home Mama. My favorite song lyric is from the song, Travelin Thru' by Dolly Parton- "Sweet Jesus if you're listening keep me ever close to you, as I'm tumbling, stumbling, travelin through." Would love to travel together so we all make it Home in the end.