It's that time of the year again when we go shopping for Christmas cards – or use the boxes of cards we bought on sale after Christmas last year. Or maybe you're the creative type and you make beautiful hand-crafted cards for everyone on your list. But whatever sort of Christmas card sender you might be, you'll probably agree that the choices for cards are endless. Even if you're sticking to religious cards and not using reindeer and snowmen, you have more than a few designs and styles to choose from.
This post is not about how to pick the perfect design or color scheme, or how to craft cards from scratch. I'm going to offer some suggestions to help you with the message of your card. There's nothing wrong with a nice "season's greetings" message, but as Christians, we understand the real reason for the season; and what better way to share the truth than on a Christmas card. I've picked seven Bible verses that I believe would be appropriate to use on Christmas cards – whether you personalize your store-bought cards, or you're crafting them by hand.
Isaiah 9:2 (ESV) "The people who walked in darkness have seen a great light; those who dwelt in a land of deep darkness, on them has light shone."
This verse is from one of the Old Testament prophecies about the birth of Jesus, so it's appropriate to Christmas. Also, Christmas is a time when we celebrate light – in the secular sense of all things positive, or even in the old fashioned sense of winter darkness slowly giving way to spring and longer days. What better way to tell people about the one true Light?
John 1:29 (ESV) "Behold, the Lamb of God, who takes away the sin of the world!"
This is why God sent us Jesus, so that He could take away the sins of the world. We celebrate His sacrifice at Easter, but it all started at Christmas. He was born as the Lamb of God, and the shepherds and the wise men were some of the first ones to know this.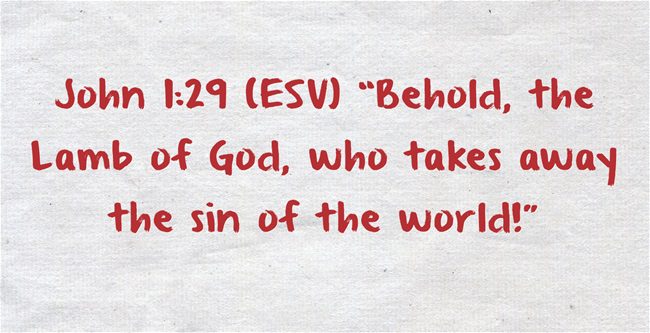 Luke 1:37 (ESV) "For nothing will be impossible with God."
This verse may not seem immediately Christmasy, but in context it is the angel telling Mary that both she and her cousin Elizabeth will bear sons even though it seems "impossible." God is an expert at doing what seems to us to be impossible, and this can be a powerful message of hope to many people, especially at this time of the year.
John 1:9-10 (ESV) "The true light, which gives light to everyone, was coming into the world. He was in the world, and the world was made through him…"
This is another verse about light – the true light that can save and heal us. No one is surprised to see an image of a star on a Christmas card, but this verse accompanying that sort of picture might just set your card – and the important message it represents – apart from all the others.
Psalm 117 (ESV) "Praise the Lord, all nations! Extol him, all peoples! For great is his steadfast love toward us, and the faithfulness of the Lord endures forever. Praise the Lord!"
Even though Jesus was born in the Middle East two thousand years ago, He was born to save everyone, in every time and in every nation. God's love and faithfulness were made manifest in Jesus. This Old Testament song may not specifically be a prophecy about the Messiah, but it is still an appropriate to God.
Matthew 3:17 (ESV) "…a voice from heaven said, 'This is my beloved Son, with whom I am well pleased.'"
Even though this occurred at Jesus' baptism when He was an adult, it's a lovely verse to put on a Christmas card with the infant Jesus. He was always God's beloved Son, and He always pleased His Father perfectly.
John 3:16 (ESV) "For God so loved the world, that he gave his only Son, that whoever believes in him should not perish but have eternal life."
This is really the ultimate Christmas verse, in my opinion. "For God so loved…that He gave.." At this time of year we celebrate the act of giving, and so it's appropriate to point to the ultimate Giver and His Gift to us.
No matter what kind of cards you send – store-bought, home-made, or even just an email – I hope you find some inspiration in these verses to share your faith this Christmas season.
Article by : Grace Robinson
Grace Robinson was born and raised in Virginia, Grace studied English and creative writing at Hollins University. Currently living in Virginia with a rabbit and a lot of books, she's a writer of fantasy and a fan of arctic places, world music, mythology, and linguistics. Soon-to-be world traveler and published author, Grace hosts her own blog and works for Helps2Media as a content supervisor.