Communication is so important among people of all ages. Misunderstandings can be avoided, and great things can be accomplished when there is open communication. Words can hurt or they can encourage, they can teach or they can tear down, but no matter what they are very powerful. They are also a huge reflection of what is in our heart. As Christians, the Lord has given us some basic guidelines in his word about how and what we should speak, so here are my top seven Bible verses about good communication.
Psalm 19:14 (ESV) "Let the words of my mouth and the meditation of my heart be acceptable in your sight, O LORD, my rock and my redeemer." 
This verse has been one of my prayers many times throughout my lifetime, as I always want to say the right thing on every occasion. I have asked the Lord to give me the proper words to share, so that it would be him speaking through me—especially when sharing an important message with someone or with a group. I love this verse, though, because the psalmist not only asks for his words to be righteous, but he also asks that the meditations of his heart be pure and acceptable to God as well. Our thoughts and our words need to match what is on the Father's heart, since he is our rock and our redeemer. Good and healthy communication will then flow from our hearts to our words and then on to the receiver's ears.
Psalm 37:30 (ESV) "The mouth of the righteous utters wisdom, and his tongue speaks justice." 
David was very wise and experienced when he became King of Israel, as he had gone through many challenges in his lifetime. He had killed Goliath as a young man, and then he had served King Saul who later tried to hunt him down and kill him. The Bible says that he was a man after God's own heart (I Kings 14:8). So this verse is important because David knows from experience how a righteous person will speak, and he explains that wisdom and justice will be spoken by someone who truly follows after God. Good communication skills can then be developed and experienced when our mouths are full of God's wisdom.
Proverbs 12:25 (ESV) "Anxiety in a man's heart weighs him down, but a good word makes him glad." 
Everyone struggles with difficulties and challenges at some point in their lives, and these anxieties will often lead to stress or fear. In this passage, though, King Solomon reminds the reader that a good word shared or spoken by someone can actually lift up another person who is suffering with a certain problem or burden. In other words, good communication involves being aware of the struggles of others and helping to ease another person's cares with a "good word."
Proverbs 25:11 (ESV) "A word fitly spoken is like apples of gold in a setting of silver." 
I really like this verse, because it is a beautiful picture of the value of the right word spoken at the perfect time. Words do not only lift up and encourage others, but they have value. They can be precious and so meaningful when spoken at the opportune moment. As Christians, we should not only ask for our hearts and words to mirror the Lord's, but also that the timing of those spoken words be right on cue as well. Ecclesiastes 10:12 explains, "The words of a wise man's mouth win him favor, but the lips of a fool consume him." Wise and kind words are of great benefit on every occasion, and they will even grant us favor. Proverbs 16:13 states, "Righteous lips are the delight of a king, and he loves him who speaks what is right." So the right words spoken at the proper time, can even gain us favor with "kings" and other leaders in authority. This is especially true when our words come from the overflow of the heart. Unfortunately, just the opposite is true for foolish words. Not only will they hinder us, but they may even destroy opportunities for advancement and success.
Matthew 12:37 (ESV) "…for by your words you will be justified, and by your words you will be condemned." 
This verse is a clear warning to all of us about the importance of our words. It is apparent through God's word that our behavior and actions have consequences in the Kingdom of God, but this verse also makes it obvious that our spoken words also bring ramifications. The verses right before this one make this very clear by saying, "…For out of the abundance of the heart the mouth speaks. The good person out of his good treasure brings forth good, and the evil person out of his evil treasure brings forth evil. I tell you, on the day of judgment people will give account for every careless word they speak (Matthew 12:34-36). With this warning in mind, we should seek to fill our hearts with God's word, so that we practice good communication and so that we will ultimately be judged as righteous children of God.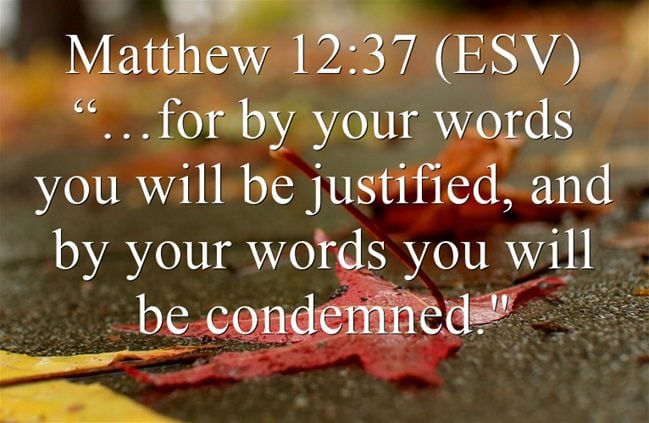 Ephesians 4:29 (ESV) "Let no corrupting talk come out of your mouths, but only such as is good for building up, as fits the occasion, that it may give grace to those who hear." 
God is always about encouraging us and helping us to live healthy, happy lives. He reiterates over and over again the power of our words, so that is why a discussion about corrupting talk or bad language is also very important. The Lord wants us to build each other up, speaking words of life and affirmation over one another, and bad language will never accomplish that. As a matter of fact, it creates negative labels and responses in the hearer, and it can actually destroy communication between individuals. I believe that Paul's words here are a very important command to us as Christians, because good fruit (and words) should always be coming out of our mouths. We should be a godly example to everyone around us.
Colossians 3:8 (ESV) "But now you must put them all away: anger, wrath, malice, slander, and obscene talk from your mouth." 
No healthy discussion about good communication would be complete without including a discussion on negative words. Like it says here, we must put away anything from our mouth that is not good. Anger, wrath, malice, slander and obscenities are all types of sinful behavior, and they are often expressed through negatively spoken words. These words will tear down and destroy relationships and people, so the Lord forbids us from expressing ourselves in these ways. Otherwise, our communication and our relationship with the Lord and with others will be hindered.
Conclusion
Good communication between people is of great importance in our society today. God's word gives us valuable insights into how we should speak to and treat one another, and as Christians we should seek to be a blessing to everyone that we come into contact with. Our words are a reflection of what is in our hearts, so we should constantly be filling our hearts and minds with what is best. The apostle Paul encourages us in this way, "Finally, brothers, whatever is true, whatever is honorable, whatever is just, whatever is pure, whatever is lovely, whatever is commendable, if there is any excellence, if there is anything worthy of praise, think about these things" (Philippians 4:8). If we follow God's word, then our communication and relationships with others will not only improve but we will have favor and be blessed. 
Written by Karla Hawkins
God has been good to me over the years, and I have much for which to be grateful to Him. First of all, I feel blessed to be the pastor's wife of a thriving church in northern Michigan and the mother of four amazing grown children. It is also very rewarding to be a Christian author, editor and translator for the Kingdom of God. Some of my favorite pastimes include supporting my children's contemporary Christian band ONLY9AM, singing on the worship team at church, traveling, and connecting with family and friends via social media. My favorite song this year has been "You Make Me Brave" by Amanda Cook from Bethel Church, as God has recently been stretching my faith and walk with Him in new ways. When I am not working, I love spending time with my family and especially with my precious three-year-old grandson.