We have all experienced a restless night – tossing and turning and often worrying about something or many things happening in life. What's troubling you and stressing you out during the day seems to come out stronger at night when you are left to your own thoughts. Christ told us this life would not be void of trouble, but He also left us with a way to relieve our worry and stress. He will listen when we speak to Him about what's troubling our hearts and keeping us awake. Here are seven Bible verses to help get some sleep on restless nights.
Go to God for Strength
Psalms 46:1 "God is our refuge and strength, a very present help in trouble."
Worry and fear can keep you awake at night and even consume your dreams. Know that God will provide safety and strengthen you through each step ahead. I pray that God grants you peace so you can sleep soundlessly and awaken with a renewed spirit ready to face the day ahead.
Trust that God is With You
Deuteronomy 31:6 "Be strong and courageous. Do not fear or be in dread of them, for it is the Lord your God who goes with you. He will not leave you or forsake you.""
Are you afraid to sleep? Fear can creep in and enclose you – keeping you immobile, but God has a plan. Peace and strength will come over you when you give the situation to God. There is no reason to dread what you know you have to face when you have God on your side.
Give Your Worry to God
Luke 12:29 "And do not seek what you are to eat and what you are to drink, nor be worried."
The business of life can lead you to worrying about basic things, such as food and drink. This worry may come from trying to feed your family or preparing for a party. We often think (or want to think) that we are in control, but God is really who controls what happens. He will always take care of you.
Give Your Anxiety to God
Matthew 6:34 "Therefore do not be anxious about tomorrow, for tomorrow will be anxious for itself. Sufficient for the day is its own trouble."
Is anxiety keeping you awake? Maybe you have an unpleasant meeting at work or are awaiting test results from the doctor. Maybe the battles with your children are becoming overwhelming. Maybe the unpaid bills are piling up. God is with you in all situations and wants to fill your anxiety and worry with comfort and reassurance that you are not alone.
Pour Out Your Heart to God
Lamentations 2:19 ""Arise, cry out in the night, at the beginning of the night watches! Pour out your heart like water before the presence of the Lord! Lift your hands to him for the lives of your children, who faint for hunger at the head of every street.""
I guarantee that your burdens will be released if you pour out what's on your heart to God. Write down everything that's on your mind and pray about it. You may be amazed at what is making you tense. The burdens can seem too heavy at times, but you will feel lighter and find yourself praising God after pouring your heart out.
Let God's Peace Come Over You
Psalm 4:8 "In peace I will both lie down and sleep; for you alone, O Lord, make me dwell in safety."
Do you feel safe as you try falling asleep? God will keep you safe – physically and grant you peaceful dreams. Rely on His power to overcome what is making you feel unsafe. There is power in speaking your worries a loud to God.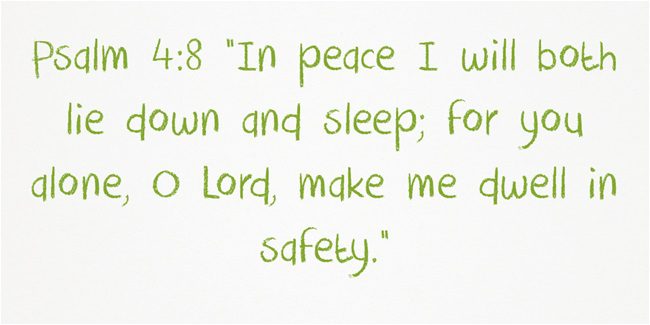 Let God Sustain You
Psalm 3:5 "I lay down and slept; I woke again, for the Lord sustained me."
Do you believe the Lord will sustain you? Go to Him for strength, courage, clarity and peace. God sees you and understands the complexity of each situation you are called to endure. Only He knows your true needs and how to meet each one.
Conclusion
May you find the rest you need, but not just physical rest. God can rest your soul in a manner that addictions, over spending, spreading gossip and other harmful actions cannot. Tell Him what's bothering you and listen to your heart when He whispers to you, nudging you along in the right direction. Rest for your soul will create an inner peace to help you overcome your current circumstances and face all that lies ahead.