What are my top 7 Bible verses about the Rapture or Christ's return?
First Thessalonians 4:17 "Then we who are alive, who are left, will be caught up together with them in the clouds to meet the Lord in the air, and so we will always be with the Lord. Therefore encourage one another with these words."
The Greek word for "caught up" is "harpazō" and means "to seize, to carry off by force" or "to snatch away."  Someone who was kidnapped could be said to be caught up or snatched away by force and so this is the Lord's doing however it is not done against our will because those who have repented and put their trust in Christ have by their own freewill chosen to believe in Him (John 3:16).  I think Paul wrote this to the Thessalonians to reassure them about those who had already died and they feared that they would miss the Lord's return or miss out on the kingdom.  Paul expressly wrote this to reassure them that the Lord wouldn't miss any of His when He returns; therefore Paul wanted them to "encourage one another with these words" that he wrote.
First Thessalonians 4:16 "For the Lord himself will descend from heaven with a cry of command, with the voice of an archangel, and with the sound of the trumpet of God. And the dead in Christ will rise first."
This will be hard to miss because when Christ returns again, He "will descend from heaven with a cry of command, with the voice of an archangel" so this won't be something that believers will have to worry about missing.  His voice will be accompanied with "the trumpet of God" and those who are departed in the faith "will rise first" and then we'll join them into the entrance of the eternal kingdom of God and that joy will be unparalleled in all of our lives and in human history.
Titus 2:13 "waiting for our blessed hope, the appearing of the glory of our great God and Savior Jesus Christ."
Today, those who are in Christ are "waiting for our blessed hope" and that blessed hope is "the appearing of the glory of our great God and Savior Jesus Christ."  Our waiting is not in vain because Jesus promised to come again and there is no doubt that He will (John 14:3).  That is why this hope is so "blessed" because it encourages us to endure what we go through in this life and that someday, this will all be behind us and like Paul wrote "I consider that the sufferings of this present time are not worth comparing with the glory that is to be revealed to us.  For the creation waits with eager longing for the revealing of the sons of God" (Rom 8:18-19).
John 14:3 "And if I go and prepare a place for you, I will come again, and receive you unto myself; that where I am, you may be also."
Jesus at this very moment is preparing a place for you and me. He has been preparing this place for us since the day we were saved so that when He returns He'll receive us and where He is, we will be.  This place is to descend out of heaven as the New Jerusalem which will then be our place.  Since He has prepared or is preparing a place for us and that He will receive us to Himself at that place, we should "rejoice that [our] names are written in heaven" (Luke 10:20).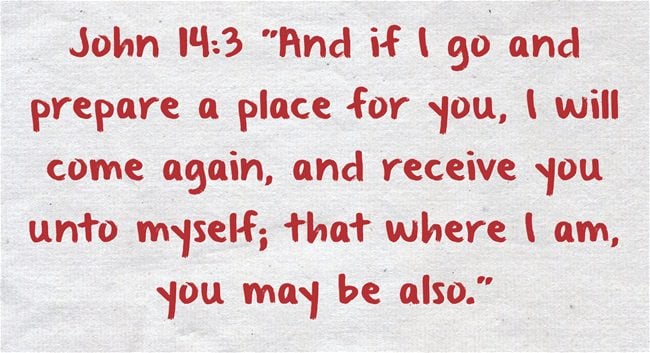 Matthew 24:30-31 " Then will appear in heaven the sign of the Son of Man, and then all the tribes of the earth will mourn, and they will see the Son of Man coming on the clouds of heaven with power and great glory.  And he will send out his angels with a loud trumpet call, and they will gather his elect from the four winds, from one end of heaven to the other."
Christ will gather those who are His someday.  They are the elect of God.  Notice that those who Jesus is speaking about are "his" meaning that they are those who have believed in Christ and put their trust in Him.  There is no doubt that the Son of Man refers to Jesus Christ.  The Son of Man is frequently used when it is speaking about God for the Son of Man is tied to a supernatural being called God.  You can read about this in Daniel 7:13-14.  Ezekiel used the term Son of Man 93 times and it was sometimes a reference to Ezekiel's humanity but since Christ is God and Man, the Son of Man in capital letters makes it a proper noun and clearly refers to none other than Jesus Christ.
First Corinthians 15:51-53 "Behold! I tell you a mystery. We shall not all sleep, but we shall all be changed, in a moment, in the twinkling of an eye, at the last trumpet. For the trumpet will sound, and the dead will be raised imperishable, and we shall be changed.  For this perishable body must put on the imperishable, and this mortal body must put on immortality."
Paul was trying to uncover this mystery that had been hidden and that is that not every one of us will be at sleep at Christ's return.   Paul is not talking about a soul sleep but if you read the context of this chapter and the use of the word "sleep" it obviously means those who have died.  Paul is telling the church that not every one of us will be sleeping (or dead) when Christ returns but we will be changed instantaneously or in the twinkling of an eye.  The dead will rise first and then those of us who are alive at Christ's return will be changed and we'll all put on immortality.
Philippians 3:20-21 "But our citizenship is in heaven, and from it we await a Savior, the Lord Jesus Christ, who will transform our lowly body to be like his glorious body, by the power that enables him even to subject all things to himself."
The older I get, the more I look forward to the day that "our lowly body [is] to be like his glorious body" and that this transformation will give us new bodies that never grow tired, never get sick, never feel pain, and will never die again.  That's because "our citizenship is in heaven" and that is a citizenship that will never be revoked.
Conclusion
I believe the things Jesus spoke about in Matthew 24 have already happened, particularly with the fall of Jerusalem in 70 AD. I am not waiting for any rapture. I am waiting on my Lord to return. Either way, we all have differences of opinion on the rapture just like we do the tribulation and the time of the rapture or whether there's even a rapture at all, but that doesn't mean we divide. Instead of focusing on the rapture, let us focus of Christ or we'll sink like Peter did in the stormy seas because he took His eyes off Christ. May we all be ready for His return at any given moment, or as the Apostle John wrote, "so that when he appears we may have confidence and not shrink from him in shame at his coming" (1st John 2:28).  Whether you believe in the rapture or not is not the important issue.  What is important is that you decide today, if you haven't already done so, to place your trust in Christ because "Blessed is the man who trusts in the LORD, whose trust is the LORD" (Jer 17:7) "For the scripture says, Whosoever believes on him shall not be put to shame" (Rom 10:11).
Another Reading on Patheos to Check Out: What Did Jesus Really Look Like: A Look at the Bible Facts
Article by Jack Wellman
Jack Wellman is Pastor of the Mulvane Brethren church in Mulvane Kansas. Jack is also the Senior Writer at What Christians Want To Know whose mission is to equip, encourage, and energize Christians and to address questions about the believer's daily walk with God and the Bible. You can follow Jack on Google Plus or check out his book  Blind Chance or Intelligent Design available on Amazon