JOYFUL!! EXCITING!! PURPOSE-FILLED!! These three words are just the beginning when we attempt to describe the wonderful life we can have as Christians. Following God is an amazing adventure full of life, fun, and love. So why wouldn't we want to share that joy with others? I believe that as Christians, we can offer hope, meaning, and courage to a world that often screams of fear and powerlessness. Here are my top 7 Bible verses to share with unbelievers to encourage them in their life's journey.
Ecclesiastes 3:1 "For everything there is a season, and a time for every matter under heaven:"
I really like this whole chapter in Ecclesiastes, because it addresses some big problems for unbelievers. Many will ask why does humanity have to deal with death, wars, or other challenges if there is a God? This verse addresses these issues by explaining that there is a time and a season for all things. God is not to blame for the consequences of man's actions. Hardships and trials will come, but God has it all under control. Once we choose to follow him, then our lives will be overrun with blessings.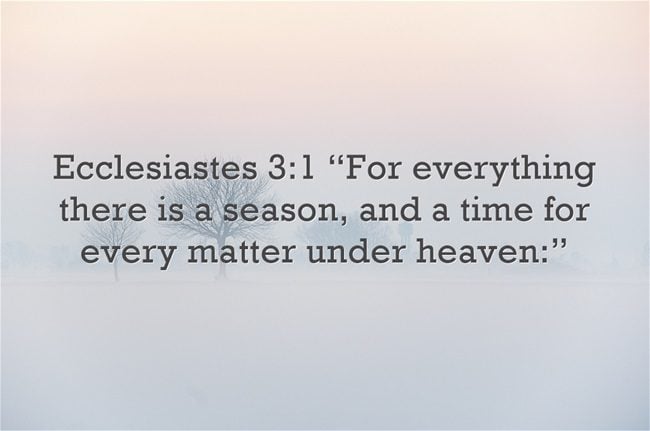 Mark 8 or 9:23 "And Jesus said to him, "'If you can! All things are possible for one who believes.'"
Bullies, television shows, and the news often put individuals down, and they try to make others feel powerless, stupid and insignificant. But what the Lord wants us to know from this verse is that as Christians we can accomplish great things in our lives. What the world says is impossible, Jesus says is possible for those who believe. Faith in God provides us with a "can do" attitude that benefits us in so many ways.
John 3:16 "For God so loved the world, that he gave his only Son, that whoever believes in him should not perish but have eternal life."
I love this verse, because it clearly states how much God loves us. He cares for us so much that he gave his one and only son for our salvation. Love gives, and God is love. God created the world around us, and he made everything good for us (Genesis 1). That is how much he loves us. It is all for our pleasure–like parents creating a beautiful room to welcome their newborn child into their home, God also created a whole world to welcome in humanity. This gives us security in our lives.
John 10:10 "The thief comes only to steal and kill and destroy. I came that they may have life and have it abundantly."
As I mentioned earlier, the media and even family and friends, can tear us down and discourage us in our daily journey through life. Discouragement, sadness, and hopelessness permeate our society, and depression runs rampant as well. Jesus himself, though, reminds us in this verse that he came to give us abundant life. I believe that means that our walk with him can be fun, exciting and a daily adventure. The Lord gives us vision and purpose and power in our quest through life, and there is never a dull moment in the Kingdom of God.
Romans 8:37 "No, in all these things we are more than conquerors through him who loved us."
As Christians, we can do more than just survive life here on earth. I believe that this verse points out that we can thrive. God's love and support makes us more than conquerors in everything that we do and say. Once we overcome our fears and anxieties, we can see the possibilities are endless. We can go forward in our quest through life with enthusiasm, meaning and a greater purpose than ourselves.
Galatians 5:1 "For freedom Christ has set us free; stand firm therefore, and do not submit again to a yoke of slavery."
Our lives can be full of challenges and trials and even prisons of our own choosing. However, this verse includes an important truth for both believers and unbelievers combined. Jesus Christ died on the cross for our sins, so that we can be set free from any yoke of slavery. Addictions, depression and other "stinking thinking" can be gone when we fully embrace the Christian walk. The apostle Paul goes on in this same chapter to encourage us to not only enjoy our freedom ourselves but to use it to serve one another in love (Galatians 5:13).
1 John 4:16 "…we have come to know and to believe the love that God has for us. God is love, and whoever abides in love abides in God, and God abides in him."
One of the most wonderful things that we could ever hear as human beings is that we are loved. The love of our parents, our spouses, or our children can encourage us tremendously, but fully knowing that we are loved by the creator God, can change our lives beyond measure. Like this verse says, "God is love." This is very refreshing to hear in a world where it seems that everyone is looking to find fault in everyone else. Laws and punishment are the norm, but it is imperative that an unbeliever understand that our God is not like that. He loves us so much, and he offers us peace, hope and forgiveness. He is not out to get us, but rather he gives us free will to choose our own path. Unfortunately, there are consequences to our bad choices and actions, but God's heart is for us. His perfect love for us casts out fear (I John 4:18). In other words, I want unbelievers to know that God's unconditional love encompasses all of our lives.
CONCLUSION
The Bible is full of great verses to share with an unbeliever. There are verses that will appeal to a person's intellect and logic, and there are other verses that will touch an unbeliever's emotions and heart. These are my top seven verses, because I believe that God wants us to share about the many wonderful aspects that are a part of following him each day as a Christian. With God, life is a wonderful adventure, and I want to share that good news enthusiastically with all of my family, friends, neighbors, and co-workers.
Written by Karla Hawkins
I feel blessed to be the pastor's wife of a thriving church in northern Michigan and the mother of four amazing grown children. It is also very rewarding to be a Christian author, editor and translator for the Kingdom of God. Some of my favorite pastimes include supporting my children's contemporary Christian band ONLY9AM, singing on the worship team at church, traveling, and connecting with family and friends via social media. When I am not working, I love spending time with my family and especially with my precious three-year-old grandson.