What is truth? The dictionary defines it as a verified or indisputable fact, proposition or principle or as the state or character of being true. That is also the question that Pilate asked Jesus when he was brought before him during his trial. Pilate did not realize the depth of this question when he asked it, as he was probably just wanting Jesus to defend himself and his situation. However, what Pilate, and many others throughout the centuries, did not realize is that truth is not just a series of itemized facts and figures—truth is epitomized in the person of Jesus Christ. So here are my top 7 Bible verses about truth.
Psalm 25:5 "Lead me in your truth and teach me, for you are the God of my salvation; for you I wait all the day long."
God loves and desires truth. The psalmist David was chosen by God to be the second king of Israel, even though he was one of the most unlikely candidates possible. His own father did not even bring him to the prophet Samuel when Samuel came to his house asking to see his sons. But the reason David was chosen was because he was "a man after God's own heart." David had developed a relationship with God while watching his father's sheep, and so he wanted the Lord to lead him and teach him truth. He knew that God was his salvation, and that the truth could only be found in him. He never knew Jesus himself, but he prophesied of his coming and was willing to wait for him "all the day long."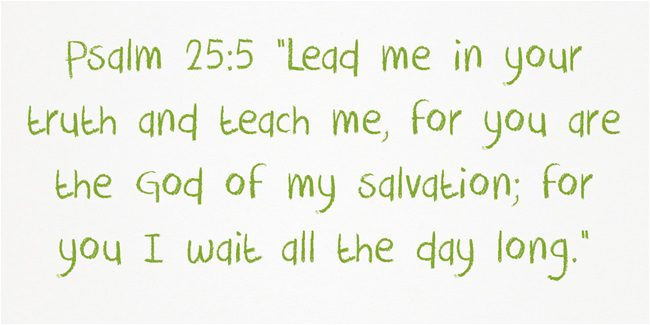 John 4:23 "But the hour is coming, and is now here, when the true worshipers will worship the Father in spirit and truth, for the Father is seeking such people to worship him."
When we love God, our hearts are drawn to him in worship. Praising him with our lives, our words and our songs comes easily, because he is worthy of all our love and devotion. This is one of my top verses about truth, because our worship for God also involves loving Jesus. Our worship in spirit and truth is ultimately a reflection of our devotion to truth himself, Jesus, who is always pointing us to his father.
John 8:32 "…and you will know the truth, and the truth will set you free."
As Christians, we are privileged to be able to have a wonderful relationship with Jesus. This brings so much joy and hope into our lives, because he has given us his Spirit and his word to guide and strengthen us. We know that God's word is truth, but we also know that Jesus is truth. Knowing and accepting Jesus as our Lord and Savior will set us free from the ravages of sin and death. So as we give our lives to the Lord, we will know the truth and the truth will set us free.
John 14:6 "Jesus said to him, "I am the way, and the truth, and the life. No one comes to the Father except through me."
This is a powerful passage, and one of the first verses that I ever memorized as a child. Growing up in a Christian family, I was blessed to have the word of God written on my heart from an early age. The reason I think this is a powerful verse, though, is because it completely describes who Jesus is. It is a key statement that defines Jesus as truth. He is the only way we can reach the Father and have life—now and in eternity.
John 18:37 "Then Pilate said to him, "So you are a king?" Jesus answered, "You say that I am a king. For this purpose I was born and for this purpose I have come into the world–to bear witness to the truth. Everyone who is of the truth listens to my voice."
Pilate was the Roman governor at the time of Jesus' trial and crucifixion, and he was known to all as a ruthless ruler over the Jewish nation. However, his world was shaken when he met Jesus. Even though he had the power to crucify him, Pilate was intrigued by the man that stood before him and who spoke with such humble strength and authority. He was expecting Jesus to plead for his life, but instead Jesus spoke about truth and his purpose for coming to the world. So Pilate asks Jesus the question about what is truth? He quickly realized that Jesus was innocent, even though he did not understand the true meaning of Jesus' words.
Ephesians 4:15 "Rather, speaking the truth in love, we are to grow up in every way into him who is the head, into Christ…"
I love the Lord, because he not only tells us what truth is, but he also tells us how to treat one another. God loves the truth, but he also wants us to treat each other with love, kindness, and respect. When we embrace Jesus as Lord and Savior, we also embrace the way he treated people while he was on earth.
Ephesians 6:14 "Stand therefore, having fastened on the belt of truth, and having put on the breastplate of righteousness…"
Many Christians do not realize that they are in a spiritual battle each and every day. The devil is always trying to distract and destroy us, so God has given us the armor and means to protect ourselves from his fiery darts. One of the most important defensive pieces of armor he has given us is the belt of truth. Clothing ourselves with truth is like clothing ourselves with Jesus…with light.
Conclusion
Typically, we look at the facts as the truth, but that is only one way of looking at truth. There is another way of looking at truth and that is the person, Jesus Christ. God wants us to not just look at the figures and principles but to look at Jesus as bringing truth to life instead. For us Christians, there is more to consider–there is a spiritual relationship we can have with our Lord and Savior. We are called to be ambassadors for the truth, so we must handle it correctly in order to encourage others to take that relationship step with Jesus as well.
Written by Karla Hawkins
God has been good to me over the years, and I have much for which to be grateful to Him. First of all, I feel blessed to be the pastor's wife of a thriving church in northern Michigan and the mother of four amazing grown children. It is also very rewarding to be a Christian author, editor and translator for the Kingdom of God. Some of my favorite pastimes include supporting my children's contemporary Christian band ONLY9AM, singing on the worship team at church, traveling, and connecting with family and friends via social media. When I am not working, I love spending time with my family and especially with my precious three-year-old grandson.