A paradox is a statement that seems to contradict itself but may nonetheless be true. God's written word, the Bible, is full of paradoxes. This is certainly true when discussing the terms "weakness" and "strength." For example, many Christians say and believe that we are strongest when we are on our knees in prayer. This seems totally erroneous and contradictory to unbelievers, and yet when we turn things over to God in prayer our lives are strengthened and refreshed. With this idea in mind, here are my top 7 Bible verses about weakness.
Romans 8:26 "Likewise the Spirit helps us in our weakness. For we do not know what to pray for as we ought, but the Spirit himself intercedes for us with groanings too deep for words."
Our daily lives are often full of difficulties and challenges, and discouragement can come upon us quickly as well. We often find ourselves struggling with fear and anxiety about the unknown or because of the hardships we face. As Christians, though, we do not have to despair or give up. This verse gives us so much hope and encouragement, because the Lord is saying to us that the Holy Spirit will help us when we are weak or struggling. Sometimes in the middle of life's storms it is even difficult to know how to pray, and once again the Lord tells us here in this verse that the Holy Spirit himself intercedes for us even when we don't know what to pray. The Lord cares about us at all times, and he has covered us with every contingency plan necessary.
I Corinthians 1:25 "For the foolishness of God is wiser than men, and the weakness of God is stronger than men."
We all know that the Lord is wiser and stronger than any man that has ever lived, and this verse reinforces that fact. It is also a paradox to think about God being foolish or weak, as he certainly is neither of those. So the apostle Paul's statement here verifies that we should never underestimate the paradoxical strength and wisdom of the Lord.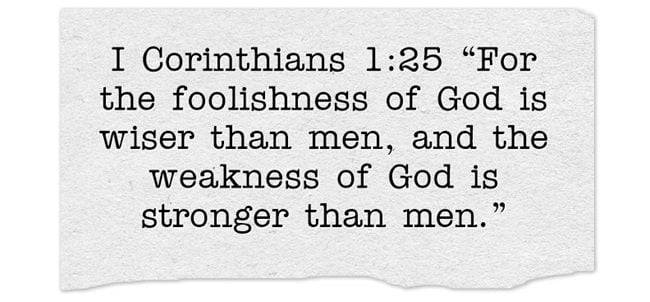 I Corinthians 15:43 "It is sown in dishonor; it is raised in glory. It is sown in weakness; it is raised in power."
The apostle Paul is describing what will happen to our human bodies when we die as Christians in this passage. He explains that when we die, our bodies are laid to rest in dishonor but raised in glory. They are also put to rest in weakness, but that the Lord will then raise us up in power. Even though it seems contradictory, God's plan is always to raise us up to a new level with him. Whether that is here on earth during our ministry time or when we go to heaven to be with him forever.
2 Corinthians 12:9 "But he said to me, 'My grace is sufficient for you, for my power is made perfect in weakness.' Therefore I will boast all the more gladly of my weaknesses, so that the power of Christ may rest upon me."
In a culture that promotes strength and independence, it may seem strange that weakness should be exalted and even desired. In this passage, the apostle Paul had asked the Lord to take away a "thorn of the flesh" that Paul was struggling with. However, this verse gives the Lord's response, as he tells Paul that God's power is made perfect in our human weakness. This is obviously a paradox, as we would never think that a "weakness" could make us stronger. But in God's economy, God's strength can shine through us more easily when we are weak. This is true, because when we die to ourselves and give up our own desires to the Lord, then he is able to work amazing things through us. We become his vessels to be filled and used at his discretion.
2 Corinthians 12:10 "For the sake of Christ, then, I am content with weaknesses, insults, hardships, persecutions, and calamities. For when I am weak, then I am strong."
The apostle Paul is such a great example of a man who loved God so completely that he was willing to suffer much for the cause of Christ. In this verse he even admits that he will endure insults, hardships, and persecutions for the sake of his Lord and Savior. Paul not only states that he will survive them, but he even says that he is "content" with these challenges. So in this verse there are several paradoxes, as who would be content with hardships? Also, he states the great contradiction that when he is weak, then he is strong. When we are "weak" and we turn our lives over to God, then he can be "strong" and work great things through us.
2 Corinthians 13:4 "For he was crucified in weakness, but lives by the power of God. For we also are weak in him, but in dealing with you we will live with him by the power of God."
Jesus himself was considered weak by the Romans, because he went to the cross "like a lamb to the slaughter." Likewise, as Christians we can be considered weak, because of God's humility working in us. However, Jesus was actually filled with the power of God when he submitted his will to that of the Father, and that is the same for us. When Jesus lives in us, we can live by the power of God.
Hebrews 4:15 "For we do not have a high priest who is unable to sympathize with our weaknesses, but one who in every respect has been tempted as we are, yet without sin."
This verse is very powerful, because it truly shows God's love for us in that he sent his one and only son to live here on earth with us. That experience enabled the trinity to not only sympathize but actually empathize with our human struggles and weaknesses, as Jesus was tempted just like we are on a daily basis. However, Jesus never sinned, and he made a way for us to come back to the Father as well. So he is our high priest—a model of perfection—that even though he appeared weak, he actually pointed the way to heaven.
CONCLUSION
 The Bible is full of paradoxes that God uses to teach us key elements in our walk with him. Prayer is one of the tools that he has given us to submit and lean on him as well. The Lord wants us to be totally dependent and reliant on Him for our guidance and salvation. He even tells us that our battle is not against flesh and blood, but against unseen spiritual forces. One such paradox is the biblical relationship between weakness and strength. So when we die to ourselves and are "weak," then God is strong, and he can manifest his power and truth through us.
Written by Karla Hawkins
 God has been good to me over the years, and I have much for which to be grateful to Him. First of all, I feel blessed to be the pastor's wife of a thriving church in northern Michigan and the mother of four amazing grown children. It is also very rewarding to be a Christian author, editor and translator for the Kingdom of God. Some of my favorite pastimes include supporting my children's contemporary Christian band ONLY9AM, singing on the worship team at church, traveling, and connecting with family and friends via social media. When I am not working, I love spending time with my family and especially with my precious three-year-old grandson.