In the beginning God created heaven and earth, but he also created marriage as a blessing for men and women. He established matrimony as the coming together of opposites, like the earth and the sky, so that a husband and wife could compliment each other perfectly. The Lord knew that a couple could love, encourage, support and help one another. Sometimes their weaknesses, hurts and habits get in the way of their relationships, though, and marriages begin to fail. This breaks his heart, as God loves everyone very much. So he has given humanity clear directions and encouragement for couples, so that they can be saved and restored. With that in mind, here are my top 7 Bible verses for a failing marriage.
Genesis 2:24 "Therefore a man shall leave his father and his mother and hold fast to his wife, and they shall become one flesh."
This Scripture is often used in weddings, because it is a power-packed verse. Too many times it is forgotten in the course of a lifetime, though, as parents or family members, work, other activities and even children get in the middle of a relationship. The Lord said that a man (and a woman) should leave their parents and hold fast to each other. The two become one flesh—physically, emotionally, spiritually, and symbolically. But what happens is that someone or something often comes between them, and this creates a wedge in the union. When a marriage begins to fail, it is important to go back to the beginning and remember what God told couples here in this verse.
Ecclesiastes 4:9 "Two are better than one, because they have a good reward for their toil."
When a couple is struggling in their marriage, it is important that they stop and study God's word together. This passage in Ecclesiastes is not speaking directly about marriage, but it does remind us that "two are better than one." The Lord knew that we needed human companionship, and so our spouses provide the encouragement and help that we sometimes need to face life's trials. The author goes on to say, "for if they fall, one will lift up his fellow. But woe to him who is alone when he falls and has not another to lift him up. Again, if two lie together, they keep warm, but how can one keep warm alone?" (v. 10-11). God designed us to help one another during our journey of life, so a couple should reconsider their decision of separation or divorce, as they face loneliness and hardships without their spouse.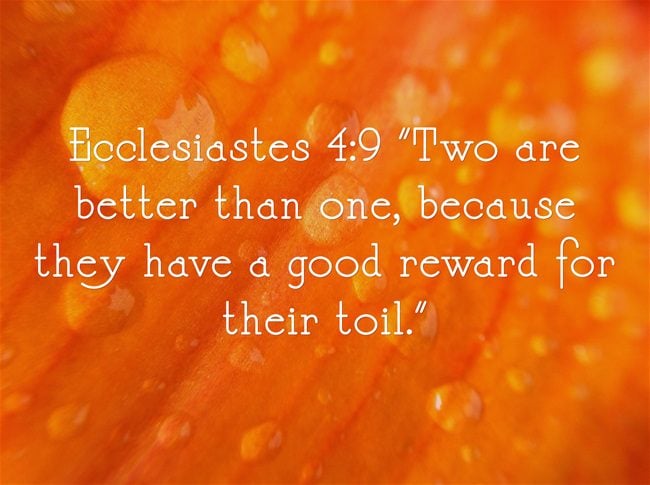 Jeremiah 29:11 "For I know the plans I have for you, declares the Lord, plans for welfare and not for evil, to give you a future and a hope."
I love this verse, because it brings life and hope to every situation we face. It is also a promise from God that he knows the plans that he has for us, and they are good. So when we are facing a failing marriage, it is important to reassess the situation and begin looking at the relationship once again as God sees it. He has plans for our good and not for evil or failure. He wants to give us hope and a future. Satan wants to kill and destroy us and our marriages, but God wants to build and strengthen them for us and for future generations. Sometimes we also just need to speak God's word to ourselves and our loved ones in order to "fight" the negativity that is constantly surrounding and attacking us.
Mark 10:9 "What therefore God has joined together, let not man separate."
This verse is part of most wedding ceremonies as well, and it is a reminder that what God has joined together, let no man separate. In other words, once we give our word in matrimony, then we should not even consider a divorce or leaving our spouse. Marriage takes a life-long commitment, it takes hard work, and it takes perseverance, in spite of personality differences, life's difficulties or others that might try to damage our marriage. Staying married is a choice, and God wants us to choose that if at all possible. The only exceptions, in my opinion, are infidelity and abuse, but even in these cases God can work miracles to bring repentance, forgiveness and new hope.
Romans 7:2 "For a married woman is bound by law to her husband while he lives, but if her husband dies she is released from the law of marriage."
Marriage today is almost counter-cultural, as so many couples live together instead of taking the vows of marriage. But God's plan is so much better than ours, and he created the blessed institution of marriage for our good. He knew that if we left our father and mother to hold on to our spouse, that it would be a holy union. This coupling would bring us security, peace, and stability–emotionally and physically. So the only way that a husband or a wife is released from the marriage should be the death of the spouse. Other than that, we are bound by civil and spiritual laws to stay married to our husband or wife.
I Corinthians 7:10 "To the married I give this charge (not I, but the Lord): the wife should not separate from her husband…"
God loves his children, and once we have committed ourselves in marriage he expects us to keep those vows. This chapter in I Corinthians is very explicit in describing and explaining the importance of matrimony. This verse addresses women, but the very next verse also elaborates this point and addresses husbands by stating, "(but if she does, she should remain unmarried or else be reconciled to her husband), and the husband should not divorce his wife." Marriage is sacred to the Lord. At the beginning of the chapter, the apostle Paul writes, "each man should have his own wife and each woman her own husband." The Lord's hope is that they would avoid sexual immorality in this way. He goes on to say that they should not get divorced either, as it is the Lord that has brought them together.
Hebrews 13:4 "Let marriage be held in honor among all, and let the marriage bed be undefiled, for God will judge the sexually immoral and adulterous."
God knew that as human beings we would be tempted by our physical desires, as he made us sexual beings. Sexual immorality is not new to the 21st century, so God instituted marriage in order to help us fulfill our physical desires in a healthy and committed relationship. It also provides the means for procreating our race, but even more than that it should be a positive display of affection between a man and a woman. God wants to have an intimate relationship with us, and a strong marriage should also have that healthy intimate partnership. That union (and marriage bed) should be honored and protected, because defiling this aspect of a relationship will definitely lead to a failing marriage.
CONCLUSION
God loves us so much, and he desires that his children live happily, married lives. When troubles come, though, he has given us his word to encourage and restore us back to himself and to each other. In Revelation 19:7, the Lord provides a wonderful picture of the wedding of the Lamb, as it is a holy institution blessed and ordained by God for the church. The beloved apostle John writes, "Let us rejoice and exult and give him the glory, for the marriage of the Lamb has come, and his Bride has made herself ready…" This is how the Lord wants our marriages to be as well—full of joy, excitement and glory.
Written by Karla Hawkins
God has been good to me over the years, and I have much for which to be grateful to Him. First of all, I feel blessed to be the pastor's wife of a thriving church in northern Michigan and the mother of four amazing grown children. It is also very rewarding to be a Christian author, editor and translator for the Kingdom of God. Some of my favorite pastimes include supporting my children's contemporary Christian band ONLY9AM, singing on the worship team at church, traveling, and connecting with family and friends via social media. When I am not working, I love spending time with my family and especially with my precious three-year-old grandson.