Buried in a Rich Man's Grave
There is actually a prophesy about Jesus burial place. It didn't necessary give the exact location but it was prophesied in Isaiah 53:8-9 that "that he was cut off out of the land of the living, stricken for the transgression of my people and they made his grave with the wicked and with a rich man in his death, although he had done no violence, and there was no deceit in his mouth." This was fulfilled when "there came a rich man from Arimathea, named Joseph, who also was a disciple of Jesus. He went to Pilate and asked for the body of Jesus. Then Pilate ordered it to be given to him" (Matt 27:57-58) and this man was Joseph of Arimathea who "took the body and wrapped it in a clean linen shroud and laid it in his own new tomb, which he had cut in the rock" (Matt 27:59-60). If they had not come and taken Jesus' body away to be buried, His body would have ended up where the other dead bodies of those who crucified were taken and that was outside of the city walls of Jerusalem and thrown onto a garbage heap. Where exactly Joseph of Arimathea's tomb was located is not completely certain as we shall read.
The Church of the Holy Sepulcher
Constantine's mother identified the Church of the Holy Sepulcher as Jesus' burial place in the 4th century but there is no absolute conclusive evidence to prove this. For one thing, there was never any body left in Jesus' grave for He was raised from the dead. Another issue is that the Bible never gives a precise geographical location so all we can do is make educated or informed guesses. I believe the reason that the Scriptures may have been silent on the exact location of Jesus' burial place might have been because, knowing human nature, the place would have become a shrine and the location might have been worshipped itself so this could have been the reason that the place of Jesus' burial was not specifically mentioned. One difficulty with proving that Jesus was buried at the Church of the Holy Sepulcher is that the tomb was destroyed.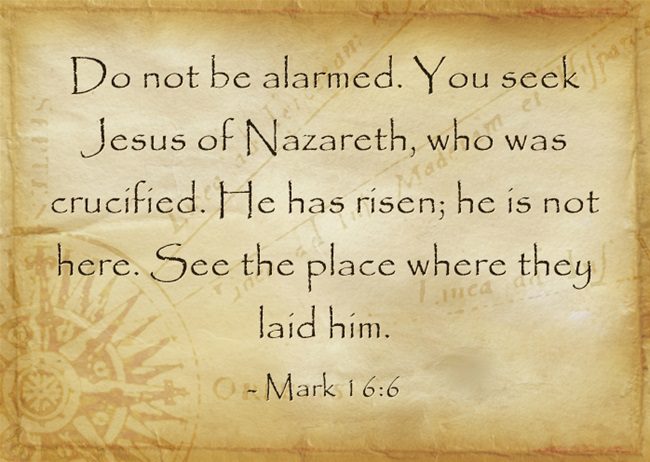 The Garden Tomb or Gordon's Calvary
This location has considerable problems as being Jesus' burial tomb. The Garden Tomb is located just outside of the walls of Jerusalem and this tomb is very old and may well predate Jesus' burial and it was stated in Scripture that it was a new tomb but something interesting is found in John 19:41 which says "Now in the place where he was crucified there was a garden, and in the garden a new tomb in which no one had yet been laid." We see then that the tomb could not have been old for Joseph of Arimathea had prepared one for his own death meaning it couldn't have existed long before Jesus' life. It would have also been a new one and the Apostle John does write that where Jesus was crucified He was laid "in the garden a new tomb in which no one had yet been laid" so it might seem to fit the location of where the Garden Tomb was at but the problem with this tomb is that it is too old to have been the precise tomb where Jesus was laid.
The Talpiot Tomb or Talpiyot Tomb
This tomb is a rock-cut tomb discovered in 1980 in East Talpiot just south of what is called the Old City which is in East Jerusalem. They discovered some ossuaries where there was the inscription "Yeshua bar Yehosef" which is "Jesus, son of Joseph" but both these names, Jesus (Yeshua which is Joshua in the Old Testament) and Joseph, which were extremely common names in that day. The problem with this site is that the ossuaries were not mentioned in the burial of Jesus because He was not there long enough to have had His remains placed within these containers and since He was resurrected, there would have been no bones in the tomb. A documentary "The Lost Tomb of Jesus" which was based upon a book written by Simcha Jacobovici has been highly disputed by archeologists and biblical scholars so much so that the Talpiot Tomb could not have been Jesus' burial tomb.
The Toza Bal
The least likely of all places where Jesus was buried was in the Khanyaar quarter in a downtown area in Kashmir. According to the local Sunni caretakers of this shrine, it is blasphemous to Islam to believe that Jesus could have been buried anywhere else but in Kashmir. The shrine sits in front of a Muslim cemetery and is probably the least of all places where Jesus would have been buried. There is no hint of such a possibility by church historians, church tradition, or biblical evidence.
Conclusion
Does it really matter where Jesus was buried because the tomb was found empty? The stone was rolled away so that the people could come in to see the empty tomb, not so that Jesus could get out. When the two Mary's came to the tomb early on the first day of the week "they saw that the stone had been rolled back—it was very large. And entering the tomb, they saw a young man sitting on the right side, dressed in a white robe, and they were alarmed. And he said to them, "Do not be alarmed. You seek Jesus of Nazareth, who was crucified. He has risen; he is not here. See the place where they laid him'" (Mark 16:4-6). Looking for Jesus' tomb is not the point…He is risen is precisely the point!
Article by Jack Wellman

Jack Wellman is Pastor of the Mulvane Brethren church in Mulvane Kansas. Jack is also the Senior Writer at What Christians Want To Know whose mission is to equip, encourage, and energize Christians and to address questions about the believer's daily walk with God and the Bible. You can follow Jack on Google Plus or check out his book Blind Chance or Intelligent Design available on Amazon.