How can we help children commit to memory certain Bible verses? These same methods might also help adults do the very same thing.
In a Song
I believe one of the greatest ways to teach Scripture is using song. Songs have a way of imbedding themselves deep within the recesses of the mind. The notes tie in the lyrics or words into the melody and their memories retain it at a much higher rate than just rote memorization or reading and these biblically centered songs are still remembered and sung even into old age. Having them clap their hands to the music even further reinforces the memorization process. Even if they're not strictly Scripture, we can teach biblically centered lessons in songs and have the children memorize the stories in this way. It is a fun way to teach the children and what happens is that the adults teaching these scriptural songs and biblical stories end up memorizing them too and that surely a win-win.
Board Games
I don't know where my Bible board game went to but I used to use this in Sunday school when I taught 3rd/4th graders (combined). It was a board game where Moses was taking the Israelites out of Egypt toward the Promised Land and the children had to look at three different Bible verses to see which verse was right for where Israel was at the time. They learn to tie in the events of Genesis with the Scriptures associated with the migration of the nation of Israel after their exodus from Egypt. On the flip side, it was a board game about Joshua leading the nation into the Promised Land and just as in the other game on the flip side was, they had to select one of three Bible verses that matched where the Israelites were and that was the only way that they could advance on the game board. Each time they played it they became better at knowing which Bible verses were correct and after a while some didn't even need to look at the three choices given on Scripture card because they had memorized them.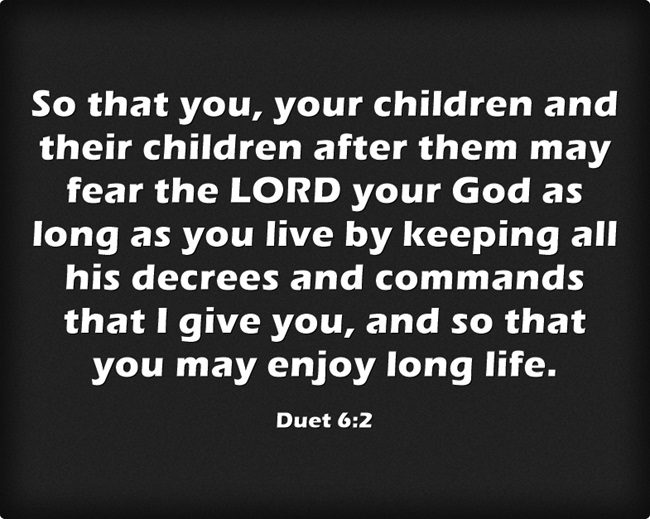 Arts and Crafts
Children typically love arts and crafts and they can choose one of their favorite Bible verse and create a craft around it. It can be a Bible verse that can attach to a magnet and be placed on the refrigerator. It can be a small picture with a verse like "But as for me and my house, we will serve the LORD" (Joshua 24:15) and hung in the child's room where they can see it every day. The possibilities for biblical or scriptural arts and crafts are limited only by your and their imagination.
Dinner Table Scripture Reading
Take about thirty 3 by 5 index cards and write down, or better yet, have the children write down Bible verses and place them in a box that can be placed at the center of the dinner table. They can use different colored pencils to add some color to them. Before each meal have each child take out a Bible verse and have each one read theirs before the meal and prayer. These can be replaced every so often. This tradition works well for many families but is limited to the times when the family is actually gets together for a family meal, which seems to be a tradition that is slowly slipping away.
Make a Bible Verse Scrapbook
This is fun for the children too because they decide what Bible verses go in each page or section of a scrapbook. Make sure they have their own pictures and names on the inside liner or on the first page and put the dates that they were added. They can add pictures that they create and color or they can search old magazines or newspapers to clip out and paste, adding artwork that seems appropriate for the Bible verses they use. These little scrapbooks can become highly valued gems to cherish throughout the child's life that they can take with them into their adulthood and share with their own children.
Verse Around the Chairs
I couldn't come up with a good enough name for this one so I called it "Verse Around the Chairs" but have the children sit in a circle, on the floor or in chairs, and give each child a 3 by 5 index card with the same verse on it. Start randomly in one place and have each child read only one word at a time and immediately after one child reads one word of the Bible verse(s) have the child to their immediate right read the next and go around and around until the entire verse or verses are read. Start in the reverse order next time. Then challenge them to go as fast as they can…they'll love it. They will usually end up memorizing it fairly quick.
Conclusion
We are commanded by God to "take care, and keep your soul diligently, lest you forget the things that your eyes have seen, and lest they depart from your heart all the days of your life. Make them known to your children and your children's children" (Duet 4:9) "so that you, your children and their children after them may fear the LORD your God as long as you live by keeping all his decrees and commands that I give you, and so that you may enjoy long life" (Duet 6:2). Hey, maybe those are two Bible verses you can use to have your children to memorize.
Article by Jack Wellman
Jack Wellman is Pastor of the Mulvane Brethren church in Mulvane Kansas. Jack is also the Senior Writer at What Christians Want To Know whose mission is to equip, encourage, and energize Christians and to address questions about the believer's daily walk with God and the Bible. You can follow Jack on Google Plus or check out his book  Blind Chance or Intelligent Design available on Amazon