Can we find help in the Bible to save a marriage? Can the Bible give us guidance for this?
Marriage is…
Marriage is not a contract as some incorrectly state. Marriage is a covenant that is until death do they part. There are biblical exceptions of course like ongoing, unrepentant adultery and also violence to one of the marriage partners and/or the children and if this occurs, it should result in severe fines and imprisonment but in the beginning, marriage was designed to be permanent and last for the life of the couple. God said "It is not good that the man should be alone; I will make him a helper fit for him" (Gen 2:18) and so God said "Therefore a man shall leave his father and his mother and hold fast to his wife, and they shall become one flesh" (Gen 2:24). The man is to leave and cleave…that is he is to leave his family and I would think this means to leave his family out of his marriage. In-law interference is a major cause of marital discord and sometimes can lead to a breakup and divorce. Jesus said of marriage that "they are no longer two but one flesh. What therefore God has joined together, let not man separate" (Matt 19:6) and it is "'For this reason a man will leave his father and mother and be united to his wife, and the two will become one flesh'" (Matt 19:5) which is what Genesis 2:24 said. So what happens when there is the danger or threat of a marital breakup? Can the Bible give us help in preventing this? I believe it can.
Fulfilling Your Partner's Needs
First Corinthians 7:3-5 commands us to not deprive one another of our need for sexual satisfaction as Paul wrote "The husband should fulfill his marital duty to his wife, and likewise the wife to her husband. The wife's body does not belong to her alone but also to her husband. In the same way, the husband's body does not belong to him alone but also to his wife. Do not deprive each other except by mutual consent and for a time, so that you may devote yourselves to prayer. Then come together again so that Satan will not tempt you because of your lack of self-control." The thought behind Paul's writing is that if we don't deprive the other partner, then the chance for infidelity or adultery will be considerably lessened, but of course not completely taken away, since we are fallen in our sinful nature. It is true about human nature that "No temptation has seized you except what is common to man. And God is faithful; he will not let you be tempted beyond what you can bear. But when you are tempted, he will also provide a way out so that you can stand up under it" (1st Cor 10:13).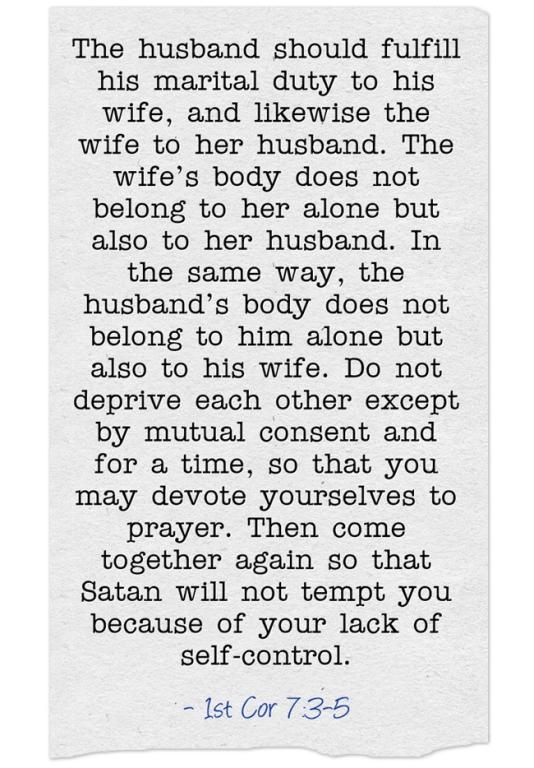 Love and Respect
Men and women have many of the same needs but some of these needs are different due to our mental and emotional makeup. Men see respect as their being loved and women see love as their being respected. The command for husbands is "love your wives, as Christ loved the church and gave himself up for her" (Eph 5:25) and so "husbands should love their wives as their own bodies. He who loves his wife loves himself" (Eph 5:28). As for the needs of men, Paul writes to the women "let the wife see that she respects her husband" (Eph 5:33). I don't believe I have ever seen a wife not respect her husband when she is loved as Christ loved the church because He willingly gave His life for her. Neither have I seen a husband that has been treated with respect so much that he refused to love his wife as Christ loved the church. If a man loves his wife as much as he loves himself then she will respect him and if a woman respects her husband he will love her much like he loves himself and like Christ loves the church. Love and respect are seen as two wings of the same bird that fly a marriage through the storms of life because to the man, respect is love and to the woman love is respect.
Principles for Marriage
In 1st Corinthians 7 Paul writes out some very good biblical principles for marriage and these are principles that have strong effects, even between couples who are unequally yoked, meaning that one partner is a Christian while the other isn't. If one of the marriage partners becomes a Christian after they are married but the other doesn't, Paul says that is no biblical reason to divorce and writes "let each person lead the life that the Lord has assigned to him, and to which God has called him" (or her) (1 Cor 7:17). Paul writes to those who are in a marriage with an unbeliever that "if any brother has a wife who is an unbeliever, and she consents to live with him, he should not divorce her. If any woman has a husband who is an unbeliever, and he consents to live with her, she should not divorce him" (1 Cor 7:12-13). Paul presents this as an opportunity for the other partner to come to saving faith as he writes "For how do you know, wife, whether you will save your husband? Or how do you know, husband, whether you will save your wife" (1 Cor 7:16). Peter said something similar by writing that there is a possibility that "even if some do not obey the word, they may be won without a word by the conduct" (1 Pet 3:1).
Conclusion
Can the Bible save your marriage? If it is lived out there is every chance that your marriage can be saved. Marriage takes a lot of work and you can only get out of a marriage what you are willing to put into one. Seek godly counsel, pray together, love and respect one another, and perhaps, by God's grace and by the power of His Spirit, your marriage might not only be saved, but it can be a joyous experience and can be "till death do you part" which is the way that marriage was originally intended.
Article by Jack Wellman
Jack Wellman is Pastor of the Mulvane Brethren church in Mulvane Kansas. Jack is also the Senior Writer at What Christians Want To Know whose mission is to equip, encourage, and energize Christians and to address questions about the believer's daily walk with God and the Bible. You can follow Jack on Google Plus or check out his book Blind Chance or Intelligent Design available on Amazon.