What role does Israel hold in the end times? What can we learn about the restoration of Israel?
The Church and Israel
There are some analogies between Israel and the church but these are not the same entities at all. No Israelite can be saved apart from trusting in Christ (Acts 4:12) but the early disciples and the early church consisted mainly of Jews and authored almost the entire Bible and the first to believe in Jesus were the Jews so at one time the church were all Jews but not all Jews were a part of the church. Jesus told the Samaritan woman at the well that salvation is of the Jews (John 4:22) and Jesus being of the tribe of Judah is that source. It's not about a plan of salvation but the man of salvation however most of the Jews rejected Jesus as their Messiah and even though they are God's chosen people, they are not going to be saved just because they are of Abraham's seed but their Savior comes from the seed of Abraham, Isaac, and Jacob (Luke 1:32-33). Paul said "I was circumcised on the eighth day, of the people of Israel, of the tribe of Benjamin, a Hebrew of Hebrews; as to the law, a Pharisee" (Phil 3:5) and the Jews who questioned Paul compelled him to write "Are they Hebrews? So am I. Are they Israelites? So am I. Are they offspring of Abraham? So am I" (2 Cor 11:23) but if you read the Book of Romans, you can be certain that no one is saved by birthright. It takes a new birth…being born again, from above (John 3:3, 7).
Paul on Israel
Paul wrote that the gospel "is the power of God that brings salvation to everyone who believes: first to the Jew, then to the Gentile" (Rom 1:16) and since Paul was a Jew of the Jews (2 Cor 11:23) even he knew that it was not enough to be a Jew to be saved and that's why he wrote "Brothers, my heart's desire and prayer to God for them is that they may be saved. For I bear them witness that they have a zeal for God, but not according to knowledge. For, being ignorant of the righteousness of God, and seeking to establish their own, they did not submit to God's righteousness. For Christ is the end of the law for righteousness to everyone who believes" (Romans 10:1-4). Israel had been "entrusted with the oracles of God" (Rom 3:2) and so Christians should feel gratitude for this because many died for their beliefs and during the Reformation, many others were martyred for their translating the Bible into the common languages of the day so we owe much to the Jews and the early Reformers for this very reason but does this mean that God has forever rejected Israel? Paul answers "I ask then: Did God reject his people? By no means! I am an Israelite myself, a descendant of Abraham, from the tribe of Benjamin" (Rom 11:1). Israel will never cease to exist anymore than God will as we will read later on.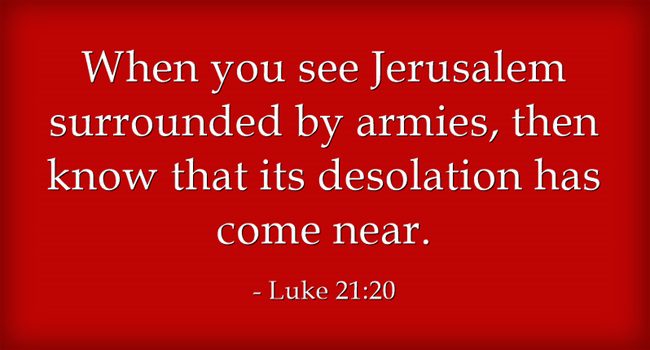 Times of Refreshing
The Book of Isaiah may have more about the restoration of the nation of Israel than any other book in the Bible. Peter hints at this restoration when he preached to mostly Jews in Acts 3:19-21"Repent therefore, and turn back, that your sins may be blotted out, that times of refreshing may come from the presence of the Lord, and that he may send the Christ appointed for you, Jesus, whom heaven must receive until the time for restoring all the things about which God spoke by the mouth of his holy prophets long ago." There are some very important things which Peter spoke about; they needed to repent and belief so that their sins would be "blotted out" because God will send Christ at the "appointed time" for the "restoring of all things about which God spoke by the mouth of his holy prophets long ago." One of these prophets was Isaiah. Just before Jesus ascended up to heaven after His resurrection and the subsequent forty days afterward, His disciples asked Him "When they therefore were come together, they asked of him, saying, Lord, wilt thou at this time restore again the kingdom to Israel" (Acts 1:6) but Jesus told them it's not for them to know (Acts 1:7). When Isaiah wrote "And it shall come to pass in the last days, that the mountain of the LORD'S house shall be established in the top of the mountains, and shall be exalted above the hills; and all nations shall flow unto it" (Isaiah 2:2) he was speaking about the arrival of the kingdom of God which arrives out of heaven and descends down to earth (Rev 21:1-7).
Blindness of Israel
Paul knew that the hardening of the hearts of the Jews would happen when Jesus came and for the last two thousand years it has been so but Paul told the church that "I do not want you to be unaware of this mystery, brothers: a partial hardening has come upon Israel, until the fullness of the Gentiles has come in. And in this way all Israel will be saved, as it is written"(Rom 11:25-26a) and the fullness of the Gentiles could well be when the very last person is saved and Christ returns for His church and then Israel will once again know God but in the fullest sense this time.
Prophecies of Israel's Restoration
Isaiah wrote about the restoration of Israel in much of his writings, for example in Isaiah 49:8-26 and in verses 12-13a specifically he says about Israel "Behold, these shall come from afar, and behold, these from the north and from the west, and these from the land of Syene" because "the Lord has comforted his people and will have compassion on his afflicted." Until 1948, Israel could not claim a land as its own; not since 606 B.C. when she was taken into captivity by Babylon under the orders of King Nebuchadnezzar but many Bible scholars believe that once again, Israel will be threatened with extinction. Israel is already surrounded by many who are hostile and want to exterminate them as a people and nation but God will not allow this to happen. In A.D. 70, Titus and the Roman legions destroyed the Temple and scattered the Jewish people as slaves among the various provinces of the Roman Empire but once more they gathered together as a nation with a homeland (in 1948) which fulfills the prophecies of Ezekiel (34:13) "I will bring them out from the nations and gather them from the countries, and I will bring them into their own land. I will pasture them on the mountains of Israel, in the ravines and in all the settlements in the land."
Conclusion
A person is not saved by race but by grace which is why Paul wrote "a Jew is one inwardly, and circumcision is a matter of the heart, by the Spirit, not by the letter. His praise is not from man but from God" (Rom 2:29) but time might be running short to choose to be saved so today would be a good day to put your trust in Christ (2 Cor 6:2). Jesus warned that "when you see Jerusalem surrounded by armies, then know that its desolation has come near" (Luke 21:20) and whether that actually occurred in A.D. 70 or is yet to occur, this is no time to lose. If you choose not to believe in Christ He says "whoever is not with me is against me, and whoever does not gather with me scatters" (Matt 12:30) meaning there can be no neutrality with Christ. No decision is still a decision to reject believing in Him and all who refuse to believe in Him have the wrath of God abiding on them (John 3:36b).
Article by Jack Wellman
Jack Wellman is Pastor of the Mulvane Brethren church in Mulvane Kansas. Jack is also the Senior Writer at What Christians Want To Know whose mission is to equip, encourage, and energize Christians and to address questions about the believer's daily walk with God and the Bible. You can follow Jack on Google Plus or check out his book Blind Chance or Intelligent Design available on Amazon.