Why does this so-called "prosperity gospel" hurt Christianity? How does it harm the cause of Christ?
The Prosperity Gospel
In the last letter of his life the Apostle Paul warned Timothy "Now the Spirit expressly says that in latter times some will depart from the faith, giving heed to deceiving spirits and doctrines of demons" (1st Tim 4:10). The Jews in Jesus' day associated prosperity with godliness which is why they looked down on those who were poor. When Jesus said "blessed are those who are poor in spirit" (Matt 5:3) He didn't mean the poor necessarily but money can make some people prideful. The prosperity gospel movement really surfaced into primacy in the 1940's with the lie that God wants you to be happy, rich, and have every need met but sometimes money can become like a god to us because it provides for everything we need, the clothes to wear, the food to eat, the car to drive, and the house to live in. God wants us to depend on these and not worry about what we'll eat or what we'll wear (Matt 6:25). These so-called "Christian" evangelists who are begging you to send in your "seed of faith" in return for God's financial blessings are really only wanting to line their own pockets with your money. It does bring prosperity…theirs! If what they claimed to be true really worked, then why don't they plant these "seeds of faith" and start working for the poor and homeless? They don't even believer their own stuff.
The Quid Pro Quo God
These prosperity preachers only make God out to be a "quid pro quo" God; you do this for Him and He'll do this for you but that makes God out to be a cosmic genie or into a heavenly bell hop. God is not against the rich; He is against those who pursue money and use the gospel as a cloaking device to bilk people out of their money. In their wake they leave disenfranchised widows, poor, and sincere Christians who don't receive what they were promised and then they blame the people because they didn't have enough faith! Many of these are not really preachers but what Paul warned about "And no wonder, for even Satan disguises himself as an angel of light" (2nd Cor 11:14). Remember the Bible says that Satan has his own ministers and they bring their own gospel which is why Paul said "even if we or an angel from heaven should preach a gospel other than the one we preached to you, let them be under God's curse" (Gal 1:8)! Paul warned "For the love of money is a root of all kinds of evil. Some people, eager for money, have wandered from the faith and pierced themselves with many griefs" (1st Tim 6:10) so it is not that money is evil…it is the love of money. Money's not the root of all evil, it is the love of money that is the root of all kinds of evil and such are those who preach a health, wealth, and prosperity gospel. The author of Hebrews reminds us; "Keep your lives free from the love of money" (Heb 13:5a). God is not opposed to the rich…but He is against those who have a love of money. Jesus said you can't serve two masters; you'll either be making money your master or God your master because you'll either "hate the one and love the other or he will be devoted to the one and despise the other. You cannot serve God and money" (Matt 6:24).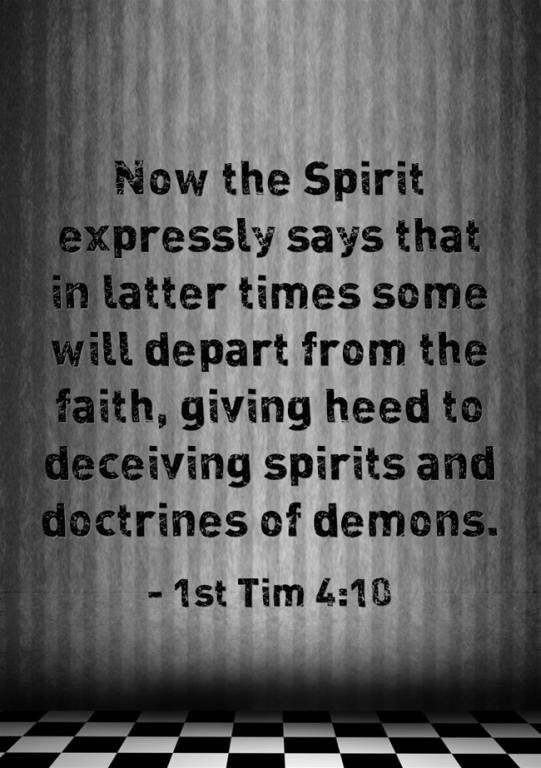 Outrageous Claims
I heard one radio "preacher" say things like; "speak to your wallet, speak to your spouse, speak to your bank account and it will be so." They act like you can speak things into existence by your word but isn't that what God alone can do as it was said that He spoke and the world came into existence (Psalm 33:9). Some even go so far to say that God is speaking to them about some lady out there who is about to have her house foreclosed and she's got three hundred dollars and God told them that if she sends it in to them, God will have that house made debt free in six months. They try to make it seem that God is speaking to someone who is listening and they're led to believe it's them that they are supposed to send in about all they have and "expect a miracle" and have God pour back into their hands but these types of false gospels don't work well in Africa or in poor neighborhoods. This type of "gospel" does nothing more than fuel greed, fills a person with pride, destroys faith, and keeps people in poverty.
False Profits
No, I didn't misspell the word "prophets" but I intentionally call these charlatans "false profits" because they're only interested in profits. One very prominent and popular "evangelist" cares more about his Gulf Stream jet, his $12 million dollar mansion, his Mercedes Benz and other luxury cars he owns and his $1.5 million dollar annual income than the people he allegedly cares about. No wonder Jesus got angry when He overturned the moneychangers table in the temple and said "My house shall be called a house of prayer,' but you make it a den of robbers" (Matt 21:13). There are still modern day moneychangers, and they use the name of God to rake in multiple millions of dollars. One actual broadcast I heard had the "preacher" says "Call in today and you will receive a ten times miracle for your offering…today, if you sow a thousand dollar seed, you can expect a financial miracle. If you don't sow this seed, then you don't have faith in God, and you are not trusting in God." How sad. They hurt the true cause of Christ by exploiting those who are hurting and in financial need and they leave behind ruined lives and those destitute of faith. God will have harsh judgment on them, make no mistake about it. God is a defender of the poor and widows (Psalm 68:5; 82:3) and He will avenge His own (Luke 18:7).
Conclusion
The prosperity gospel hurts Christianity because it appears to be the real thing but it is a lie straight out of the pit of hell and it is inspired and organized by the prince of darkness and his minions but I trust God and agree with Paul; "Beloved, do not avenge yourselves, but rather give place to wrath; for it is written, "Vengeance is Mine, I will repay," says the Lord."
Article by Jack Wellman
Jack Wellman is Pastor of the Mulvane Brethren church in Mulvane Kansas. Jack is also the Senior Writer at What Christians Want To Know whose mission is to equip, encourage, and energize Christians and to address questions about the believer's daily walk with God and the Bible. You can follow Jack on Google Plus or check out his book Blind Chance or Intelligent Design available on Amazon.