The Bible is clear that God is no respecter of persons and salvation has never been about race but always about grace.
Acts 10:34-35 "
So Peter opened his mouth and said: "Truly I understand that God shows no partiality, but in every nation anyone who fears him and does what is right is acceptable to him

."

Peter is telling his audience that God shows no partiality with regard to nations because anyone who fears God and does what is right, which means to obey biblical doctrine, is acceptable to God. There is certainly no favoritism with God. He looks at the heart and not on the outward man or woman (1 Sam 16:7).
Galatians 3:28 "
There is neither Jew nor Greek, there is neither slave nor free, there is no male and female, for you are all one in Christ Jesus

."

God doesn't see races or skin color or nationalities like we tend to do. God sees no difference in the Jews or the Gentiles or in the males or the females and even in Paul's day, there was no difference to God for the slave or the freeman. If we have repented and trusted in Christ, we are all one in Him and that's all that really matters.
Revelation 5:9 "
And they sang a new song, saying, "Worthy are you to take the scroll and to open its seals, for you were slain, and by your blood you ransomed people for God from every tribe and language and people and nation

."

Clearly God desires to have all people, tongues, nations, and tribes worship Him and this is what the Apostle John saw, "Then I saw another angel flying in midair, and he had the eternal gospel to proclaim to those who live on the earth–to every nation, tribe, language and people" (Rev 14:6) so that is why this gospel is to be brought into all the world (Matt 28:19-20; Acts 1:6) so that all people might become disciples of Christ for His glory at the kingdom's arrival.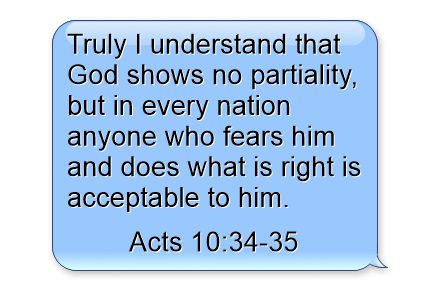 Leviticus 19:34 "
You shall treat the stranger who sojourns with you as the native among you, and you shall love him as yourself, for you were strangers in the land of Egypt: I am the LORD your God

."

Many people falsely believe that God was interested only in the nation of Israel but anyone who's familiar with the Old Testament and the Old Testament laws know that God always welcomed the aliens who were not descended of the tribes of Israel. He says that even the chosen people of God were once strangers and were sojourners and that they too were once strangers in the land of Egypt. He would consider a non-Israelite as equal in His eyes and no better or no worse than any of the children of Abraham.
Acts 17:26 "
And he made from one man every nation of mankind to live on all the face of the earth, having determined allotted periods and the boundaries of their dwelling place

."

There is but one race…the human race and all are descended from Adam. We have the same parents and we all have red blood and we are all sinners too (Rom 3:10-12) and have all fallen short of God's glory (Rom 3:23) and this free gift of eternal life is afforded to all who believe in Jesus Christ (John 3:16).
First Samuel 16:7 "
But the Lord said to Samuel, "Do not look on his appearance or on the height of his stature, because I have rejected him. For the Lord sees not as man sees: man looks on the outward appearance, but the Lord looks on the heart

."

This is one of the clearest Bible verses there is that prove that God looks at the heart and not the color of a person's skin, the way that they dress, or the way that they look on the outside. It matters not to God because He is only interested in what is in the heart because that is all that really matters to God.
Revelation 7:9 "
After this I looked, and behold, a great multitude that no one could number, from every nation, from all tribes and peoples and languages, standing before the throne and before the Lamb, clothed in white robes, with palm branches in their hands

."
Conclusion
Here we see the final consummation of the coming kingdom of God when all people groups of the world will come to worship the Lamb of God. There will be worship from every single tongue, every single tribe, and every people group on the face of the earth. God does not discriminate among people and neither should we. There is no room for racial bigotry or bias and there is no excuse for it. That is clearly sin and God hates it when we have respect toward people based upon their skin color, their nationality, their language or the way that that they look.
Article by Jack Wellman
Jack Wellman is Pastor of the Mulvane Brethren church in Mulvane Kansas. Jack is also the Senior Writer at What Christians Want To Know whose mission is to equip, encourage, and energize Christians and to address questions about the believer's daily walk with God and the Bible. You can follow Jack on Google Plus or check out his book Blind Chance or Intelligent Design available on Amazon.