Here are 7 Bible verses that I hope can help you not ever give up on God because He never gives up on you.
Deuteronomy 31:8 "
It is the LORD who goes before you. He will be with you; he will not leave you or forsake you. Do not fear or be dismayed

."

This verse reminds me of God going with Israel through the wilderness and made me think of Exodus 13:21 "And the LORD went before them by day in a pillar of cloud to lead them along the way, and by night in a pillar of fire to give them light, that they might travel by day and by night." Isn't that image reassuring? It is for me.
Joshua 1:9 "
Have I not commanded you? Be strong and courageous. Do not be frightened, and do not be dismayed, for the Lord your God is with you wherever you go

."

This is one of the few places in the Old Testament where God commands someone to be courageous and He would have never told Joshua this unless He knew he had some fear. God knows the heart and must have known what Joshua was feeling. Here was Joshua taking over as leader of an entire nation, numbering in the millions, and about to go into an enemies territory that he knew nothing about; either the land or the enemies. You must remember that this was before Joshua sent the spies into Canaan in Joshua chapter 2. God told Joshua to be strong and courageous and not to be frightened or dismayed. Why? It was because God would be with him wherever he went.
Galatians 6:9 "
And let us not grow weary of doing good, for in due season we will reap, if we do not give up

."

Do you ever grow weary and even more; do you ever grow weary of doing good for others? I certainly do and even more so when I get no thanks for doing good for others. It helps to live with the end in mind. That is, if we live with the hope that we have in the living God and in living in the eternal kingdom, then it can give us a better perspective as Paul wrote in Romans 9:18 "For I consider that the sufferings of this present time are not worth comparing with the glory that is to be revealed to us." That day is surely coming. Nothing can prevent it, not even death (Rom 8:38). Today's suffering will pale in comparison to that great day but only if we don't give up. This verse is not saying that if we give up, all hope is lost. In fact, it says just the opposite.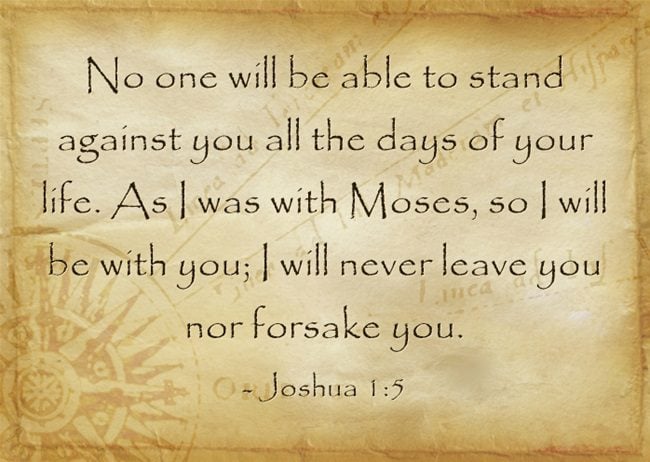 Philippians 1:6 "
And I am sure of this, that he who began a good work in you will bring it to completion at the day of Jesus Christ

."

God tells us here that He who began the work in us (God) will bring it to completion. God never starts something that He doesn't finish and the completion comes "at the day of Jesus Christ" and His return.
John 6:37, 39 "All that the Father gives me will come to me, and whoever comes to me I will never cast out. And this is the will of him who sent me, that I should lose nothing of all that he has given me, but raise it up on the last day."
Imagine someone in the gospels coming to Jesus and He turns them away. Jesus plainly says that "whoever comes to Him" will not be turned away and further, He says that He will lose none but will raise them up on that last day, or at His return.
Matthew 18:12-13 "
What do you think? If a man has a hundred sheep, and one of them has gone astray, does he not leave the ninety-nine on the mountains and go in search of the one that went astray? And if he finds it, truly, I say to you, he rejoices over it more than over the ninety-nine that never went astray

."

What kind of shepherd leaves with 100 sheep and then returns with only 99 and says, "Oh well, 99 out of a hundred isn't bad." Jesus, as the Great Shepherd, gathers 100 sheep and He will return with 100 sheep,
Joshua 1:5 "
No one will be able to stand against you all the days of your life. As I was with Moses, so I will be with you; I will never leave you nor forsake you

."

I think I may have saved the best for last. There is just so much promise in this verse and since we know that God cannot lie (Num 23:19; Heb 6:18) and that God is no respecter of persons (Duet 10:17; Job 34:19), showing no partiality among men and women (Acts 10:34), just as He did for Joshua and Moses, so He will do for you if you are one of His own children. This promise is not for the unsaved but only for the children of God. No one will be able to stand against you, even if they take a stand against you, and that promise is not just for today or tomorrow but for all the days of your life and He will not ever leave you and even better, He will not ever forsake you, even if we forsake Him.
Conclusion
The whole conclusion of the matter is settled; "in all these things we are more than conquerors through him who loved us. For I am sure that neither death nor life, nor angels nor rulers, nor things present nor things to come, nor powers, nor height nor depth, nor anything else in all creation, will be able to separate us from the love of God in Christ Jesus our Lord" (Rom 8:37-39). Now doesn't that make you feel like not giving up?
Article by Jack Wellman
Jack Wellman is Pastor of the Mulvane Brethren church in Mulvane Kansas. Jack is also the Senior Writer at What Christians Want To Know whose mission is to equip, encourage, and energize Christians and to address questions about the believer's daily walk with God and the Bible. You can follow Jack on Google Plus or check out his book Blind Chance or Intelligent Design available on Amazon.