Here are 7 Bible verses that speak about God's omnipresence.
What is Omnipresence?
The word omnipresence is a compound word and comes from the words omni (all) and presence (present) and so God is present everywhere at all times with no exceptions. There is no place you can be that God is not also there. He is always everywhere in all places and at all times. He is omnipresent.
Jeremiah 23:24 "
Can a man hide himself in secret places so that I cannot see him? declares the Lord. Do I not fill heaven and earth? declares the Lord

?

Jeremiah asked a rhetorical question with an obvious answer; there is no place you can be that God is not also there and aware of someone's presence. God declares that He fills both heaven and earth and so there is nowhere that humans can go that God is not already there, before they even get there.
Psalm 139:7-10 "
Where shall I go from your Spirit? Or where shall I flee from your presence? If I ascend to heaven, you are there! If I make my bed in Sheol, you are there! If I take the wings of the morning and dwell in the uttermost parts of the sea, even there your hand shall lead me, and your right hand shall hold me

."

The word that the psalmist uses, Sheol, (Hebrew for "shĕ'owl") can mean the underworld, grave, hell, or a pit and it doesn't matter whether it is in the grave or in a pit or even in hell, God is present everywhere at all times. The psalmist asks the question "where shall I flee from your presence?" God is in heaven, in the grave, under the earth, in the sea, in the air. It matters not; He is there.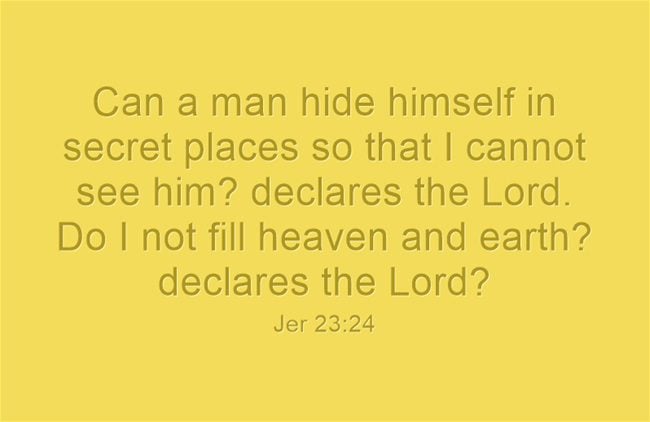 Isaiah 43:2 "
When you pass through the waters, I will be with you; And through the rivers, they will not overflow you. When you walk through the fire, you will not be scorched, Nor will the flame burn you

."

Once more we see the omnipresence of God through the waters, through the rivers and even through the fire. Here Isaiah seems to be saying that even when we are crossing over into troubled waters and enduring fiery trials, God will be with us so this view of God's omnipresence speaks about His being with us in all of our difficulties and even in the flames of our tests by fire, the flame will not burn us.
Job 34:21 "
For his eyes are on the ways of a man, and he sees all his steps

."

God beholds the ways of a man and a woman for His eyes are always upon them. He sees every step we take and nothing we do is hidden from His eyes and no step goes where He doesn't behold them.
Proverbs 15:3 "The eyes of the Lord are in every place, keeping watch on the evil and the good."
This is very similar to Job 34:21 but the difference here is that God is seeing all the evil that takes place on the earth, even under the cover of darkness and even if no one else sees someone's evil doing, God does! He also sees every good thing done that no one else sees and that is because "The eyes of the Lord are in every place."
Hebrews 4:13 "
And no creature is hidden from his sight, but all are naked and exposed to the eyes of him to whom we must give account

."

This verse is also closely related to Job 34:21 but also to Proverbs 15:3. There is nothing hidden from God's eyes and He can even see into the human heart, discerning the thoughts, intents, and motives of every creature for all are laid bare before Him; naked and exposed to Him to whom we all must give an account someday and that judgment will come after death (Heb 9:27).
Isaiah 57:15 "
For thus says the high and exalted One. Who dwells in eternity, whose name is Holy, I dwell on a high and holy place, And also with the contrite and lowly of spirit In order to revive the spirit of the lowly And to revive the heart of the contrite

."

This verse speaks about God's omnipresence even into eternity for He is there before it even arrives. He also dwells with those who are lowly in spirit and of a contrite heart. The word contrite means "crushed" so think of it this way; God is everywhere but He dwells with those who are lowly in spirit and have crushed hearts. Have you ever felt that way or know of someone who has simply been crushed? If so, God is with them or you if that refers to you. That is such a tender image of our God.
Conclusion
God is everywhere at all times and He inhabits (dwells in) eternity. There is no place to go where God is not. For the believer, that is comforting. For the unsaved, that will be terrifying for "It is a fearful thing to fall into the hands of the living God" (Heb 10:31). The word for "fearful" comes from the Hebrew word "phoberos" and it's not just being afraid. It is where we get the word phobia from and it means sheer terror. Jesus said you must repent and believe (Mark 1:15) or you will die with the wrath of God abiding on you (John 3:36b) and that lasts for all time (Rev 20:12-15).
Article by Jack Wellman
Jack Wellman is Pastor of the Mulvane Brethren church in Mulvane Kansas. Jack is also the Senior Writer at What Christians Want To Know whose mission is to equip, encourage, and energize Christians and to address questions about the believer's daily walk with God and the Bible. You can follow Jack on Google Plus or check out his book Blind Chance or Intelligent Design available on Amazon.