Exhortation is a good thing so what is it exactly? What is the biblical definition of exhortation?
Exhortation is…
We don't use the word exhortation very much today but when you were little and heading out the door on a freezing cold day, maybe your mom made an exhortation for you to put on your hat and zip your coat up all the way. Exhortation is to exhort someone or to urge by a strong, often stirring argument, admonition, advice, or appeal. In our exhortations we might use speech or discourse that encourages, incites, or earnestly advises someone to do something and that matches very nicely with the biblical definition of exhortation as we will read later on.
Exhortation of the Good News
John the Baptist was not afraid to preach about the need for repentance, as we Jesus (Mark 1:15), and John also preached to "not extort money from anyone by threats or by false accusation, and be content with your wages" (Luke 3:14) and "with many other exhortations he preached good news to the people" (Luke 3:18). To read that John preached with exhortations means that he gave deep, stirring, compassionate messages that spoke of "a baptism of repentance for the forgiveness of sins" (Luke 3:3b) and called out to the crowds "You brood of vipers! Who warned you to flee from the wrath to come? Bear fruits in keeping with repentance. And do not begin to say to yourselves, 'We have Abraham as our father.' For I tell you, God is able from these stones to raise up children for Abraham. Even now the axe is laid to the root of the trees. Every tree therefore that does not bear good fruit is cut down and thrown into the fire" (Luke 3:7-8) so exhortation includes an appeal or an admonition to do something, as in this case to repent for the forgiveness of sins. Jesus' very first words were an exhortation to "repent and believe in the gospel" (Mark 1:15b).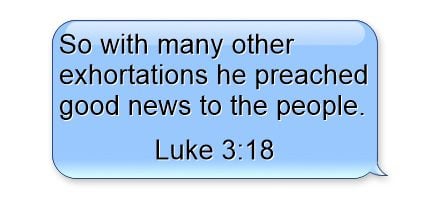 Teaching and Exhortation
When we exhort someone, we are appealing for them to do something as in the case of the Apostle Paul when he wrote "I appeal to you therefore, brothers, by the mercies of God, to present your bodies as a living sacrifice, holy and acceptable to God, which is your spiritual worship" (Rom 12:1) and to "be transformed by the renewal of your mind, that by testing you may discern what is the will of God, what is good and acceptable and perfect" (Rom 12:2). Even though we are many, we "are one body in Christ, and individually members one of another. Having gifts that differ according to the grace given to us, let us use them: if prophecy, in proportion to our faith; if service, in our serving; the one who teaches, in his teaching; the one who exhorts, in his exhortation; the one who contributes, in generosity; the one who leads, with zeal; the one who does acts of mercy, with cheerfulness" (Rom 12:5-8). Here Paul seems to indicate that exhortation is a gift and one that is necessary for the body of Christ, the church. This explains why he commanded Timothy; "Until I come, devote yourself to the public reading of Scripture, to exhortation, to teaching" (1st Tim 4:13). The author of Hebrews also wrote "I appeal to you, brothers, bear with my word of exhortation, for I have written to you briefly" (Heb 13:22).
The Necessity of Exhortation
The church, corporately, needs exhortation from one another and from church leadership. This is evidenced in Paul's writing to Timothy to "preach the word; be ready in season and out of season; reprove, rebuke, and exhort, with complete patience and teaching" (2nd Tim 4:2) and for members of the church to "exhort one another every day, as long as it is called "today," that none of you may be hardened by the deceitfulness of sin" (Heb 3:13). Paul reminded the church at Thessalonica that "we exhorted each one of you and encouraged you and charged you to walk in a manner worthy of God, who calls you into his own kingdom and glory" (1st Thess 2:12) and why he "sent Timothy, our brother and God's coworker in the gospel of Christ, to establish and exhort you in your faith" (1st Thess 3:2).
Conclusion
Exhortation then is a necessity for the church as a whole and for members of the church to exhort one another on an individual basis. We need to be exhorted by church leadership but also to exhort one another so that we can grow in the grace and knowledge of God and to live a life worthy of our calling (Eph 4:1). Exhortation is to urge, beseech, and make an appeal to be more Christ-like and that's something that we all need.
Article by Jack Wellman
Jack Wellman is Pastor of the Mulvane Brethren church in Mulvane Kansas. Jack is also the Senior Writer at What Christians Want To Know whose mission is to equip, encourage, and energize Christians and to address questions about the believer's daily walk with God and the Bible. You can follow Jack on Google Plus or check out his book Blind Chance or Intelligent Design available on Amazon.