What does the word "enmity" mean? What is a biblical definition of enmity?
Enmity is…
Enmity could be described as a positive, active, and typically mutual hatred or ill will toward something or someone. You could call it the quality of being an enemy of someone or others or having a hostile or unfriendly disposition toward another thing or person or persons. Normally, enmity is a deep and bitter hatred, usually shared between enemies and is not easily ended between the two or more parties. The biblical definition is somewhat varied, depending upon the subject matter and context but it is close to what you have just read so what follows then is a biblical definition of enmity.
At Enmity
When Satan deceived Eve into taking of the tree of the knowledge of good and evil, God said to him "Because you have done this, cursed are you above all livestock and above all beasts of the field. I will put enmity between you and the woman, and between your offspring; and her offspring; he shall bruise your head, and you shall bruise his heel" (Gen 3:14-15). Eve's offspring and Satan's offspring would be at enmity with one another from that time forth and that is Christ and the Devil and his demons but the good news is that Christ's heel would be bruised but Satan's head would be crushed or bruised. The crushing of the head of Satan points to his utter defeat while a bruised heel is only a temporary setback. The word "bruised" is from the Hebrew word "shuwph" and means more than simply a bruise. Shuwph means "to crush" or "to fall upon" so Satan's head would be crushed, meaning that his defeat is determined but only Christ's heel would be bruised and that symbolized Jesus' suffering on the cross. This is why Isaiah wrote that Jesus "was pierced for our transgressions; he was crushed for our iniquities" (Isaiah 53:5). Genesis 3:15 is called the "Proto-evangelium or the "First Gospel" and pointed forward to Christ's coming work at Calvary.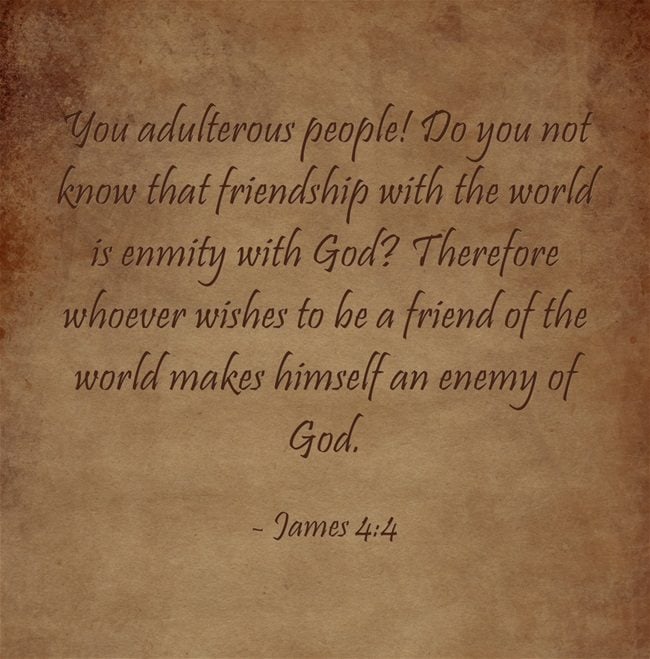 At Enmity with God
There is clear evidence that God is opposed too or at war with the proud but will only give His grace to those who are humble of nature (James 4:6). If we are friends with the world and we claim to be a Christian, then something's very wrong. James wrote "You adulterous people! Do you not know that friendship with the world is enmity with God? Therefore whoever wishes to be a friend of the world makes himself an enemy of God" (James 4:4). The word enmity is from the Greek word "echthra" and means "hate, being hostile with" or "in opposition too." Someone who has enmity with you is basically at war with you. By the way, if the world loves you and you love the world, then the love of God does not abide in you. That is very clear. The Apostle John wrote "Do not love the world or the things in the world. If anyone loves the world, the love of the Father is not in him" (1st John 2:15) so "Do not be surprised, brothers, that the world hates you" (1st John 3:13). The surprising thing would be that if you were a Christian and the world loved you! Jesus also said something very similar: "If the world hates you, keep in mind that it hated me first" (John 15:8) so if the world loves you and you love the world then you are at enmity with God or God is hostile to you.
God at Enmity
When other nations oppressed Israel, God did not take this lightly because these were His chosen people. Ezekiel writes "Thus says the Lord God: Because the Philistines acted revengefully and took vengeance with malice of soul to destroy in never-ending enmity, therefore thus says the Lord God, Behold, I will stretch out my hand against the Philistines, and I will cut off the Cherethites and destroy the rest of the seacoast" (Ezk 24:15-16). One of the fruits of the flesh is enmity (Gal 5:20) but whoever is against His children, had the enmity of God fixated on them.
God Will Avenge His Elect
Just as God promised to avenge all those who oppressed Israel, Jesus is clear that those who oppress God's elect will be judged. Jesus said "And will not God give justice to his elect, who cry to him day and night? Will he delay long over them" (Luke 18:7)? One example was when those who were martyred for their faith "called out in a loud voice, "How long, Sovereign Lord, holy and true, until you judge the inhabitants of the earth and avenge our blood" (Rev 6:10)? We must trust God to ensure justice will be meted out as Paul writes "Beloved, never avenge yourselves, but leave it to the wrath of God, for it is written, "Vengeance is mine, I will repay, says the Lord" (Rom 12:19). This theme is found in the Old Testament as well as God says "It is mine to avenge; I will repay. In due time their foot will slip; their day of disaster is near and their doom rushes upon them" (Duet 32:35) as "The LORD is a God who avenges" (Psalm 94:1) so "Do not say, "I'll pay you back for this wrong!" Wait for the LORD, and he will avenge you" (Prov 20:22). Never say to yourself "I'll do to them as they have done to me; I'll pay them back for what they did" (Prov 24:29) because Jesus said we are to love our enemies and pray for those who despitefully use us (Matt 5:44).
Conclusion
If you've never repented and trusted in Christ, then God is presently at enmity with you and He will recompense everyone who has rejected His Son as their Lord and Savior (John 3:18). There is still hope for you to be saved before the Day of Judgment but no one knows when that time will come, so today is the best day for salvation (2 Cor 6:2) for tomorrow may be too late.
Article by Jack Wellman
Jack Wellman is Pastor of the Mulvane Brethren church in Mulvane Kansas. Jack is also the Senior Writer at What Christians Want To Know whose mission is to equip, encourage, and energize Christians and to address questions about the believer's daily walk with God and the Bible. You can follow Jack on Google Plus or check out his book Blind Chance or Intelligent Design available on Amazon.