Doctrine is important to the church and to believers so what exactly is doctrine and why does it matter? What is a biblical definition of doctrine?
What is Doctrine?
Doctrine is essentially something that is taught and can be a principle or principles and even a creed of principles presented for acceptance or belief by someone or by a group of people. Doctrine is basically a system of beliefs and may denote both the act of teaching and that which is learned. For Christians, it is a set of accepted beliefs and it is the set of true beliefs that define the parameters of that belief system like the sinless-ness of Christ, His divinity, His all-sufficient sacrifice on the cross and so on. Christians believe these things to be true and there is no negotiating them or watering these beliefs down into something that is more palatable for those who may not believe them. The essentials of the Christian faith are doctrines that are unchangeable and are the immutable teachings of God taught through His Word, the Bible.
False Doctrines
Any time there are true doctrines there are false ones. The author of Hebrews warns "Do not be led away by diverse and strange teachings, for it is good for the heart to be strengthened by grace, not by foods, which have not benefited those devoted to them" (Heb 13:9). Jesus says that some are "teaching as doctrines the commandments of men" (Matt 15:9) so it is "in vain do they worship me, teaching as doctrines the commandments of men" (Mark 7:7). This explains Paul's admonition "to watch out for those who cause divisions and create obstacles contrary to the doctrine that you have been taught; avoid them" (Rom 16:17) "so that we may no longer be children, tossed to and fro by the waves and carried about by every wind of doctrine, by human cunning, by craftiness in deceitful schemes" (Eph 4:14). Paul commanded Timothy to "remain at Ephesus so that you may charge certain persons not to teach any different doctrine" (1st Tim 1:3). The fact is "The law of God is not laid down for the just but for the lawless and disobedient, for the ungodly and sinners, for the unholy and profane, for those who strike their fathers and mothers, for murderers, the sexually immoral, men who practice homosexuality, enslavers, liars, perjurers, and whatever else is contrary to sound doctrine" (1st Tim 1:9-10). Paul gives a final warning to Timothy that "If anyone teaches a different doctrine and does not agree with the sound words of our Lord Jesus Christ and the teaching that accords with godliness, he is puffed up with conceit and understands nothing" (1st Tim 6:3-4a).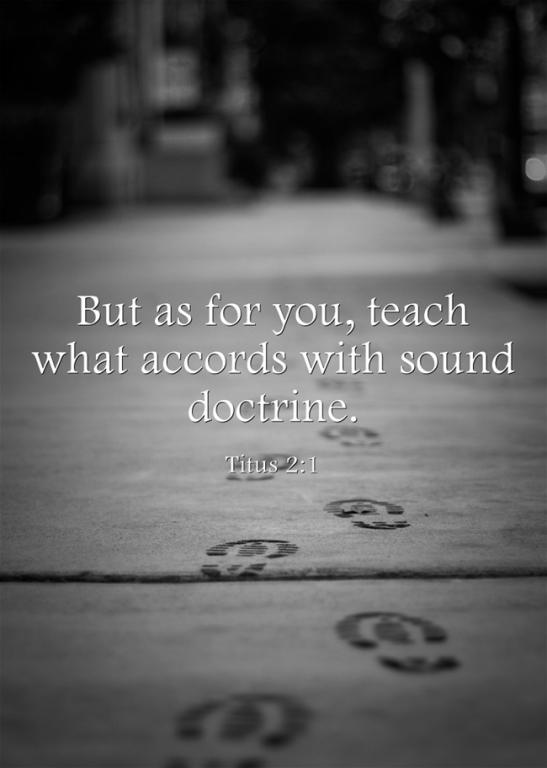 Doctrine Matters
They say that doctrine divides and that is actually a good thing because we need to separate ourselves from the doctrines of demons. Paul clearly said that "the Spirit expressly says that in later times some will depart from the faith by devoting themselves to deceitful spirits and teachings of demons" (1st Tim 4:1) and this kind of "wisdom does not come down from heaven but is earthly, unspiritual, demonic" (James 3:15). Peter prophesied that "there will be false teachers among you. They will secretly introduce destructive heresies, even denying the sovereign Lord who bought them–bringing swift destruction on themselves" (2nd Pet 2:1). That day, unfortunately, has come. Some cults, for example, teach that the Holy Spirit is not God but a force or power of God which is contrary to biblical doctrine of the Trinity so the point is, doctrine does matter. It must be biblical or it is a doctrine of man or of demons.
Biblical Doctrine
I wrote earlier about true, biblical doctrine such as the teaching that Jesus is the one and only way to be saved (Acts 4:12), that Jesus was sinless and was the perfect sacrifice that was sufficient for us to be saved and was resurrected as we will be someday (Rom 10:9-13). When Paul laid out the qualifications for an elder (or a pastor) it was vital that "He must hold firm to the trustworthy word as taught, so that he may be able to give instruction in sound doctrine and also to rebuke those who contradict it" (Titus 1:9) and wanted Titus to make sure and "teach what accords with sound doctrine" (Titus 2:1) "so that in everything they may adorn the doctrine of God our Savior" (Titus 2:10). This agrees with what the author of Hebrews writes "Therefore let us leave the elementary doctrine of Christ and go on to maturity, not laying again a foundation of repentance from dead works and of faith toward God, and of instruction about washings, the laying on of hands, the resurrection of the dead, and eternal judgment" (Heb 6:1-2). Doctrine matters so much so that our very faith hinges on it as it is the only way we can be saved (Acts 16:30-31) for without the right gospel you've got the wrong Savior.
Conclusion
I hope this has helped explain what doctrine is and particularly, biblical doctrine, for in it are the very words of eternal life. The gospel is the very power of God unto salvation (Rom 1:16). The best way to ensure you are not deceived by hearing a false gospel is to know the true gospel so well that you can discern error right away. Doctrine divides and false doctrines deceive but proper doctrine saves. That is my prayer for all who read this that you might be saved.
Article by Jack Wellman
Jack Wellman is Pastor of the Mulvane Brethren church in Mulvane Kansas. Jack is also the Senior Writer at What Christians Want To Know whose mission is to equip, encourage, and energize Christians and to address questions about the believer's daily walk with God and the Bible. You can follow Jack on Google Plus or check out his book Blind Chance or Intelligent Design available on Amazon.