Who were the "Watchers" mentioned in the Bible? Why is it important for us to know?
God Sees All
You've probably heard the old saying, "God is watching you" or "God is watching" or something very similar to that but is God watching us? The Bible is clear that "no creature is hidden from his sight, but all are naked and exposed to the eyes of him to whom we must give account" (Heb 4:13) because "For the eyes of the LORD range throughout the earth to strengthen those whose hearts are fully committed to him" (2nd Chron 16:9). No matter where we are, "From heaven the LORD looks down and sees all mankind" (Psalm 33:13) as "The eyes of the LORD are everywhere, keeping watch on the wicked and the good" (Prov 15:3). Jeremiah asks a rhetorical question, "Who can hide in secret places so that I cannot see them?" declares the LORD. "Do not I fill heaven and earth?" declares the LORD" (Jer 23:24) and God says "My eyes are on all their ways; they are not hidden from me, nor is their sin concealed from my eyes" (Jer 16:17). Now we know for sure that God sees everything and nothing is hidden from Him, but what are these "watchers" mentioned in the Bible?
What are Watchers?
The Bible uses the word "watchers" in only a few special places but what are they or who are they? Watchers are those who are awake like a watchman in a watchtower. There is usually a watchman in the watchtower and so he could be called a watcher. To be a watchman necessarily means to be in a state of wakefulness and to also be watching. The word "Watcher" appears in both the plural and the singular forms in the Book of Daniel and seems to include the fact that they are in a state of holiness. The only exception to this that I could find was in Jeremiah 4:16 which says "Make mention to the nations, Yes, proclaim against Jerusalem, That watchers come from a far country and raise their voice against the cities of Judah" so even from this, to be a watcher is to be in a state of holiness and so we can now look at the Book of Daniel to see who or what these watchers are.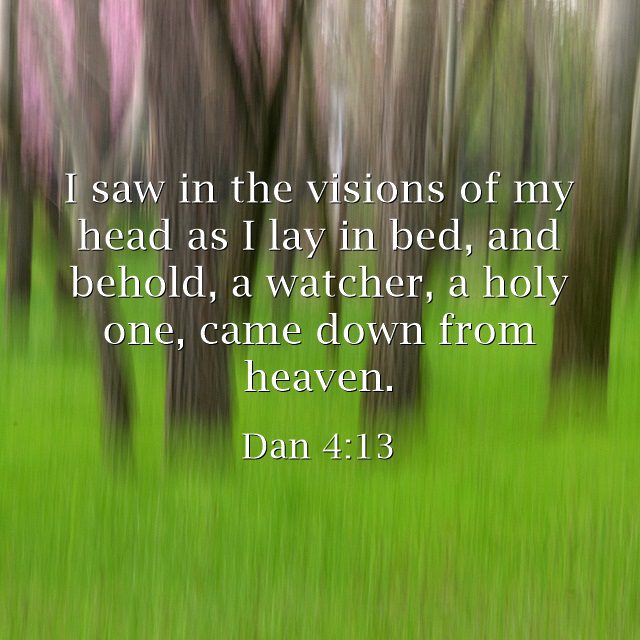 Nebuchadnezzar's Dream
In Daniel chapter four, Nebuchadnezzar had a dream (Dan 4:4-5) and he sought all the wise men of Babylonia to see if they could interpret his dream (Dan 4:6) but none could help him (Dan 4:7). He finally called Daniel, knowing that "in him is the Spirit of the Holy God" (Dan 4:8). He told Daniel about all his visions or dreams while Nebuchadnezzar was in bed (Dan 4:10). In this dream he saw a tree grow to a great height, reaching up to heaven and being seen from all ends of the earth and all the creatures of the earth were able to feed on it (Dan 4:11-12).
The Watchers in the Bible
Nebuchadnezzar's dream included watchers and this is what he said "I saw in the visions of my head while on my bed, and there was a watcher, a holy one, coming down from heaven" (Dan 4:13). The word for "watcher" is from the Aramaic, one of the few places in the Old Testament where Aramaic is used and not Hebrew. The word for watcher is from the Aramaic word "`iyr" and means "wakeful one, watcher," or "angel" so clearly a watcher in an angel sent from God. The watcher or holy angel declares to Nebuchadnezzar, "This decision is by the decree of the watchers, And the sentence by the word of the holy ones, In order that the living may know. That the Most High rules in the kingdom of men. Gives it to whomever He will, And sets over it the lowest of men" (Dan 4:17). Daniel goes on to explain to the king that "as the king saw a watcher, a holy one, coming down from heaven and saying, 'Chop down the tree and destroy it, but leave its stump and roots in the earth'" (Dan 4:23a) "and this is the decree of the Most High, which has come upon my lord the king: They shall drive you from men, your dwelling shall be with the beasts of the field" (Dan 4:23b-24) "till you know that the Most High rules in the kingdom of men, and gives it to whomever He chooses" (Dan 4:25). Nebuchadnezzar did eventually become full of pride saying that he had of himself built this kingdom by his own hand but this is contrary to biblical doctrine that God sets up and tears down kingdoms as it pleases Him (Dan 4:24-27). The watcher then is a holy messenger sent directly from God; an angel that is a messenger from the Holy God. There is nothing mystical about watchers; they are only dispatched by God who watches over the affairs of mankind (2nd Chron 16:9).
Conclusion
God is omniscient (all-knowing), omnipotent (all-powerful), and omnipresent (present everywhere at all times) and so we know that God sees all that we do and can even look into the human heart and read our thoughts, motives, and intents. For those who have repented and trusted in Christ, they have no need to fear the coming judgment of God but for others, I must tell you what the Bible says; "It is a fearful thing to fall into the hands of the living God" (Heb 10:31).
Article by Jack Wellman
Jack Wellman is Pastor of the Mulvane Brethren church in Mulvane Kansas. Jack is also the Senior Writer at What Christians Want To Know whose mission is to equip, encourage, and energize Christians and to address questions about the believer's daily walk with God and the Bible. You can follow Jack on Google Plus or check out his book Blind Chance or Intelligent Design available on Amazon.