Are people born as a transgender?
What is Transgender?
Transgender people are those who experience confusion about their gender identity and feel that they are trapped in a body of the opposite sex. Some can experience a period of identity development that includes gaining a better understanding of their self-image, self-reflection, and self-expression and think that they were actually born in a boys or girls body but are actually the opposite sex. Some believe that transgenderism has been on the increase in the last few years even though estimates are that only 0.3% of adults are transgender and only 3.5% of adults identify themselves as LGBT (lesbian, gay, bisexual, or transgender). [1].
Created in God's Image
In the beginning, God created the heavens and the earth (Gen 1:1) and all plant, sea, and animal life but what about mankind? Genesis 1:27 says, "God created man in his own image, in the image of God he created him; male and female he created them" so God created mankind and they were created as either male or female but not both or not as a mix of both or one trapped in a body of the wrong sex. I see nothing in the Bible that indicates that they could be both or might have both male and female attributes. Mankind was not created in a transgender state or with a transgender possibility but simply as male or female.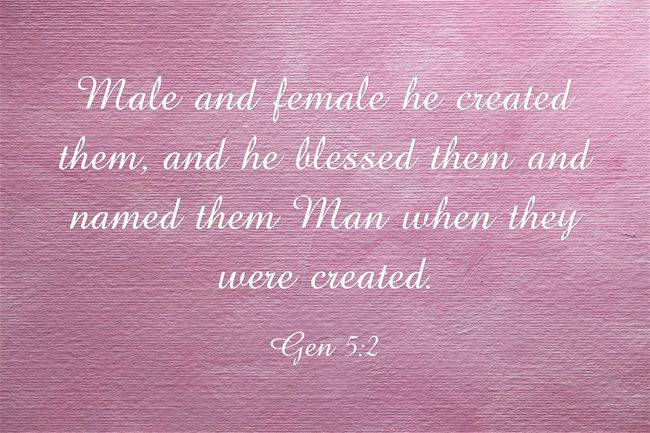 Made by God
In Psalm 139 the psalmist writes, "For you formed my inward parts; you knitted me together in my mother's womb" (139:13) and "My frame was not hidden from you, when I was being made in secret, intricately woven in the depths of the earth" (139:15) so why would God form a human being that is both male and female? This would seem to contradict the fact that God created them as either male or female. This doesn't allow for any genetic mistakes in the process. Sadly, many boys and girls are pummeled with messages about their gender or sexual identity from an early age so that they begin to think that they might not be a boy or a girl after all. Some believe that they were a girl trapped in a boy's body or the other way around but God doesn't make mistakes in His creation of human beings. He didn't get it wrong, no matter what someone might feel, even though there are some who feel convinced that they're the opposite sex of what they were born as. These types of gender confusion could be the result of the fall of mankind (Rom 8:20-22).
The Bible and Homosexuality
I don't want this to be about my own personal opinion at all but only what the Word of God says and the Bible is crystal clear that homosexuality is sin (Jude 1:7). Paul writes that "the sexually immoral, nor idolaters, nor adulterers, nor men who practice homosexuality, nor thieves, nor the greedy, nor drunkards, nor revilers, nor swindlers will inherit the kingdom of God" (1 Cor 6:9-10) and it was "For this reason God gave them up to dishonorable passions. For their women exchanged natural relations for those that are contrary to nature; and the men likewise gave up natural relations with women and were consumed with passion for one another, men committing shameless acts with men and receiving in themselves the due penalty for their error" (Rom 1:26-27). The belief that God made them this way is contrary to nature and to His creation of mankind. God would not create someone in a way that predisposes them to be hopeless victims of sexual immorality thereby dooming them to hell (Rev 21:8). Some reason that God made them this way, therefore, it could not possibly be wrong or sinful for them to live in such a way. They might even take the extreme measure of having a sex change operation but they are doing something contrary to the way that they were created (Gen 1:27).
Conclusion
If someone feels that they are transgender and was born this way then they are putting their feelings above what the Word of God says. Feelings are subjective and subject to error; the Word of God is objective truth and cannot be subject to error. The truth is "that everyone who is sexually immoral or impure, or who is covetous (that is, an idolater), has no inheritance in the kingdom of Christ and God" (Eph 5:5) and that's not a feeling but a fact.
Article by Jack Wellman
Jack Wellman is Pastor of the Mulvane Brethren church in Mulvane Kansas. Jack is also the Senior Writer at What Christians Want To Know whose mission is to equip, encourage, and energize Christians and to address questions about the believer's daily walk with God and the Bible. You can follow Jack on Google Plus or check out his book Teaching Children the Gospel available on Amazon.
1. Williams Institute UCLA study, "Understanding the size of the LGBT population is a critical first step to informing a host of public policy and research topics."