Here is a summary and Bible study of the Book of Amos.
Who was Amos?
Who was Amos? Where did he come from? What was his background history and family ties? Amos came from Tekoa which was thirteen miles south of Jerusalem but is centered in the wilderness area of Judah and was a very small town. God called him to bring a message to Israel and the wicked King Jeroboam and it would not be a pleasant message either which may explain why Amos' name means "burden-bearer." Amos tells us something about himself as he writes, "I was no prophet, nor was I a son of a prophet," he explains, "but I was a herdsman and a tender of sycamore fruit. Then the Lord took me as I followed the flock and the Lord said to me, 'Go, prophesy to My people Israel'" (Amos 7:14-15).
Who wrote this Book?
The author doesn't identify himself but at times it is obvious that Amos is referring to himself. Regardless, critical biblical scholarship holds that Amos is the author. This book would fit into the Jewish historical period of about 762 BC and the author tells of Amos' mission to prophecy against the House of Israel and King Jeroboam II, who ruled the Northern Kingdom and separate from Judah, which lay to the south. The Book of Amos clearly indicates that these are his words and it even starts out by saying, "The words of Amos, who was among the shepherds of Tekoa, which he saw concerning Israel in the days of Uzziah king of Judah and in the days of Jeroboam the son of Joash, king of Israel, two years before the earthquake" (Amos 1:1).
Why was it Written?
We already know who wrote this book but why was it written? Clearly Amos was sent to prophecy against Israel, the Northern King and her king, King Jeroboam II, however Amos also prophecies against the nations surrounding Israel and Judah but why was the Book of Amos written?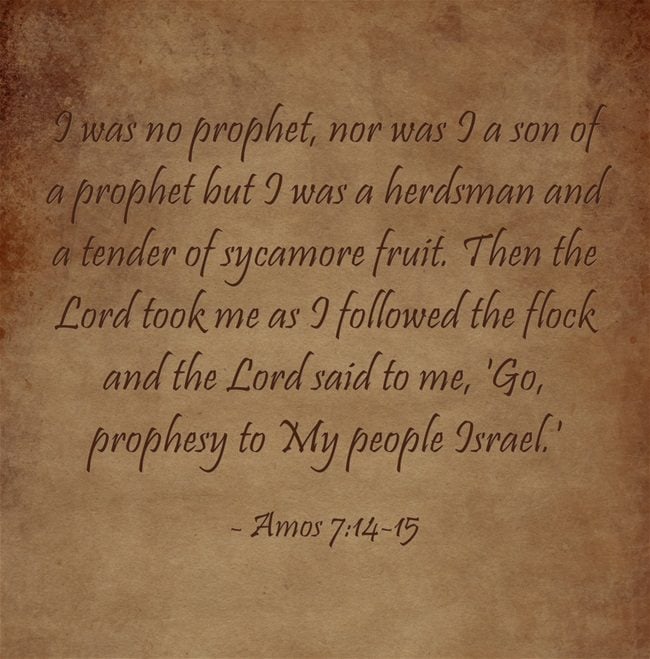 Amos Chapter One and Two
Amos dates the time of his writing (1:1) and immediately prophecies against the nations surrounding Israel and Judah (1:2-2:3) but then turns his attention toward Judah because of their disobedience (2:4-2).
Amos Chapter Three
Amos then turns to Israel and God's message to them and reminds them that He considers them His family and because of that, He says, "therefore (or because of this) I will punish you for all your iniquities" (Amos 3:2). Just as God is a loving Father, He also disciples all those He loves and are called His children (Heb 12:6) which is why Amos wrote "therefore" or because "of all the families of the earth" (Amos 3:2a) God chose them and He will discipline them if necessary because He loves them. What parent doesn't discipline their own children?
Amos Chapter Four and Five
God is still speaking to Israel by saying "you cows of Bashan" (Amos 4:1). Bashan was the fertile area of land just below Mount Herman and was located in Samaria, which is where the Northern Kingdom (Israel) was at the time. This is directed specifically toward Israel. Part of their judgment was because they "oppress the poor [and] crush the needy" (Amos 4:1b). Part of God's discipline to cause them to return to Him (repent) were droughts (Amos 4:7-8) agricultural diseases (Amos 4:9) and even pestilence that brought widespread death (Amos 4:10). Even then, Israel refused to return to God.
Amos Chapter Six and Seven
Next, Amos writes to both Israel and Judah (Amos 6:1) which is why he refers to them as Jacob (6:8). Before Israel split in half and became two separate nations (Israel, the Northern Kingdom and Judah, sometimes called Zion) so when Amos mentions Jacob he may be referring to both Israel and Judah. Amos continues to prophecy Jacob but Amos sees how horrible God's judgments could be (Amos 7:1-2, 4, 7) that he prays for God's mercy on them (Amos 7:2, 5).
Amos Chapter Eight and Nine
Some of God's severest discipline comes upon Jacob (Israel and Judah) for trampling on the poor and the needy and then apparently bringing "the poor of the land to an end" (Amos 8:4) which could well mean that the poorest of the poor are starving to death and dying. All of their joyous feast celebrations will suddenly be times of morning (Amos 8:10). When once there had been plenty, there will come a time of famine (8:11) and it will be a very widespread drought (8:12). Amos reveals in great detail the coming destruction of Israel (Amos 9:1-10) but then the restoration of Jacob as a nation (9:11-15) and at that time, "I will restore the fortunes of my people Israel, and they shall rebuild the ruined cities and inhabit them" (9:14a) and "I will plant them on their land, and they shall never again be uprooted out of the land that I have given them," says the Lord your God" (9:15).
Conclusion
The Book of Amos gives hope for the Jews and gives us an idea that God is not finished with Israel. Despite the attempts to exterminate the Jews over hundreds of years, they have always managed to survive as a people and now again, as a nation. God has promised that the "days are coming…when the plowman shall overtake the reaper and the treader of grapes him who sows the seed" (Amos 9:13) so even though Israel is nearly surrounded by enemies, she will survive and not only survive, she will thrive!
Article by Jack Wellman
Jack Wellman is Pastor of the Mulvane Brethren church in Mulvane Kansas. Jack is also the Senior Writer at What Christians Want To Know whose mission is to equip, encourage, and energize Christians and to address questions about the believer's daily walk with God and the Bible. You can follow Jack on Google Plus or check out his book Teaching Children the Gospel available on Amazon.