Does the enemy, Satan and his demons, attack pastors more than other Christians?
An Invisible Enemy
It's hard to fight an invisible enemy. In the old series of Star Trek, the Next Generation, they Klingons had a cloaking device that allowed them to be invisible. That is what every believer faces; an invisible, spirit being and his demons and that would be Satan and the fallen angels that rebelled with him. Paul admonishes all believers to put on the armor of God because "we do not wrestle against flesh and blood, but against the rulers, against the authorities, against the cosmic powers over this present darkness, against the spiritual forces of evil in the heavenly places" (Eph 6:12). Paul concedes that we do wrestle with these spiritual forces of evil. It's not flesh and blood that we wrestle against thought, if it were, it might be easier, but we are no match for an enemy we can't see. We need to have the armor of God (Eph 6:14-17) so that we "may be able to withstand in the evil day, and having done all, to stand firm" (Eph 6:13). These "rulers" can be those who hold political and social positions of power who are inspired by the spiritual forces of evil and this can include those who are in authority.
Causes of Spiritual Attacks
What causes spiritual attacks from the enemy? First, let's look at how to avoid them. Never share your faith; compromise with sin; live like the world; don't grow in the grace or knowledge of the Lord; and never strive to live a holy life. Do these things and you're not likely to suffer from spiritual attacks but I think that being under spiritual attack is actually a good thing because first of all, it lets you know you're on the right side. Also, if you're under spiritual attack you are likely sharing your faith, you are growing in holiness, and you are serving others. You're always a threat to the kingdom of darkness as long as you let your light shine.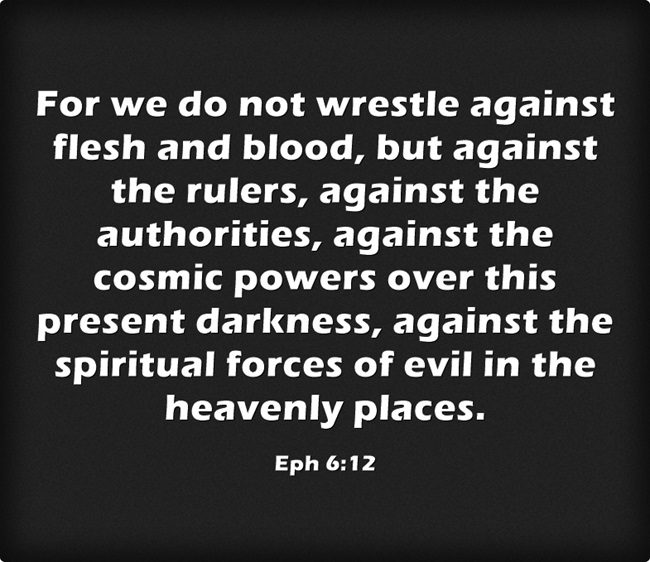 Satan's Bullseye
I would not flatter myself into thinking that Satan is after me and focusing on me. I am a minute part of the kingdom work of proclaiming the gospel of repentance and belief (Mark 1:15). There are literally hundreds of men who God is using most powerfully for His glory and thus, they are reaching more of the lost for Christ and Satan sees them as one of his greatest threats. I believe that Satan is busying trying to manipulate world leaders and pull the strings on a lot of the prosperity-gospel preachers. He goes for those making the greatest impact for Christ, not those who are simply what I call "pew potatoes" or "secret agent" or underground Christians who are among the 90% of believers who never share their faith publically, with anyone. As for me, I'm "small potatoes" to Satan but I've had a few of his fallen friends harass me.
Church Leadership
I believe that this statistic has changed some but it's still about 90% of the work being done by about 10% of the church and so those who are in positions of leadership at a church might have a bigger target on their backs. The more they do for Christ's kingdom, the more the kingdom of darkness is affected and this could cause them to ramp up their spiritual attacks. They might focus specifically on someone and their family who's starting an Outreach program at the church, where they take the gospel out to the streets or door to door. It's like they're entering enemy territory and walking across a "No Trespassing" sign. You're really asking for it when you start to evangelize the community or even in your own family or neighborhood.
Who's Attacked Most?
Who is attacked more in a church? Is it the pastor or the church member? I can't honestly say for sure because it depends on how much of a threat they are to the kingdom of darkness. A pastor that has watered down the gospel and takes his focus off of Christ is not much of a threat to Satan or his demons or much of a help to his church but a church member who consistently shares the gospel with co-workers, friends, family, neighbors, and even strangers, is going to be perceived as a real threat to the enemy and is of great benefit to the church.
Conclusion
I think Satan goes for the highest positions of leadership in the world and he is also inspiring his own ministers who are misleading the flock because they appear to be angels of light (2nd Cor 11:14). These "wolves in sheep's clothing" are fleecing the flock and leading their followers into the pit but I do believe that, if not Satan, his demons will go for the local leaders of the church and try to destroy their lives or their testimony. Any person, pastor or not, who publically confesses and professes their faith in Christ and lives a holy life will be attacked. It's not a matter who someone is but Who it is they speak of.
Article by Jack Wellman
Jack Wellman is Pastor of the Mulvane Brethren church in Mulvane Kansas. Jack is also the Senior Writer at What Christians Want To Know whose mission is to equip, encourage, and energize Christians and to address questions about the believer's daily walk with God and the Bible. You can follow Jack on Google Plus or check out his book Teaching Children the Gospel available on Amazon.