Is it true that God loves everyone? Would this include murderers, rapists, and even Satan and his demons?
God is Love
The Bible is clear that "God is love" (1st John 4:8) but God is surely more than love. God is holy, justice, merciful, kind, patient, and all the other good attributes that we can think of. God does love but does He love everyone? Would God love Satan Whom He created after he rebelled in heaven and tried to overtake the throne of God and receive worship? For one thing, God's love is unconditional. Just looking at the salvation of ours by which we were saved, we that God's love does not depend on our works or our best effort because it is "by grace you have been saved through faith. And this is not your own doing; it is the gift of God" and "not a result of works, so that no one may boast" (Eph 2:8-9) and if we could boast of our works to save ourselves, you can be certain we would! The truth is "God shows his love for us in that while we were still sinners, Christ died for us" (Rom 5:8) and even "while we were enemies we were reconciled to God by the death of his Son" (Rom 5:10a) so God loves all of His own children and He has also reserved a remnant for Himself from the nation of Israel and even "at the present time there is a remnant, chosen by grace" (Rom 11:5) but of ancient Israel, "Though the number of the Israelites be like the sand by the sea, only the remnant will be saved" (Rom 9:27). God's love never fails and He never gives up on us any more than a mother praying for her son in prison would be saved and for 23 years prayed for his soul before he finally repented and trusted in Christ. God died for us two thousand years ago while we were wicked sinners (Rom 5:8) and while we were still His enemies (Rom 5:10).
God is Holy
The only attribute in the Bible that I could find of God that is mentioned three times is the fact that He is holy, holy, holy. God cannot look upon sin for His eyes are too holy to behold it. The angels above the throne of God proclaim 24/7 "Holy, holy, holy is the Lord of hosts; the whole earth is full of his glory" (Isaiah 6:3). Habakkuk wrote of God, "You who are of purer eyes than to see evil and cannot look at wrong" (Hab 1:13a). God is so holy that He hates sin and even though Christians still sin, although they should be sinning less, His love is not diminished for His own children. If you ask a parent, "Is there anything that your child could ever do to make you stop loving them?" most parents would say "No." God, being far and above all earthly fathers and mothers, is even more faithful to love us in good times and bad and even when we are most unlovable. For me, that is a lot!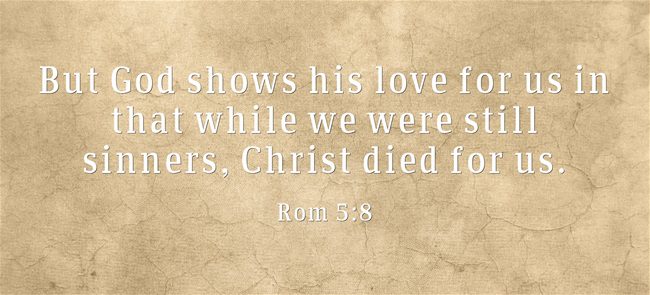 God hates Sin
Solomon once wrote that "There are six things which the LORD hates, Yes, seven which are an abomination to Him" and then Solomon lists them (Prov 6:16-19). Zechariah tells us, "do not plot evil against each other, and do not love to swear falsely. I hate all this," declares the LORD" (Zech 8:17) and even "the fraudulent is abomination to the LORD" (Prov 3:32). The fact is that even believers, once they've received the Holy Spirit, hate it when they sin. Paul struggled with this old nature and hated that he didn't do what he wanted to do and to make it worse, what he wanted to do, he didn't do (Rom 7). I think the good news in this is that the believer will struggle and battle temptation and sin but the lost see no problem with it, so it's good to be in the battle; it shows you're on the right side. We must hate what God hates and love what God loves and sin is something we know God hates and we should hate the sin in our lives but what about sinners? Does God hate sinners or does He love the sinner but hate the sin? Does God separate the sin from the sinner? It utterly depends on your standing before God.
Does God love the Sinner?
If you are a parent, could you say that your parents love other children just as much as you? Do they have that same love for them as they do for you? Can they honestly say that they love someone else's children when they don't really know them and they're not their own children? The truth is that parents typically love their own children. They love them like no others. The love they have for their own children is set apart from the love they have for other family members and so the question is: Does God love the sinner? Does God love everyone? Does God love those who are not His children by repentance and faith in Christ? John 3:16 does imply that God loved the world so much that He gave His only begotten Son for all who believe in Him that they should not perish but have eternal life but does this mean the "whole world" will be saved? The Greek word used for "world" is "kosmos" and refers to the physical universe, or in this case, the physical world so this verse doesn't mean everybody in the world is saved by Christ's death because repentance and belief are required (Mark 1:15) and not everyone will humble themselves to do this. Even so, God doesn't want any to perish (2nd Pet 3:9) and of course, believers don't either.
Conclusion
God loves you enough to die for you while you were still His enemy and still sinning but God clearly does not save everyone. Does He love everyone? I cannot say with precision because who among us can know the mind of God (1st Cor 2:16)? All I do know is that God hates the sin and desires those who are lost come to Christ and be saved and that you and I can rest in the love of God for "No one who hopes in you will ever be put to shame, but shame will come on those who are treacherous without cause" (Psalm 25:3).
Article by Jack Wellman
Jack Wellman is Pastor of the Mulvane Brethren church in Mulvane Kansas. Jack is also the Senior Writer at What Christians Want To Know whose mission is to equip, encourage, and energize Christians and to address questions about the believer's daily walk with God and the Bible. You can follow Jack on Google Plus or check out his book Teaching Children the Gospel available on Amazon.