Does God intervene in our lives? If so, when and how will we know it? Why doesn't He intervene at times?
Joseph
When Joseph's brothers intended to kill him, God didn't intervene (Gen 37:18-20). When his brothers threw him into a pit, God didn't intervene. When Joseph was sold into slavery and sent to Egypt, God didn't intervene. Why didn't God intervene for Joseph? He may have actually intervened through his brother Reuben did intervene on his behalf (Gen 37:22). Later, when Joseph was falsely accused and thrown into prison, once again God didn't intervene. Why? The reason is not clear until much, much later when Joseph tells his brother "As for you, you meant evil against me, but God meant it for good, to bring it about that many people should be kept alive, as they are today" (Gen 50:20). The lesson here is God may not intervene for a time in your life because He has something very special in mind. He also may answer the request for His intervention in a far superior way than what we are seeking. Either way we can know this for sure; "for those who love God all things work together for good, for those who are called according to his purpose" (Rom 8:28).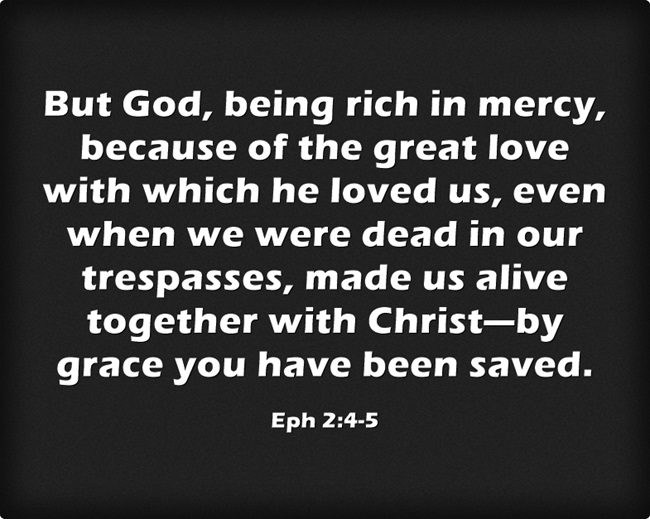 God Intervenes
We know that God intervenes in our lives if we have been born again because even the person who is born again is born from above just as the Greek indicates (John 3:3, 7) so our new birth is a direct intervention by God. Then the Holy Spirit convicts us of our sins and brings us to repentance, which God grants, (2nd Tim 2:25) and that is when we place our trust in Christ. At this time, we receive saving faith because of the grace of God, a completely free and unmerited gift (Eph 2:8-9) so our very salvation required God to intervene. This was necessary because you and I "were dead in the trespasses and sins" (Eph 2:2) and "carrying out the desires of the body and the mind, and were by nature children of wrath, like the rest of mankind" (Eph 2:3) "But God, being rich in mercy, because of the great love with which he loved us, even when we were dead in our trespasses, made us alive together with Christ—by grace you have been saved" (Eph 2:4-5). The words following "but God" in the New Testament are some of the most wonderful interventions by God in Scripture. We were dead…but God. We were destined for wrath…but God. Had not God intervened, we'd still be dead in our sins and be eternally separated from fellowship with God.
When God is Silent
When Jesus prayed twice to have this cup removed from Him the Father said no and so God was not going to intervene and make another way possible for Jesus. Thankfully, He did go to the cross to die for us or we'd forever be separated from a holy God by our sins. God is sometimes silent but it doesn't mean He's not working behind the scenes where no human eye can observe Him so God's silence is not God's final answer. Like the Parable of the Persistent Widow (Luke 18:1-8), you cannot give up and the more desperate a person is in asking for God's intervention, the more consistent that person will be in bringing it to prayer. The widow didn't give up even though "For a while he refused, but afterward he said to himself, 'Though I neither fear God nor respect man, yet because this widow keeps bothering me, I will give her justice, so that she will not beat me down by her continual coming" (Luke 18:4-5) and so "will not God give justice to his elect, who cry to him day and night? Will he delay long over them? I tell you, he will give justice to them speedily" (Luke 18:7-8). The verdict will be speedily delivered, even though the justice may take longer.
Prayers of Intervention
The Bible is full of occurrences when people prayed for God to intervene and He did. Intercessory prayer is available for every Christian as they now have direct access to the Father through the High Priest's own blood, Jesus Christ. Many times ancient Israel cried out to God to save them and He supernaturally intervened. He worked miracles for many of the prophets. Several believers have told me their experiences over their lives that can only be explained by God's intervention.
Conclusion
One of the most important reasons that God intervenes is so that He is glorified. If we pray in Jesus' name and it is answered, Jesus' name is glorified. If God intervenes for us, perhaps even in ways that exceeded our prayers, God is praised. God loves to glorify His Son's name and so that should be the fulcrum or turning point for asking for God to intervene. His intervention has everything to do with His receiving glory.
Article by Jack Wellman
Jack Wellman is Pastor of the Mulvane Brethren church in Mulvane Kansas. Jack is also the Senior Writer at What Christians Want To Know whose mission is to equip, encourage, and energize Christians and to address questions about the believer's daily walk with God and the Bible. You can follow Jack on Google Plus or check out his book Teaching Children the Gospel available on Amazon.