Will God recognize a divorce and allow remarriage? If He doesn't, what does it mean to those who are already in this situation?
In the Beginning
From the very beginning, God clearly indicated that marriage is to be between one man and one woman as "So God created man in his own image, in the image of God he created him; male and female he created them" (Gen 1:27). It would be impossible to follow the command to "Be fruitful and multiply and fill the earth" (Gen 1:28) if it were man with man or woman with man. God's design for marriage is for a man and a woman to come together in a holy matrimony since "the rib that the Lord God had taken from the man he made into a woman and brought her to the man" (Gen 2:22) at which Adam said "This at last is bone of my bones and flesh of my flesh" (Gen 2:23a). This means that "a man shall leave his father and his mother and hold fast to his wife, and they shall become one flesh" (Gen 2:24).
Till Death do you Part
Marriage was intended by God to be permanent and last until one of the parties died. Jesus repeated what was in the Book of Genesis and said that "a man shall leave his father and mother and hold fast to his wife, and the two shall become one flesh. So they are no longer two but one flesh" (Mark 10:7-8). Once the two are joined together they are not supposed to separate again unless there is ongoing, unrepentant adultery, which allows the innocent party to divorce on biblical grounds. When the two become one, they are one in the sense of having a new family and the man is commanded to leave his father and mother and hold fast to his wife. He is to leave and to cleave. Jesus conclusion is that "What therefore God has joined together, let not man separate" (Mark 10:9).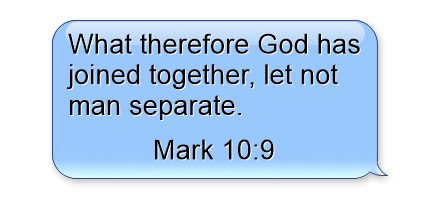 Marriage and Remarriage
After Jesus was speaking about marriage in Mark chapter ten, "the disciples asked him again about this matter" (Mark 10:10) Jesus said "Whoever divorces his wife and marries commits adultery against her, and if she divorces her husband and marries another, she commits adultery" (Mark 10:11-12). This is prevalent in our society today and no one gives it a second thought but it was not always so, particularly in the first century church. Jesus is saying that God will recognize a marriage where one of the parties has been continually unfaithful and has committed adultery and the innocent party remarries. This is because ongoing, unrepentant adultery is biblical grounds for divorce and God will recognize any union that involves a person who has every right to divorce and marry someone else. Of course the person they're marrying must also be biblically allowed to remarry or marry in the first place, however every effort must be made in the hopes of saving the marriage, even after one of the parties has committed adultery. There should be a deep, passionate desire to save the marriage by whatever means necessary and that should include having the couple get involved in marital counseling. Divorce should always be an absolute last resort. Unfortunately, the other person sometimes doesn't want to change and so the innocent party can be divorced and still be recognized by God as a valid reason for separating and divorcing.
Abuse
Under no circumstances should a spouse live with physical abuse. Not only is this a great sin, it is a criminal act and is punishable by fine and/or jail, as it should be. There is no excuse whatsoever for one spouse to abuse the other. It is even worse when children are involved. The spouse and his or her children must separate themselves from an abusive husband or wife and parent. The abuser should be immediately turned into the police so that they might follow what God has purposed in the civil laws of the land for the good of all involved (Rom 13).
Conclusion
God will recognize any couples marriage or remarriage if they have biblical grounds for divorce. God is not against divorce in such cases where one spouse continually commits adultery and refuses to repent and turn away from that. If you are married to someone who has continually committed adultery, you are free to remarry and God will recognize it. If you already have, God does recognize it. If you are married now and you weren't remarried on biblical grounds, don't seek a divorce. You cannot unscramble an egg. In conclusion, God will honor that person's desire to remarry and will recognize such a marriage as being biblically valid. If it is permissible in God's eyes, that's all that really matters anyway.
Article by Jack Wellman
Jack Wellman is Pastor of the Mulvane Brethren church in Mulvane Kansas. Jack is also the Senior Writer at What Christians Want To Know whose mission is to equip, encourage, and energize Christians and to address questions about the believer's daily walk with God and the Bible. You can follow Jack on Google Plus or check out his book Teaching Children the Gospel available on Amazon.