Should churches do exorcisms or should they be done by one individual? What does the Bible say about exorcisms?
The Exorcist
You've probably seen or heard of the movie The Exorcist but the Catholic Church has one too and he claims to have done over 160,00 exorcisms and "sent them back to hell" and he wants the Pope to allow all priests to perform exorcisms. Is this due to the fact that there are widespread possessions? As a Christian "we do not wrestle against flesh and blood, but against the rulers, against the authorities, against the cosmic powers over this present darkness, against the spiritual forces of evil in the heavenly places" (Eph 6:12) so we have an invisible enemy and sometimes these enemies, fallen angels called demons, can inhabit someone and take over possession of them. When a person is possessed, there might even be signs of supernatural strength as in the case where Jesus meets up with one (Matt 8:28).
Jesus' Exorcisms
For Jesus, exorcisms were easy for He has all authority and He can cast out one or one thousand demons with one Word. On more than one occasion, "they brought to him many who were oppressed by demons, and he cast out the spirits with a word and healed all who were sick" (Matt 8:16). Even when Jesus was vastly outnumbered, it mattered little as when He went "to the country of the Gadarenes, two demon-possessed men met him, coming out of the tombs, so fierce that no one could pass that way" (Matt 8:28). Recognizing that it was Jesus they cried out "What have you to do with us, O Son of God? Have you come here to torment us before the time" (Matt 8:29) showing they knew full well that they would ultimately be judged but also proving that Jesus has authority over them. At yet another time when Jesus "stepped out on land, there met him a man from the city who had demons. For a long time he had worn no clothes, and he had not lived in a house but among the tombs" (Luke 8:27). Jesus asked the demon possessed man "What is your name?" And he said, "Legion," for many demons had entered him" (Luke 8:30). This man must have been possessed by thousands of demons. He was so strong that even chains couldn't hold him (Luke 8:29). A Roman legion could be anywhere from between 3,000 and 6,000 men, not counting support personnel and officers, so you do the math.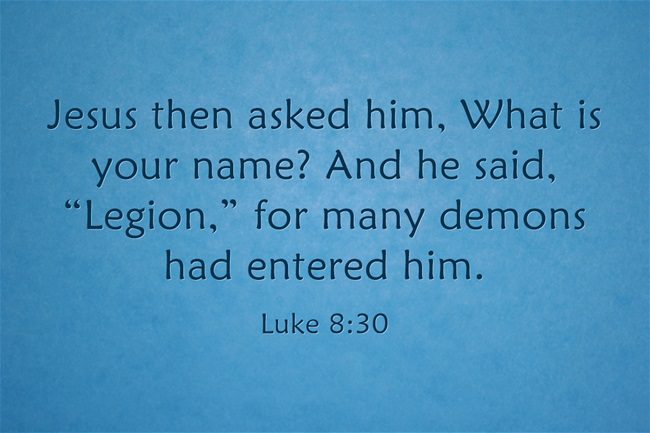 Warnings of Exorcisms
In the early church "God did extraordinary miracles through Paul, so that even handkerchiefs and aprons that had touched him were taken to the sick, and their illnesses were cured and the evil spirits left them" so Paul had God's authority to cast out demons (Acts 19:11-12) but " Some Jews who went around driving out evil spirits tried to invoke the name of the Lord Jesus over those who were demon-possessed" (Acts 19:13) however they weren't doing it with Christ's authority but probably because they wanted glory for themselves. They would say, "In the name of the Jesus whom Paul preaches, I command you to come out." Seven sons of Sceva, a Jewish chief priest, were doing this. One day the evil spirit answered them, "Jesus I know, and Paul I know about, but who are you?" Then the man who had the evil spirit jumped on them and overpowered them all. He gave them such a beating that they ran out of the house naked and bleeding. When this became known to the Jews and Greeks living in Ephesus, they were all seized with fear, and the name of the Lord Jesus was held in high honor" (Acts 19:14-17). Maybe the point here is that non-believers that attempt to perform an exorcism do so at their own peril. Even if you are a believer, always consult with a church leader or an older, more experienced Christian before attempting to perform an exorcism. When Jesus sent out the twelve to preach the gospel, He must have known that there'd be spiritual resistance so He gave them the "authority to cast out demons" (Mark 3:15) and they did (Luke 10:17)!
Conclusion
No believer in Christ can be possessed because the Apostle John writes, "you are from God and have overcome them, for he who is in you is greater than he who is in the world" (1st John 4:4) and if God is for you, who could ever oppose you (Rom 8:31)? I have heard people tell me that they believe in Jesus but James reminds us that "You believe that God is one; you do well. Even the demons believe—and shudder" (2:19) so if you believe in Jesus, that only qualifies you to be a demon and in fact, the demons were the first to recognize Jesus for Who He really was…the Son of God and God incarnate! It takes more than belief; it takes repentance and faith or trusting in Christ to save you. That is my prayer for you if you haven't already done so.
Article by Jack Wellman
Jack Wellman is Pastor of the Mulvane Brethren church in Mulvane Kansas. Jack is also the Senior Writer at What Christians Want To Know whose mission is to equip, encourage, and energize Christians and to address questions about the believer's daily walk with God and the Bible. You can follow Jack on Google Plus or check out his book Teaching Children the Gospel available on Amazon.