Why did Jesus, Who was with the Father, have to come to earth to become a Man?
The Word Becomes Flesh
The Gospel of John gives us the beginning, before Jesus became flesh, being born as a babe. John's gospel goes back in time before the other gospel accounts begin and even before Christ was here on earth by writing "In the beginning was the Word, and the Word was with God, and the Word was God" (John 1:1) but "He was in the beginning with God" (John 1:2) so Jesus was with God and was God before anything was created. Later "the Word became flesh and dwelt among us, and we have seen his glory, glory as of the only Son from the Father, full of grace and truth" (John 1:14). John was an eye witness to Jesus being both Man and God and wrote, "This is the disciple who is bearing witness about these things, and who has written these things, and we know that his testimony is true" (John 21:24).
Emmanuel
The prophecy which Matthew quoted which says "Behold, the virgin shall conceive and bear a son, and they shall call his name Immanuel" (which means, God with us)' (Matt 1:23) comes from the Prophet Isaiah who wrote "Therefore the Lord himself will give you a sign: The virgin will conceive and give birth to a son, and will call him Immanuel" and it was obviously Jesus Who fulfilled this (John 1:2, 14) "for to "us a child is born, to us a son is given, and the government will be on his shoulders. And he will be called Wonderful Counselor, Mighty God, Everlasting Father, Prince of Peace" (Isaiah 9:6). Emmanuel literally means "God with us" and God was with them in the flesh as Jesus Who was both God and Man.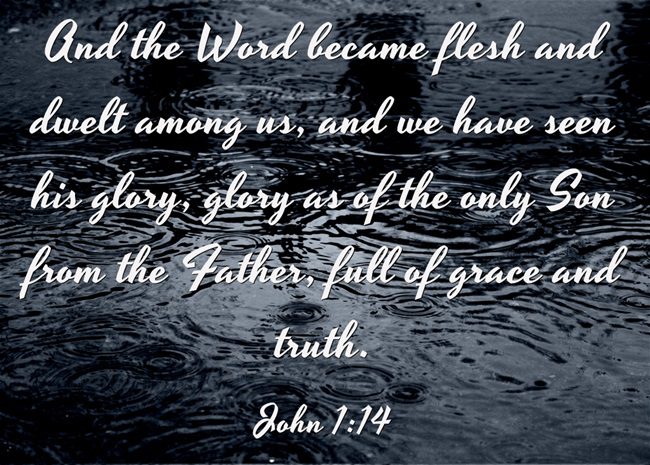 The Incarnate One
Jesus was the incarnation of God in human flesh as "He was manifested in the flesh, vindicated by the Spirit, seen by angels, proclaimed among the nations, believed on in the world, taken up in glory" (1st Tim 3:16). In teaching this, Paul writes "Have this mind among yourselves, which is yours in Christ Jesus, who, though he was in the form of God, did not count equality with God a thing to be grasped, but emptied himself, by taking the form of a servant, being born in the likeness of men" (Phil 2:5-7) meaning He became Man, yet was still fully God "And being found in human form, he humbled himself by becoming obedient to the point of death, even death on a cross" (Phil 2:8).
Why did Jesus become Man?
Why did Jesus have to become Man? It was because "he had to be made like his brothers in every respect, so that he might become a merciful and faithful high priest in the service of God, to make propitiation for the sins of the people. For because he himself has suffered when tempted, he is able to help those who are being tempted" (Heb 2:17-18) or in other words, He could know what we are going through in pain, suffering, loneliness, rejection, sorrow, and when we're overwhelmingly tempted to sin He could help those of us "who are being tempted." This makes Jesus the perfect High Priest as He was acquainted with all our sorrows and griefs (Isaiah 53:3) and "Since therefore the children share in flesh and blood, he himself likewise partook of the same things, that through death he might destroy the one who has the power of death, that is, the devil"(Heb 2:14)
Conclusion
Jesus destroyed the power of the enemy and defeated death at its own game, therefore we can now have peace with God (Rom 5:1) because the condemnation has been lifted (Rom 8:1) but if you have never repented of your sins and trusted in Christ, you have only an expectation of the wrath of God to come.
Article by Jack Wellman
Jack Wellman is Pastor of the Mulvane Brethren church in Mulvane Kansas. Jack is also the Senior Writer at What Christians Want To Know whose mission is to equip, encourage, and energize Christians and to address questions about the believer's daily walk with God and the Bible. You can follow Jack on Google Plus or check out his book Teaching Children the Gospel available on Amazon.