Why Did Paul write 2nd Timothy? He had just written 1st Timothy so why this second letter?
The Author
Paul is the author and there is no doubt about it. Any so-called "evidence" to the contrary is so flimsy that it's like trying to nail Jell-O to the wall. It just doesn't stick. Paul even introduces the letter by writing "Paul, an apostle of Christ Jesus by the will of God according to the promise of the life that is in Christ Jesus, To Timothy, my beloved child" (2nd Tim 1:1-2a). To me, the most moving part of this letter is Paul's heartbreaking departure from this world and so we believe the Book of 2nd Timothy was written around AD 67 and not long before the fall and destruction of Jerusalem in AD 70.
The Purpose
This purpose of this letter might have been to follow up on the Book of 1st Timothy, Paul's first letter to Timothy. Obviously Paul felt compelled to write to Timothy to command him to remind him to "Follow the pattern of the sound words that you have heard from me, in the faith and love that are in Christ Jesus. By the Holy Spirit who dwells within us, guard the good deposit entrusted to you" (2nd Tim 1:13-14) "for which I was appointed a preacher and apostle and teacher, which is why I suffer as I do. But I am not ashamed, for I know whom I have believed, and I am convinced that he is able to guard until that Day what has been entrusted to me" (1st Tim 1:11-12). He is saying; Timothy, guard the teachings I gave to you and guard the deposit entrusted to you because God "is able to guard until that Day what has been entrusted to me." What was entrusted to Timothy had been entrusted to by Paul so, "Timothy, Guard it with your life."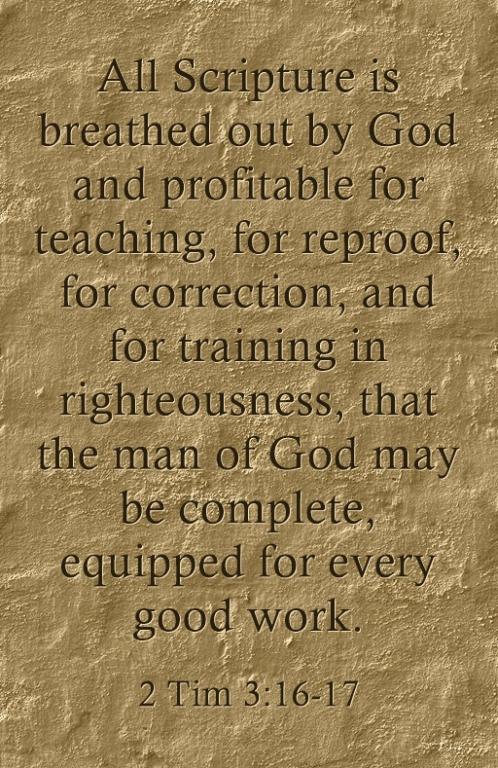 The Focal Point
By this time (AD 67), Paul's writings were considered Scripture or part of the Bible, just as Peter confirmed (2nd Pet 3:16), which makes more sense of Paul's letter's being circulated among the churches, like the Book of Ephesians, but also of Paul's command to "Follow the pattern of the sound words that you have heard from me" (2nd Tim 1:13). Since they were inspired by the Holy Spirit (2 Tim 3:16), they must be taken as the very words of God. Not only did Paul instruct Timothy to guard his teachings, he told him to "Have nothing to do with foolish, ignorant controversies; you know that they breed quarrels. And the Lord's servant must not be quarrelsome but kind to everyone, able to teach, patiently enduring evil, correcting his opponents with gentleness. God may perhaps grant them repentance leading to a knowledge of the truth" (2nd Tim 2:23-25). Paul held out hope that they would "come to their senses and escape from the snare of the devil, after being captured by him to do his will" (2nd Tim 2:26).
The End Times
In Paul's last letter, which was written just before he was beheaded around AD 67, he warned of a coming apostasy, telling Timothy "that in the last days there will come times of difficulty. For people will be lovers of self, lovers of money, proud, arrogant, abusive, disobedient to their parents, ungrateful, unholy, heartless, unappeasable, slanderous, without self-control, brutal, not loving good, treacherous, reckless, swollen with conceit, lovers of pleasure rather than lovers of God" (2nd Tim 3:1-4) so make sure to "Avoid such people" (2nd Tim 3:5b). These "truth seekers" are "always learning and never able to arrive at a knowledge of the truth" (2nd Tim 3:7) and ignore the main things which are the plain things (Rom 10:9-13) and even go so far as to "oppose the truth" (2nd Tim 3:8). Now in the last few days of Apostle Paul, just before he was to be martyred, he reminded Timothy to guard the teachings he gave him, avoid those who pile up learning but not of the essentials (John 3:16), and finally to keep his feet firmly planted in this fact; "All Scripture is breathed out by God and profitable for teaching, for reproof, for correction, and for training in righteousness, that the man of God may be complete, equipped for every good work" (2nd Tim 3:16-17). What Timothy was guarding was the "breathed out" words of God and he is to use them by teaching, reproving, correcting, and training in order to equip the believer to do every good work for the glory of God.
Paul's Farewell
The last chapter of Paul's letter and life are so tragic yet he retained his joy for the eternal glory that was about to be revealed to him (Rom 8:18). As a last reminder, Paul tells Timothy to "preach the word; be ready in season and out of season; reprove, rebuke, and exhort, with complete patience and teaching. For the time is coming when people will not endure sound teaching, but having itching ears they will accumulate for themselves teachers to suit their own passions, and will turn away from listening to the truth and wander off into myths" (2nd Tim 4:2-4). The Word wounds in order to heal. Paul concluded, "I am already being poured out as a drink offering, and the time of my departure has come. I have fought the good fight, I have finished the race, I have kept the faith. 8 Henceforth there is laid up for me the crown of righteousness, which the Lord, the righteous judge, will award to me on that Day, and not only to me but also to all who have loved his appearing" (2nd Tim 4:6-8). Everyone had abandoned Paul in these final hours (2nd Tim 4:10). Every felt that?
Conclusion
At the very end, everyone had forsaken Paul as he said, "At my first defense no one came to stand by me, but all deserted me. May it not be charged against them! But the Lord stood by me and strengthened me, so that through me the message might be fully proclaimed and all the Gentiles might hear it. So I was rescued from the lion's mouth. The Lord will rescue me from every evil deed and bring me safely into his heavenly kingdom. To him be the glory forever and ever" (2nd Tim 4:16-18). In the end, Paul asked Timothy to bring his cloak (probably freezing) and Mark and "Do your best to come to me soon" (2nd Tim 4:9) but sadly, they didn't make it in time.
Article by Jack Wellman
Jack Wellman is Pastor of the Mulvane Brethren Church in Mulvane Kansas. Jack is also the Senior Writer at What Christians Want To Know whose mission is to equip, encourage, and energize Christians and to address questions about the believer's daily walk with God and the Bible. You can follow Jack on Google Plus or check out his book Teaching Children the Gospel available on Amazon.