How can a Christian use a cross reference when they're studying the Bible? How can this help? Does this help?
Cross Reference Bibles
Most Bibles have cross references in Scripture passages so that a person can look at the other Bible passages that relate to the one that had a cross reference on it. For example, Paul wrote in Romans 1:17 that "For in it the righteousness of God is revealed from faith for faith, as it is written, "The righteous shall live by faith." My Bible has a cross reference on Romans 1:17 to Habakkuk 2:4 and Galatians 3:11 where Paul quotes Habakkuk 2:4 which says "Behold, his soul is puffed up; it is not upright within him, but the righteous shall live by his faith" and repeats in in Galatians 3:11. In my Bible, Romans 1:17 has a cross reference to Habakkuk 2:4 and Galatians 3:11 so that after I read Paul's writing of Romans 1:17 I can see what other verse or verses mention the same thing. In this case, my Bible cross references these two Bible verses. These cross reference verses can add to our meaning of a Bible verse we read since we can also see what the other authors have written the exact same thing or a similar passage. The verse "the just shall live by faith" or some translations have it "the righteous shall live by faith" are found throughout the Bible in both the Old Testament and the New Testament. These multiple mentions of Scripture also show the importance of certain teachings because God often repeats important statements in the Bible and when He does, we know that God is stressing the importance of certain passages.
Scripture interprets Scripture
Martin Luther once wrote that "Scripture is its own expositor" and of course, he was right. The authors of the Westminster Confession wrote that "The infallible rule of interpretation of Scripture is the Scripture itself: and therefore, when there is a question about the true and full sense of any Scripture … it must be searched and known by other places that speak more clearly." This speaks of the great value that Bibles with cross references have. A good set of cross-references, when used diligently and with intelligence, will make much commentary unnecessary. Bible cross references is how some Study Bibles base their notes upon. They see the verse and compare it with similar verses that can explain difficult passages. They are indispensable tools that the reader can use to broaden the meaning of verse that might be more difficult to understand if read alone.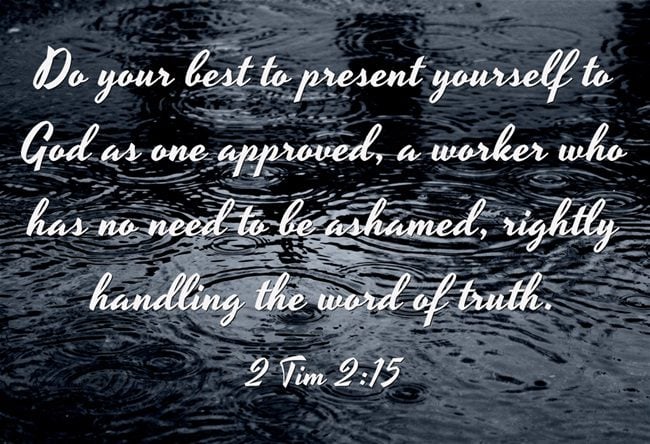 A Treasure Revealed
R.A. Torrey, a highly respected American evangelist, pastor, educator, and writer is the author of The Treasury of Scripture Knowledge which is a comprehensive, user-friendly and versatile, providing the reader with an essential study tool for private devotions, teaching or preaching and contains over 500,000 Scripture references and parallel passages and is the most exhaustive listing of biblical cross references available anywhere. The Treasury of Scripture Knowledge shows how Scripture interprets itself on every verse, topic and important word, ranging from biblical promises, doctrines and historical issues to prophecies and their fulfillment. The pastor, Sunday school teacher or Bible student can grow like never before in their search for particular passages and the associated cross reference Scriptures.
The Command to Study
Paul told Timothy to "Do your best to present yourself to God as one approved, a worker who has no need to be ashamed, rightly handling the word of truth" (2nd Tim 2:15) indicating that it was Timothy's personal responsibility to work hard to rightly handle the Scriptures. Paul wrote to "Remind them (the church) of these things, and charge them before God not to quarrel about words, which does no good, but only ruins the hearers" (2nd Tim 2:14) and to "avoid irreverent babble, for it will lead people into more and more ungodliness, and their talk will spread like gangrene. Among them are Hymenaeus and Philetus who have swerved from the truth, saying that the resurrection has already happened. They are upsetting the faith of some" (2nd Tim 2:16-18). We see several things in Paul's command to Timothy. Timothy is to rightly handle the word of truth, unlike some were (e.g. Hymenaeus and Philetus) and by having a good grasp of Scripture they can thwart "their talk" which had "spread like gangrene" and not only swerved from the truth but have upset "the faith of some."
Conclusion
A good cross reference Bible or study Bible can help us to understand the difficult passages by making it plain through associated Scriptures. The most difficult of passages can be compared to other similar passages to make it more clear and understandable than just reading it as a stand-alone passage. We are command to, as Peter wrote, to "grow in the grace and knowledge of our Lord and Savior Jesus Christ. To him be the glory both now and to the day of eternity. Amen" (2nd Pet 3:18). Peter's conclusion is mine; to Him be all the glory, right now and for all time and by "His divine power has granted to us all things that pertain to life and godliness, through the knowledge of him who called us to his own glory and excellence" (2nd Pet 1:3). That is a worthy goal and one that fits nicely with the will of God.
Article by Jack Wellman
Jack Wellman is Pastor of the Mulvane Brethren Church in Mulvane Kansas. Jack is also the Senior Writer at What Christians Want To Know whose mission is to equip, encourage, and energize Christians and to address questions about the believer's daily walk with God and the Bible. You can follow Jack on Google Plus or check out his book Teaching Children the Gospel available on Amazon.