Here are seven bible verses for the young to study and consider.
First Timothy 4:12 "Let no one despise you for your youth, but set the believers an example in speech, in conduct, in love, in faith, in purity."
Paul wouldn't have told Timothy to not let anyone despise his youth if someone hadn't already been doing it. Perhaps there were some of the elders in the church who had a difficult time swallowing their pride and being taught by Timothy but since Timothy was taught by Paul, it was the same as Paul's teachings. He was expecting Timothy to walk in love, faith, and purity, so that the believers would have nothing wrong to say about Timothy, regardless of his age.
Ecclesiastes 11:9 "Rejoice, O young man, in your youth, and let your heart cheer you in the days of your youth. Walk in the ways of your heart and the sight of your eyes. But know that for all these things God will bring you into judgment."
Jesus once said that "on the day of judgment people will give account for every careless word they speak, for by your words you will be justified, and by your words you will be condemned" (Matt 12:36-37) so we need to understand that God will bring every single thing we say into judgment someday and by our words we'll either be justified or condemned. Solomon would tell a "young man" to walk in integrity, and then they'll have no need to fear on the Day of Judgment.
Jeremiah 1:7 "Do not say, 'I am only a youth'; for to all to whom I send you, you shall go, and whatever I command you, you shall speak."
Jeremiah resisted the call of God because he was a very young man, perhaps only a late teen when God chose him to prophecy against Judah and other nations. Jeremiah felt inadequate because of his age but young Daniel, when only a teen, was given great responsibility in the kingdom of Babylon so it's nothing to God. In fact, God tells Jeremiah that "Before I formed you in the womb I knew you, and before you were born I consecrated you; I appointed you a prophet to the nations" (Jer 1:5) so "Do not say, 'I am only a youth'; for to all to whom I send you, you shall go, and whatever I command you, you shall speak" (Jer 1:7) and that proved to be true with Jeremiah.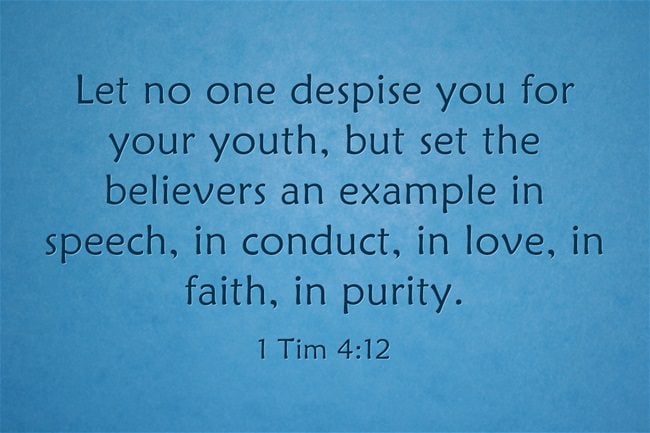 Ecclesiastes 12:1 "Remember also your Creator in the days of your youth, before the evil days come and the years draw near of which you will say, "I have no pleasure in them."
Solomon's wisdom here is that the youth would do well to remember their Creator before the day comes when they might say, "I have no pleasure in them," perhaps meaning that all of the aches and pains associated with old age are not pleasurable at all and makes one reminisce about their youth.
Psalm 119:9 "How can a young man keep his way pure? By guarding it according to your word."
The psalmist is asking a rhetorical question here by asking how can a young person keep their way pure or how can they live a life of holiness that is pleasing to God? Apparently by the Word of God or by "guarding" the young person's way according to Scripture. There is real power in God's word (Rom 1:16) and that power that comes from daily intake of the Word of God will not go without some effect which God purposes in His sovereign will (Isaiah 55:11).
Second Timothy 2:22 "So flee youthful passions and pursue righteousness, faith, love, and peace, along with those who call on the Lord from a pure heart."
Paul is instructing young Timothy to run away from anything that suggests sexual temptation. Instead, Timothy should pursue righteousness, faith, love, and peace. Run toward righteousness, run away from sexual temptation. The calling on the Lord must be "from a pure heart."
Ephesians 6:1-3 "Children, obey your parents in the Lord, for this is right. "Honor your father and mother" (this is the first commandment with a promise), "that it may go well with you and that you may live long in the land."
These verses are very important to the young people because it is in their best interests to obey them. If children obey their parents, they will be honoring them. If a child says they honor their parents but are in a continual state of disobedience, they are lying. Honoring your parents, the fifth commandment, is the very first commandment given by God where there is a promise attached; "that it may go well with you and that you may live long in the land." The interesting thing Paul is saying is whether one honors their parents or not is apparently related to their life expectancy.
Conclusion
Solomon writes to us as if we were his own child by saying "My son, give me your heart, and let your eyes observe my ways" (Prov 23:26) and that means we should "Trust in the LORD with all your heart, and do not lean on your own understanding. In all your ways acknowledge him, and he will make straight your paths" (Prov 3:5-6) and "Be not wise in your own eyes; fear the LORD, and turn away from evil" (Prov 3:7). In the end "It will be healing to your flesh and refreshment to your bones" (Prov 3:8) and that's what anyone would want, whether they're young or old.
Article by Jack Wellman
Jack Wellman is Pastor of the Mulvane Brethren Church in Mulvane Kansas. Jack is also the Senior Writer at What Christians Want To Know whose mission is to equip, encourage, and energize Christians and to address questions about the believer's daily walk with God and the Bible. You can follow Jack on Google Plus or check out his book Teaching Children the Gospel available on Amazon.