Who was the angel Gabriel? Why was he mentioned in Scripture?
Gabriel's Name
Gabriel's name is Hebrew in origin and is "Gavri'el" and means "man of God" or "strong man of God." Gabriel is also known in the Bible as an angel of revelation because he was always bringing messages from God or bringing revelations from God that were especially important. Even the word "angel" means "messenger of God" and that is what Gabriel's main purpose was. Gabriel is an archangel and one of the highest ranking angels in God's creation. The Qur'an states that Gabriel revealed the entire contents of the Muslim's holy book but there is no Scriptural support of this. What I strongly disagree with and something that many Christians do is to call upon Gabriel for guidance, problem solving, inspiration or any other kind of help. The false belief that Gabriel wants you to lead a happy, fulfilled life and will offer guidance and aid whenever you ask for it is contrary to biblical doctrine as we are to call upon the Lord in our time of need and never an angel.
Archangels
Archangel's are apparently the high end of God's angelic creation. Even an ordinary angel is a powerful spirit being; an archangel even more so. Sadly, many come close to worshiping angels above God and that is clearly idolatry for we are to worship God and Him alone and nothing created should ever be worshiped. Next to Gabriel, only Michael ranks ahead of Gabriel but angels don't have their own agenda. They do nothing except God tells them. They say nothing unless under the direction of God's edicts. Angels are not even independent of the will of God and always do whatever God commands them to do.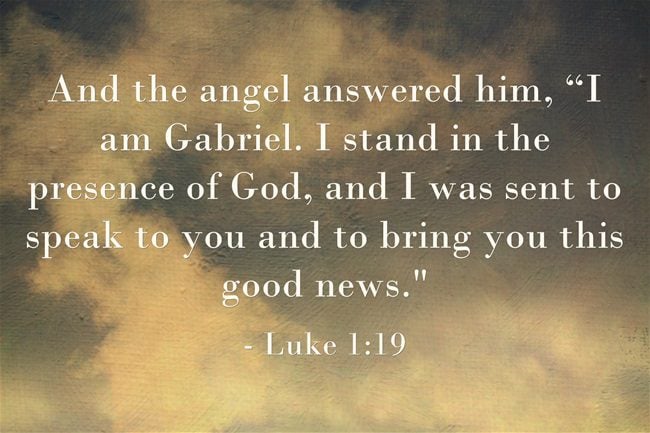 Gabriel's Introduction
We are first introduced to Gabriel in the Book of Daniel "When I, Daniel, had seen the vision, I sought to understand it. And behold, there stood before me one having the appearance of a man. And I heard a man's voice between the banks of the Ulai, and it called, "Gabriel, make this man understand the vision." So he came near where I stood. And when he came, I was frightened and fell on my face. But he said to me, "Understand, O son of man, that the vision is for the time of the end" (Dan 8:15-17). A little later, Daniel writes that "While I was speaking and praying, confessing my sin and the sin of my people Israel, and presenting my plea before the Lord my God for the holy hill of my God, while I was speaking in prayer, the man Gabriel, whom I had seen in the vision at the first, came to me in swift flight at the time of the evening sacrifice" (Dan 9:20-21) and Gabriel "made me understand, speaking with me and saying, "O Daniel, I have now come out to give you insight and understanding. At the beginning of your pleas for mercy a word went out, and I have come to tell it to you, for you are greatly loved. Therefore consider the word and understand the vision" (Dan 9:22-23) so in this case, the angel Gabriel was sent by God and came to clarify what the vision meant.
Gabriel's Announcement of John the Baptist
While Zechariah was serving in the temple as a priest (Luke 1:8) "there appeared to him an angel of the Lord standing on the right side of the altar of incense. And Zechariah was troubled when he saw him, and fear fell upon him. But the angel said to him, "Do not be afraid, Zechariah, for your prayer has been heard, and your wife Elizabeth will bear you a son, and you shall call his name John" (Luke 1:11-13). Gabriel was speaking about the arrival of John the Baptist through his parents, Zechariah and Elizabeth. Gabriel told Zechariah "you will have joy and gladness, and many will rejoice at his birth, 15 for he will be great before the Lord" (Luke 1:14) "And he will turn many of the children of Israel to the Lord their God, and he will go before him in the spirit and power of Elijah, to turn the hearts of the fathers to the children, and the disobedient to the wisdom of the just, to make ready for the Lord a people prepared" (Luke 1:16-17). Zechariah was in a state of unbelief about this so "the angel answered him, "I am Gabriel. I stand in the presence of God, and I was sent to speak to you and to bring you this good news. And behold, you will be silent and unable to speak until the day that these things take place, because you did not believe my words, which will be fulfilled in their time" (Luke 1:19-20).
Gabriel's Announcement of Jesus
The last occurrence of Gabriel interacting with humans was when he brought the greatest news possible about the coming of Jesus Christ. It says that "In the sixth month the angel Gabriel was sent from God to a city of Galilee named Nazareth, to a virgin betrothed to a man whose name was Joseph, of the house of David. And the virgin's name was Mary. And he came to her and said, "Greetings, O favored one, the Lord is with you" (Luke 1:26-28) and Mary reacts like we would, being "troubled at the saying, and tried to discern what sort of greeting this might be. And the angel said to her, "Do not be afraid, Mary, for you have found favor with God. And behold, you will conceive in your womb and bear a son, and you shall call his name Jesus. He will be great and will be called the Son of the Most High. And the Lord God will give to him the throne of his father David, and he will reign over the house of Jacob forever, and of his kingdom there will be no end"(Luke 1:29-33). When Mary asks "How will this be, since I am a virgin" (Luke 1:34) Gabriel tells her what was prophesied in the Old Testament that "The Holy Spirit will come upon you, and the power of the Most High will overshadow you; therefore the child to be born will be called holy—the Son of God" (Luke 1:35). That of course foretold of Jesus Christ Who came to save us from our sins and take upon Himself the wrath of God.
Conclusion
The angel Gabriel doesn't appear that often in Scripture but when he does, he always brings some amazing news; to Daniel in helping him understand the end times; to Zechariah to announce the coming birth of John the Baptist; and to bring Mary the news that she would conceive by the Holy Spirit, the Son of God, Jesus Christ, and that is the best of news there is!
Article by Jack Wellman
Jack Wellman is Pastor of the Mulvane Brethren Church in Mulvane Kansas. Jack is also the Senior Writer at What Christians Want To Know whose mission is to equip, encourage, and energize Christians and to address questions about the believer's daily walk with God and the Bible. You can follow Jack on Google Plus or check out his book Teaching Children the Gospel available on Amazon.