Here is a Bible study on Mary, the mother of Jesus Christ.
Mary's Name
Mary, the mother of Jesus Christ, is a very important person in the Bible, not only because she was the mother of Jesus but because she made herself available to God for whatever purpose He desired. Her name is from the Hebrew "Miryam" and means "sea of bitterness." Other suggested meanings taken from her name in Hebrew are "rebelliousness" (מרי m-r-y), or "wished-for child" or "Our Lady" (ש"ע מריה Sha Mrih) and even "beloved lady" but regardless of the real meaning of her name, Mary has a place in biblical and human history that is unlike anyone else. She gave birth to Jesus Christ as a virgin so that Jesus could save the elect from their sins.
Mary's News
Mary was betrothed or engaged to Joseph when "In the sixth month the angel Gabriel was sent from God to a city of Galilee named Nazareth, to a virgin betrothed to a man whose name was Joseph, of the house of David. And the virgin's name was Mary. And he came to her and said, "Greetings, O favored one, the Lord is with you" (Luke 1:26-28) but why did it say this happened "in the sixth month?" This was the sixth month of Elizabeth's pregnancy of John the Baptist. At the angel's announcement, Mary "was greatly troubled at the saying, and tried to discern what sort of greeting this might be. And the angel said to her, "Do not be afraid, Mary, for you have found favor with God" (Luke 1:29-30). Gabriel told Mary "you will conceive in your womb and bear a son, and you shall call his name Jesus. He will be great and will be called the Son of the Most High. And the Lord God will give to him the throne of his father David, and he will reign over the house of Jacob forever, and of his kingdom there will be no end" (Luke 1:31-33). Mary couldn't understand how this could be "since I am a virgin? And the angel answered her, "The Holy Spirit will come upon you, and the power of the Most High will overshadow you; therefore the child to be born will be called holy—the Son of God" (Luke 1:34-35). The announcement that Mary received was the long-awaited news that the nation of Israel had been waiting for since the prophets of old spoke, as with Isaiah of the coming Immanuel (Isaiah 7).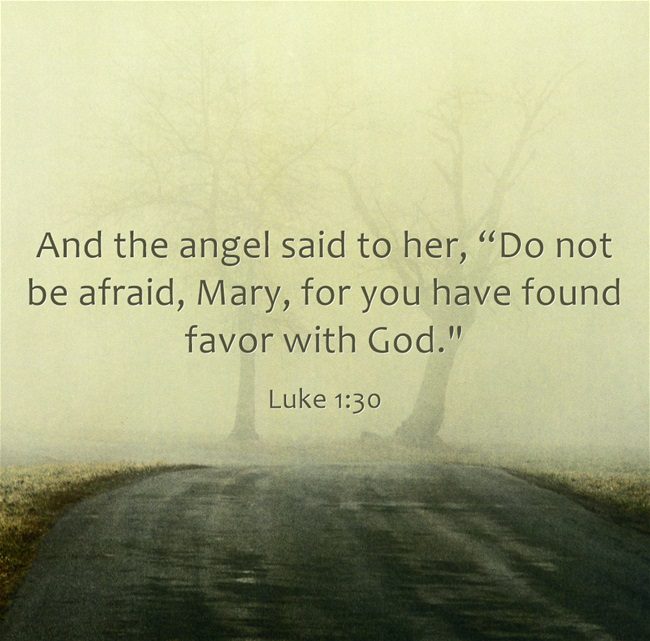 Mary's Reaction
Most people may not respond to this news in the way that Mary did. For one thing, she was a virgin so it was impossible for her to give birth to a child. She had never known a man before but Gabriel told her "nothing will be impossible with God" (Luke 1:37). Mary believed Gabriel, God's messenger, and said "Behold, I am the servant of the Lord; let it be to me according to your word." And the angel departed from her" (Luke 1:38). What a beautiful description of Mary's humility and submission to the will of God. She simply said "Behold, I am the servant of the Lord; let it be to me according to your word." How many of us would say and do what Mary did, even if it seemed impossible? Doesn't God speak to us without a messenger in His Word, the Bible?
Mary's Conception
Mary was part of the same royal lineage of Jesus Christ. Mary's family lines go all the way back to King David and then even further, all the way back to Abraham (Matt 1:16) so this puts Jesus as the rightful heir and descendant of David. Jesus was also of the tribe of Judah from which the scepter was said to never depart from (Gen 49:10) which was required of the coming Messiah. "When his mother Mary had been betrothed to Joseph, before they came together she was found to be with child from the Holy Spirit" (Matt 1:18) and this was of course referred to Jesus Christ, Who was foretold to be born of a virgin where it was written by Isaiah the prophet that "the Lord himself will give you a sign. Behold, the virgin shall conceive and bear a son, and shall call his name Immanuel" (7:14).
Conclusion
Mary is not the mother of God. Mary was human and just like all of us, falls short of the glory of God (Rom 3:10-12, 23). Mary needed a Savior just as we do. This Savior seeks to draw others into the kingdom by repentance and belief (Mark 1:15) in the Son of God for eternal life (John 3:16) and full pardon for all iniquities (Rom 5:1-11) however, the person that rejects Christ's, rejects grace, and accepts the wrath of God (John 3:36b).
Article by Jack Wellman
Jack Wellman is Pastor of the Mulvane Brethren Church in Mulvane Kansas. Jack is also the Senior Writer at What Christians Want To Know whose mission is to equip, encourage, and energize Christians and to address questions about the believer's daily walk with God and the Bible. You can follow Jack on Google Plus or check out his book Teaching Children the Gospel available on Amazon.