There are ways we can get the most out of reading our Bible. Here's a few ways.
Meditate on the Word
Our church elder mentioned that meditating on the Word of God may be a lost art today. It's one thing to read the Word, but it's totally different when we stop and contemplate the Word. I would rather read only a few lines of Scripture and mediate on these, than read a whole chapter and not remember most of it. There is such an economy of words in the Bible where very little says voluminous amounts. For example, "Jesus wept" (John 11:35). This verse says a lot, so meditate on it. Spend time reflecting, pondering, and thinking about that verse, and the context of that verse. When we're in no hurry, the Word penetrates deep into our mind and allows us to internalize it. I think we miss out on a lot when we simply read over the Word and without meditating on it. God's Word is so important to Him that the longest chapter in the Bible refers to the Word of God (Psalm 119). Whatever we do for God depends on our meditating upon and reading of His Word. God told Joshua that "This Book of the Law shall not depart from your mouth, but you shall meditate on it day and night, so that you may be careful to do according to all that is written in it. For then you will make your way prosperous, and then you will have good success" (Joshua 1:8). So it would be "only then" or, only after you mediate on the Word that success will come, but only if you "do according to all that is written in it."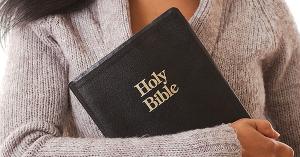 Memorizing Scripture
Memorizing Scripture may be what the psalmist called hiding God's Word in his heart. The Scriptures often tell us to meditate on His Word, day and night, but you cannot meditate on the Word if you are not reading the Word, and it both day and night. The psalmist also knew that being in the Word will help us from falling into sin. It won't keep us out of sin entirely, but the psalmist said, "I have stored up your word in my heart, that I might not sin against you," (Psalm 119:11). He "stored up" or memorized God's Word so "that [he] might not sin against [God]." That works for us too! Jesus was confronted by Satan in the temptation in the wilderness, so what does Jesus do? Jesus quoted Scripture as a rebuttal to every one of Satan's temptation. James wrote, "Submit yourselves therefore to God. Resist the devil, and he will flee from you" (James 4:7), so who's the one put to flight? It isn't us. It's Satan, and that resistance is made stronger by quoting or memorizing the Word of God. That's because the Word of God has power (Rom 1:16; 1 Cor 1:18) that we don't have. Jesus rebuffed the Devil, not by resisting him in the flesh, but by the Spirit and by the Word. Satan can't handle the truth, and it wouldn't hurt to remind him of his future (Rev 20:10). Part of the reason the psalmist wrote, "Oh how I love your law! It is my meditation all the day" (Psalm 119:97) was that it kept him from falling into sin. He was able to recall Scripture and mediate on the promises of God. One man said, "Sin will keep you out of the Bible, but the Bible will keep you out of sin." He wasn't saying that we'd be sinless, but we might sin, less!
The Helper
The Holy Spirit can help us make more sense of the Scriptures if we pray for His aid. He can help us understand what God's Word is saying. Ask the Spirit to show you what God is saying in His word, and why. Is He is saying this to me? Where is this applicable in my life, and so forth? As Jesus told the disciples, so He tells all believers, that "the Holy Spirit, whom the Father will send in my name, he will teach you all things and bring to your remembrance all that I have said to you" (John 14:26), however this is where people can get into error. They believe the Spirit told them this or told them that. They might even say, "God spoke to me about something." I would ask, "Does it square what God's Word says? Is it in anyway contrary to God's Word? Have you not read that God has already spoken in these last days, and most clearly through His Son (Heb 1:1-2)? Yes, we want to know how certain Scriptures apply to our everyday lives, but we don't want them to say something they don't say. For example, Jesus said, "Go therefore and make disciples of all nations, baptizing them in the name of the Father and of the Son and of the Holy Spirit, teaching them to observe all that I have commanded you. And behold, I am with you always, to the end of the age" (Matt 28:19-20). This doesn't mean we are all to become missionaries and go into foreign countries, but how frequently will we not even go next door to invite someone to church? So be certain to pray that the Holy Spirit will not only help us understand the Word; He will prompt us to obey the Word, so pray for the Spirit's help in all things, particularly in reading the Bible and living it out.
Have a Plan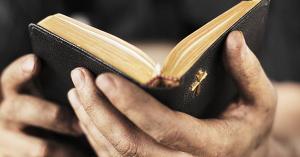 I love the advice of many Bible teachers and scholars who advise us to have a daily Bible reading plan so that we can gain wisdom from the Scriptures. I read some out of the Old Testament and then some from the New Testament every morning. For me; no Bible, no breakfast. As hard as it is to do at times, I must make time for daily reading of the Word. Honestly, there are days when I don't feel like it, but I've discovered that when I don't feel like it, is the very time I need it most! We don't eat one meal a week, so why study or read the Bible only on Sundays? A daily intake of the Word of God is essential to sustain us through the difficult trials, temptations, and tests that will come, perhaps even today. Have a plan and stick to it; even when you don't feel like it…no, especially when you don't feel like it.
Conclusion
What other things might you suggest where we could get the most out of our Bible reading? I do see the value in meditating on God's Word. Reading it slowly and getting the most out of it. I also see the benefit of memorizing Scripture. This allows us to recall Scripture when we're tempted. For example, some who are battling an addiction to pornography, quote Job 31:1 when they are tempted, and that's where Job wrote, "I have made a covenant with my eyes; how then could I gaze at a virgin?" It also helps immensely to pray for the Spirit's help in opening up the Scriptures, particularly the difficult ones, and of course, it's a great idea to have daily Bible reading plan. Have a plan and stick to it? Don't have time? Set the alarm a bit earlier. It's just a matter of mind over mattress. Read it when you don't feel like it, and in fact, when you don't feel like reading the Word, you need it more than you think!
Article by Jack Wellman
Jack Wellman is Pastor of the Mulvane Brethren Church in Mulvane Kansas. Jack is a writer at Christian Quotes and also the Senior Writer at What Christians Want To Know whose mission is to equip, encourage, and energize Christians and to address questions about the believer's daily walk with God and the Bible. You can follow Jack on Google Plus or check out his book Teaching Children the Gospel available on Amazon.